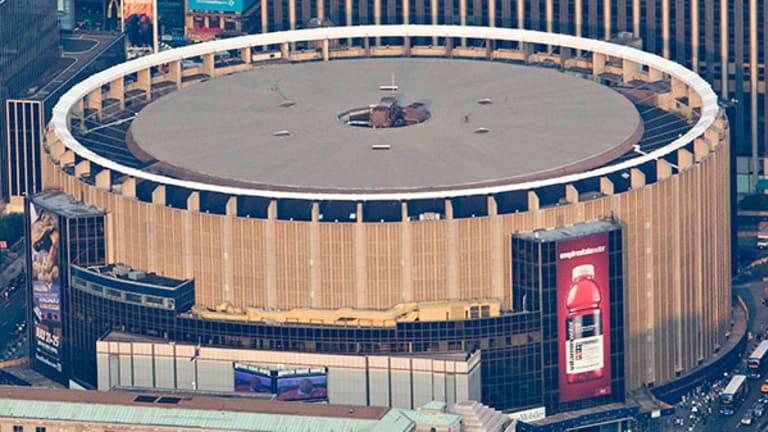 Rihanna Tickets for 'Anti World Tour' Drop Slightly on Resale Market
Rihanna tickets hit the market this week, and secondary market prices have taken a tumble since they were released.
Rihanna tickets hit the market this week, and secondary market prices have taken a tumble since they were released.
Although the world is still in the dark as to when Rihanna will drop her newest album, Anti, few fans are hesitating to buy tickets for the 2016 world tour that will support the upcoming release.
Towards the end of November, Rihanna announced the first bunch of her "Anti-World Tour" dates in both North America and overseas. The first leg of the tour will feature rapper Travi$ Scott, and will launch on February 26 at the Viejas Arena in San Diego, hitting 36 dates until it wraps on May 7 in Oakland. On June 11, "Anti" will head overseas with Big Sean and The Weeknd, where it is scheduled to run until the end of August.
After only 24 hours since Rihanna tickets officially went on sale, tickets are already averaging $190 on the secondary market. Prior to the general on-sale, resale tickets were averaging $227, marking a 16% decrease. The eight-time Grammy winner is on track to play her most expensive show on March 27 at The Barclays Center in Brooklyn, where tickets are averaging $270, with the cheapest ticket available for $68. The second priciest stop is set to be her Los Angeles performance on May 3 at The Forum, where resale tickets are averaging $244, with the cheapest ticket available for $72. Although her cheapest show isn't inexpensive by any means, so far her April 27 EnergySolutions Arena performance in Salt Lake City is the most affordable stop, where tickets on the resale market are averaging $137, with a get-in of just $37, according to TicketNetwork.
Rihanna has been a constant force in the pop music industry for roughly a decade. Her previous album release, Unapologetic, became her first No. 1 album, producing Top Ten hits like "Stay," and "Jump." Rihanna and Eminem's collaboration on "The Monster" tied the singer with the King of Pop Michael Jackson for the most chart-topping songs in Billboard chart history. Eminem and Rihanna's joint tour in 2014 became one of the most popular runs of the year, with tickets averaging $182 across just six U.S. dates. The duo's most in-demand show was their stop at Metlife Stadium in East Rutherford, New Jersey, where tickets averaged $214. With growing anticipation for Anti and its supporting tour, Rihanna should be on track to move some impressive numbers for both albums and ticket sales.
This article is commentary by an independent contributor. At the time of publication, the author held no positions in the stocks mentioned.