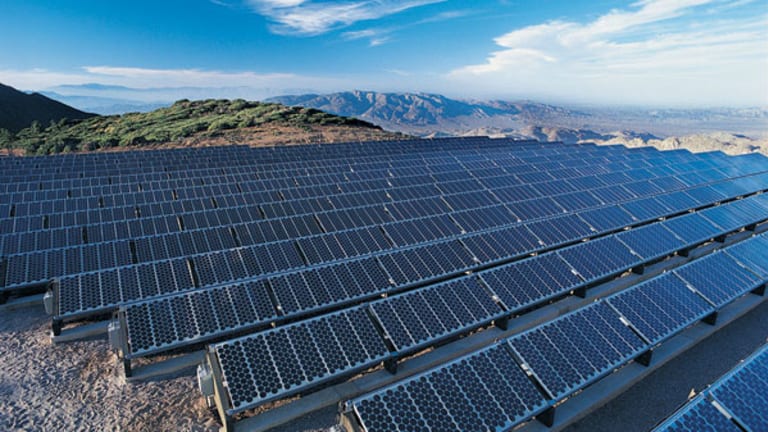 RGS Energy Fights to Leave SolarCity's Shadow
RGSE is selling at 1.6 times sales and SCTY is selling at 47 times sales. RGSE is way under-priced.
NEW YORK (TheStreet) -- When it comes to solar energy stocks, the sun doesn't shine equally.
We first recommended Real Goods Solar (RSOL) Oct. 11, 2013, and published our first report on Jan. 5, 2014. Since our original recommendation the company, which began trading as RGS Energy (RGSE) Monday, has appreciated by 54%.
Based on our conservative estimates, RGSE has another 132% upside. Its stock is down nearly 2% Monday but for the year to date it is up 23.5%. The S&P 500 is up only 4.9%, by comparison.
RGSE is expecting sales to reach $132 million in 2013. Management has done a great job increasing operating efficiency while the operating margin of its big competitor, SolarCity (SCTY) , continues to rack up losses with the prospects of future returns. SCTY's biggest shareholder is Elon Musk, Tesla's (TSLA) - Get Free Report CEO.
SCTY trades on an EV/Sales multiple of 47 and RGSE trades on an EV/sales multiple of 1.63. The massive discrepancy is unwarranted and RGS Energy should trade on a much higher multiple.
Assuming an extremely conservative EV/sales multiple of 3 -- still 1/16th the multiple the market places on SolarCity -- RGS Energy would be valued at $9.22 per share, or 132% upside.
RGS Energy is a residential and commercial solar energy engineering, procurement and construction firm. The company's solar energy systems use high-quality solar photovoltaic modules from manufacturers such as Canadian Solar and Trina.

RGS Energy has 35 years experience in the solar industry and is one of the largest players in the solar installation market. Both of these characteristics provide RGS Energy with brand recognition that is crucial as the market grows. The company has an acquisitive history acquiring seven companies over the past seven years. This experience will be crucial as RGSE helps consolidate the fragmented solar industry.
RGS Energy operates in the rapidly growing solar panel installations market. The solar panel installations market size should increase by 43% over the next three years from $11 billion in 2012 to $15.7 billion in 2016. With RGSE expecting to be a consolidator in this fragmented market, it should grow faster than the overall market.
Despite being a market leader in a very strong growth market, a large valuation gap between RGSE and SolarCity exists. The valuation gap appeared as RGSE saw a decline in sales in 2012 while the market continued to grow at a rapid pace and SCTY grew at a rapid pace. RGSE also had some corporate governance issues with its past controlling shareholder. RGSE has addressed these issues.
In July 2012, the company brought in Kamyar Mofid, who has a wealth of knowledge in the solar industry with previous positions at SunEdison, REC Solar, AEE Solar and Teleflex. In June 2013, the company appointed David Belluck as chairman of the board. David Belluck is a partner at Riverside Capital Partners, a private equity firm with significant experience investing in the technology sector. Riverside Partners holds 25.8% of RGS Energy common stock outstanding.
Thanks to the new management, RGSE decreased total operating expenses from 42% of revenue in the third quarter of 2012 to 24% of revenue for the same period in 2013. RGSE expects 2013 revenue to be between $132 million and $137 million, representing 42% annual growth.
The company has also made acquisitions: Syndicated Solar and Mercury Energy, both in August. Syndicated Solar has a very strong sales force that will complement the company's strengths. Mercury Energy positions RGSE as one of the largest U.S. solar installation companies measured by installed customers and provides RGSE with a much stronger presence in the Northeastern market and a much stronger commercial division.
RGSE also created RGS Energy Asset Management LLC, a joint venture with Altus Power America Management, to develop, finance and manage up to $150 million of commercial solar projects.
Conclusion
We think RGSE will close the gap with SCTY as the market eliminates the premium SCTY receives thanks to its relationship with Elon Musk, and the market recognizes the growth and competitive position of RGSE.
This article represents the opinion of a contributor and not necessarily that of TheStreet or its editorial staff.