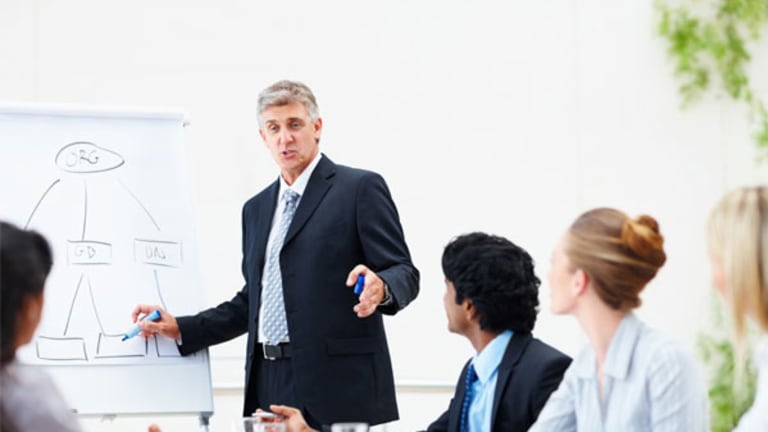 Revolution in the Boardroom
Recent coups at Yahoo! and RIM represent the dawn of a new age of investor activism.
Recent coups at Yahoo! and RIM represent the dawn of a new age of investor activism.
The following commentary comes from an independent investor or market observer as part of TheStreet's guest contributor program, which is separate from the company's news coverage.
By Richard Levick and Kathleen Wailes
NEW YORK (
) - Activist investor Daniel S. Loeb just claimed another corporate scalp. Tuesday's announcement that
Yahoo Chairman Roy J. Bostock and the company's three longest-serving directors will not seek reelection
represents Loeb's second major victory in as many months. In January, Yahoo CEO and co-founder
amid rampant speculation that Loeb was plotting a proxy fight aimed at forcing a management shakeup. Yang's ouster and the subsequent board overhaul were no small feats, even at an underperforming company such as Yahoo. Notch another win for the activists. More are sure to follow.
In fact, it was just days after Yang's resignation that
Research in Motion
co-CEOs and founders
Jim Balsillie and Mike Lazaridis stepped down
amid a similar chorus of shareholder dissent. That announcement was accompanied by news that Canadian activist Prem Watsa (whose
Fairfax Financial Holdings
now owns about 5.12% of the company) would be joining the RIM board. Activist in; co-founders out. In less than a week, we had been provided two powerful signals that there are no longer any sacred cows where battles for corporate control are concerned.
And it isn't just those investors who control millions of shares that boards and C-Suites need to be worried about. Dodd-Frank's new
are now on the books and poised to open the director-nominating process to small shareholders that meet certain minimum criteria. Already, investors in 16 major companies -- including
Hewlett-Packard
,
Goldman Sachs
,
Wells Fargo
and others - are attempting to amend corporate bylaws to enable the unprecedented levels of access now permissible under the SEC rule.
One such investor is Kenneth Steiner. A small shareholder who has offered up hundreds of governance reforms over the years, Steiner recently
that the boards of companies including
Bank of America
,
Sprint Nextel
and others, "amend their companies' bylaws to permit any group of 100 or more shareholders who have held at least $2,000 in stock for at least one year -- or any holder of 1% or more for at least two years -- to nominate directors." In today's activist environment, Steiner's story isn't unique because of what he did; it stands out because of how he did it.
Steiner's use of a form he downloaded from the activist investor site
to submit his proposals is a clear demonstration of the role social and digital media are playing in increased shareholder empowerment. On sites such as proxyexchange.org,
, and
MoxyVote
, small shareholders are pooling their sentiments and their shares to drive reforms at the companies they own -- and their focus extends far beyond financial performance. On MoxyVote, shareholders can foment support for "good cause" proposals on issues ranging from environmental sustainability to fair labor practices. MoxyVote even provides portals by which investors can vote on activist agendas.
Follow
TheStreet
on
and become a fan on
With activist mainstays flexing their muscles, and smaller shareholders beginning to find their sea legs, one can't help but conclude that a new era of activist empowerment is upon us. The convergence of social media and proxy access are providing the little guy with an amplified voice and strength in numbers. Significant wins like those at Yahoo and RIM are emboldening bigger players to target bigger game.
The democratization of Wall Street is under way. As a result, management structures that fail to align their priorities with those of their investors will face
tougher challenges than ever before in 2012 and beyond
.
Richard S. Levick, Esq., is the president and chief executive officer of Levick Strategic Communications, a crisis communications firm. He is the co-author of
Stop the Presses: The Crisis & Litigation PR Desk Reference.
He was named to the 2009 NACD/Directorship list of "The Most Influential People in the Boardroom." Reach him at rlevick@levick.com.Kathleen Wailes is a Senior Vice President at Levick Strategic Communications with specialization in financial communications. Reach her at kwailes@levick.com.
This commentary comes from an independent investor or market observer as part of TheStreet guest contributor program. The views expressed are those of the author and do not necessarily represent the views of TheStreet or its management.