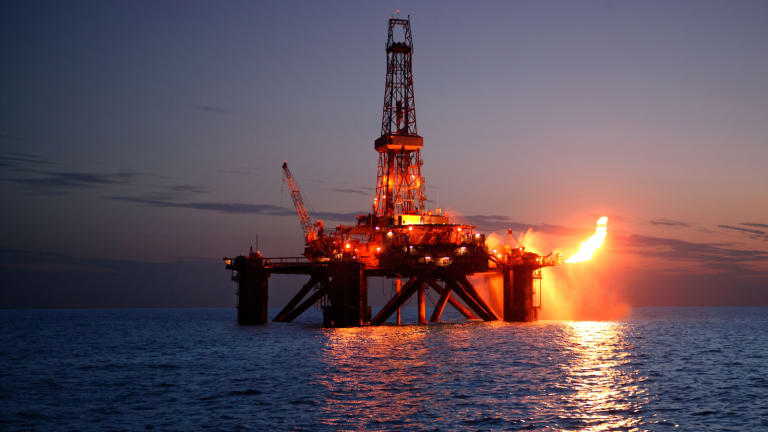 Reversal of Fortune: Energy Sector Fires Up as Tech and Health Fizzle
In the week ahead, new earnings and economic data will indicate whether the energy sector's resurgence, in tandem with the decline of technology and health stocks, will continue.
Go figure! Formerly beaten down energy stocks are now on a tear, while once-rising technology and health services stocks are in a slump. The question this week is whether the pattern will continue.
Should you now put your faith in still-risky energy stocks, or are there better and safer opportunities for growth elsewhere?
It doesn't seem to matter that energy sector balance sheets remain burdened with onerous levels of debt that will drive many companies into bankruptcy. As Warren Buffett once said: "I'd be a bum on the street with a tin cup if the markets were always efficient."
The unexpected role reversals have been fueled by disappointing first-quarter earnings results from sector stars such as Apple (AAPL) - Get Report and Alphabet (GOOGL) - Get Report in technology, and Molina Healthcare (MOH) - Get Report and Gilead Sciences (GILD) - Get Report in health care. On Friday alone, Molina lost 19.4%, and Gilead lost 9.1%.
Meanwhile this quarter, energy stocks such as Exxon Mobil (XOM) - Get Report and SouthwesternEnergy (SWN) - Get Report , although still under pressure, have beaten Wall Street's earnings expectations.
The most stunning fall from grace has been Apple, which in its latest quarter reported its first revenue loss in 13 years. Continuing its two-week plunge, the consumer icon on Friday fell 1.2%. Like the overall tech sector, Apple has fallen for seven consecutive days. Investors are abandoning Apple and technology stocks to seek market-beating returns from less volatile investments.
The sector scorecard so far: The Technology Select Sector SPDR ETF (XLK) - Get Report is down 1.63% year to date and 2.88% over the past five days. TheHealth Care Select Sector SPDR ETF (XLV) - Get Report is down 3.11% and 2.64%, respectively.
And long-suffering energy? The Energy Select Sector SPDR ETF (XLE) - Get Report is up 11.90% YTD and 1.03% over the past five days.
Energy stocks owe their revival to rising oil prices. The U.S. benchmark West Texas Intermediate now hovers at $46 a barrel; the international benchmark Brent is approaching $48. This year, both had fallen as low as the $20s.
Slowing consumer demand has clobbered tech companies; unexpectedly high costs, patent expirations and corporate scandals (e.g., Valeant Pharmaceuticals (VRX) ) have hurt health and drug stocks.
There have been notable exceptions, of course. Amazon (AMZN) - Get Report reported that first-quarter revenue soared 28% year-over-year and earnings far exceeded expectations. The stock jumped 9.6% on Friday, although it's still down 2.41% for the year.
Should you switch your sector weightings? Not until you get more earnings and economic data. Earnings reports on the docket this week in the energy, technology, and health services sectors that you should closely watch include:
Diamond Offshore Drilling (DO) - Get Report , Midcoast Energy Partners (MEP) , Anadarko Petroleum (APC) - Get Report   and Tenet Healthcare (THC) - Get Report (Monday); Halliburton (HAL) - Get Report , Pfizer (PFE) - Get Report , Valero Energy (VLO) - Get Report , Devon Energy (DVN) - Get Report   and Cray (CRAY) - Get Report (Tuesday); HollyFrontier (HFC) - Get Report , Humana (HUM) - Get Report , Royal Dutch Shell (RYDAF) , Marathon Oil (MRO) - Get Report   and Tesla (TSLA) - Get Report (Wednesday); Becton Dickinson (BDX) - Get Report , Chesapeake Energy (CHK) - Get Report , Linn Energy (LINE) , Merck (MRK) - Get Report   and MercadoLibre (MELI) - Get Report (Thursday); Transocean Partners (RIGP) , Cognizant Technology Solutions (CTSH) - Get Report and Berkshire Hathaway (BRK.A) - Get Report (Friday).
With 62% of companies in the S&P 500 reporting first-quarter 2016 fiscal earnings to date, 74% have reported earnings above the mean estimate. However, the blended year-over-year earnings decline has been -7.6%.
Key economic reports due this week: Gallup U.S. Consumer Spending Measure, PMI Manufacturing Index, ISM Mfg Index and Construction Spending (Monday); Motor Vehicle Sales (Tuesday); Gallup U.S. Job Creation Index and EIA Petroleum Status Report (Wednesday); Jobless Claims, Bloomberg Consumer Comfort Index and EIA Natural Gas Report (Thursday); Baker-Hughes Rig Count (Friday).
If big, triple-digit winners get your adrenaline pumping, then stop reading right now. Because this isn't for you... Only traders who calmly enjoy raking in an extra $67,548 with no surprises or hiccups will appreciate this strategy. In fact, for the past 1,586 days, I've been leisurely collecting giant payouts with this boring approach. I win 8 out of every 10 trades - GUARANTEED. Click here to join me.
John Persinos is editorial manager and investment analyst at Investing Daily. At the time of publication, the author held no positions in the stocks mentioned.