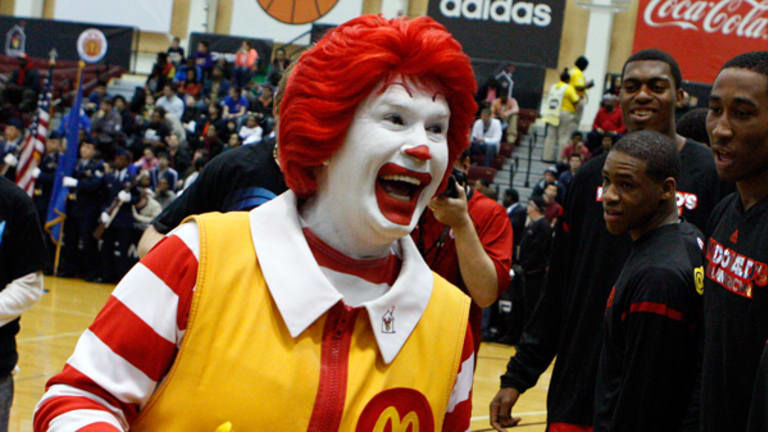 Revealing How Chicken McNuggets Are Made Won't Save McDonald's
The fast food giant pulled back the curtain on a popular menu item, but it has to do much more in 2015 to stem steep sales declines.
NEW YORK ( TheStreet) -- McDonald's (MCD) - Get McDonald's Corporation Report has unveiled to the world how it makes a Chicken McNugget, but the radical marketing campaign won't be nearly enough to halt steep sales declines in the U.S.
On Monday evening, McDonald's released its latest marketing video in an ongoing battle to silence critics of its food quality. The six-minute spot below takes viewers through the production process of the popular menu staple, from the slicing of dead, hanging birds all the way through the flash-frying process. A similar video was released earlier in the month showing how the McRib sandwich is produced.
The release of the video conspicuously came on the heels of McDonald's U.S. sales sliding 4.6% in November, however. McDonald's U.S. has served up three straight quarters of falling traffic to its restaurants, and same-store sales have declined in each quarter of 2014.
With its 
falling on deaf ears, and U.S. sales plunging, 
TheStreet
takes a look at three operational changes McDonald's should consider in 2015.    
1.
Dismantle the Fast-Food Preparation Process
McDonald's pioneered the concept of quickly making large volumes of processed, packaged food and then bringing it out to hungry customers waiting near a cash register. That approach is what became known in America as "fast food." Now, with Americans having greater knowledge of the calories in their meals and the origin of ingredients, they are demanding to see how their order is constructed from start to finish. Furthermore, they want to be able to customize the product based on their tastes. (They still want their food fast, though. One of the reasons the company has given for its sales struggles is that its vast menu, which reportedly consists of 145 items, has led to longer wait times. So on Wednesday, new McDonald's U.S. president Mike Andres announced it will cut eight food products from its menu in January and also reduce the number of  Extra Value Meals on its U.S. menus to from 16 to 11.)
Growing demand for product customization in the fast food business is a view not lost on the CEO of McDonald's competitor
Sonic
(SONC)
. "The customer, in our case, is not coincidental to the food preparation process, they drive the preparation process," said Sonic CEO J. Clifford Hudson in a 
with
TheStreet
. Hudson added, "For some of our competition that is not true, they are estimating what the needs are going to be and then make the food beforehand." 
The food customization movement hasn't been entirely lost on execs at McDonald's, either.
The company's new "
" program lets customers sidestep the counter and go right to tablet-like kiosks where they can customize their burger. According to McDonald's, the program, which began in four Southern California stores this year, will be expanded to 30 locations in five additional states in 2015.
But customizing burgers still doesn't address the fundamental issue of how McDonald's prepares food out of the sight of hungry customers. One change it should consider: Adopt the transparent, speedy food prep process of the red-hot
Chipotle
(CMG) - Get Chipotle Mexican Grill, Inc. Report
.
At the burrito and salad bowl maker, a person enters a line, chooses ingredients presented right in front of them, and is shuffled down to a cash register to pay. The consumer not only creates the product from scratch, but is able to see exactly what they are eating for lunch or dinner. 
What McDonald's may be missing in its radical video and TV marketing campaign -- consumers care about the origin of the individual ingredients being put in a sandwich, like chicken and beef. Is the poultry organic? How was the bird or cattle raised at the farm? These are some of the questions consumers are now asking, most often on Twitter and Facebook.
Recent comments by McDonald's CEO Don Thompson hint the company does not fully appreciate the higher priority consumers of fast food are placing on ingredient quality. "If you look at the broader market, and you look at what customers are asking for, they are asking for transparency, they're asking to know what's in the food, and they're asking for integrity of the food," said Thompson when asked about the shift in consumers preferences on a Oct. 21 earnings call. He followed up with, "There are cases, and there are markets, where organics are drivers at a higher level, but I would offer is that the highest level is more about their transparency, integrity and also the ability to customize and have what they want on a sandwich or a burger."
Driving the message home of 
has been Chipotle. "On the ingredient side, we have always used real, whole foods (not the cheap, heavily processed foods you see in typical fast food)," pointed out a spokesman at Chipotle in an Oct. 21 email to
TheStreet
. The spokesman went onto mention that Chipotle is serving more naturally raised meat, dairy from cows that aren't treated with the synthetic hormone rBGH and organically grown vegetables.
As Chipotle stays on the offensive with the marketing of its organic veggies and responsibly raised beef, McDonald's is moving slowly to adopt the needed changes to its ingredient list. "You'll see us in some categories looking to different products, possibly organics, we actually are doing it in certain markets", said Thompson on the earnings call. "I think we have some additional opportunities to talk about the fact that the vast majority of our food at McDonald's in the U.S. is produced right here in the U.S., so we have some opportunities to talk about that."
3. Develop New Signature Items Beyond the Big Mac and its French Fries
McDonald's is still largely known for its high-calorie sandwiches such as the Big Mac and the McRib. And, of course, there is the iconic McDonald's French fry. The problem is these menu staples were concocted years ago when knowledge on calories and ingredient sources in America was virtually non-existent.
The Big Mac was first introduced in 1967 at a mere 45 cents. Meanwhile, the McDonald's French fry was an item near and dear to the founder of the modern-day McDonald's Ray Kroc, back in the late 1950s. In his autobiography
Grinding it Out: The Making of McDonald's
, Kroc mentioned the French fry was "almost sacrosanct for me."
To start reversing persistently declining traffic to its U.S. restaurants, McDonalds has to become known for signature items tailored for today's consumer preferences, notably those for indulgent, "healthy" fast food. A fully organic, artisanal burger is an option. Another option could be inking partnerships with popular local 
concepts or food trucks to bring their signature items to McDonald's restaurants in top markets.
There are signs that McDonald's is in search of new signature foods. As part of its ongoing initiative to simplify its menu, and cater to local tastes, the home of the Golden Arches has recently introduced a chorizo burrito, the cheddar bacon onion sandwich, the clubhouse burger and mozzarella sticks.
Not exactly waist line-friendly fare, but baby steps in re-casting a brand dealing with scores of new competitors.