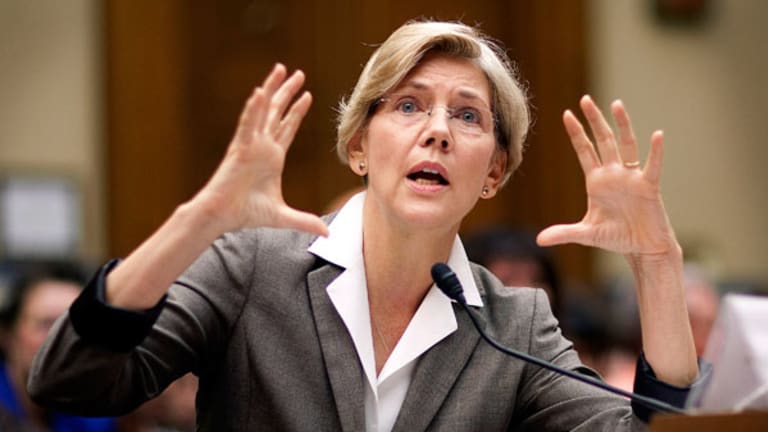 Return of Glass-Steagall Would Make Big Bank Failures More Likely
The proposal by Senators Warren and McCain to separate investment banks from commercial banks would make government bailouts more likely.
NEW YORK (
) -- In an attempt to garner fawning headlines by addressing the government's problem of regulating large banks that are "too big to fail," four U.S. senators on Thursday proposed to bring back the Glass-Steagall Act's separation of investment banks from commercial banks.
The problem with the proposal is that it would actually make government bailouts of large banks more likely.
Senators Elizabeth Warren (D., Mass.), John McCain (R., Ariz.), Maria Cantwell (D., Wash.) and Angus King (I., Maine) on Thursday introduced the "21st Century Glass Steagall Act."
The senators in a statement said "This legislation restores the division between commercial banking and financial market activities -- a change that will make our financial system more secure and better able to support the real economy."
The senators also referred to investment banking as "the casino world of trading and speculating."
That second quote shows hostility to investment banks, which actually provide a boost to the economy and employment growth, by helping companies and municipal governments raise money from investors.
The senators backed their case for the complete separation of investment banking, by saying that the "demolition" of Glass Steagall, which was formally repealed through the Gramm-Leach-Bliley Act of 1999, "not only contributed to the financial meltdown, but also facilitated the current dominance of a small number of global mega-banks." The senators added that "Under Glass-Steagall, major investment banks such as Drexel Burnham and Salomon Brothers failed without creating serious contagion in the broader economy. But in the post-Glass Steagall world of the 2008 crisis, the failure of investment banks like Bear Stearns and Lehman threatened the entire economy."
Of course, the senators failed to add that Bear Stearns and Lehman failed because of the unavailability of the overnight loans they always relied on for liquidity. Completely separating investment banks from commercial banks means the investment banks will no longer have the stable sources of liquidity -- deposits -- that they have built up, in order to avoid another Lehman-like catastrophe.
It's easy to say that if the investment banks are torn away from commercial banking and deposit gathering that the government can simply "let them all fail" during a time of crisis. But if there is a financial meltdown like we saw in 2008, and one or two investment banks go down, with all of their counterparties, including commercial banks, suffering as a result, it's a fair bet that the government will be back in the bailout business.
Even Senator Warren has admitted that a Glass-Steagall type of separation of investment banks from commercial banks wouldn't have prevented the credit and liquidity crisis of 2008.
When asked in a
interview in May of last year whether the financial crisis or the "London Whale" hedge trading losses reported by
JPMorgan Chase
(JPM) - Get JPMorgan Chase & Co. (JPM) Report
would have been prevented by Glass-Steagall, Senator Warren said "The answer is probably 'No' to both."
-- Written by Philip van Doorn in Jupiter, Fla.
>Contact by
.
Philip W. van Doorn is a member of TheStreet's banking and finance team, commenting on industry and regulatory trends. He previously served as the senior analyst for TheStreet.com Ratings, responsible for assigning financial strength ratings to banks and savings and loan institutions. Mr. van Doorn previously served as a loan operations officer at Riverside National Bank in Fort Pierce, Fla., and as a credit analyst at the Federal Home Loan Bank of New York, where he monitored banks in New York, New Jersey and Puerto Rico. Mr. van Doorn has additional experience in the mutual fund and computer software industries. He holds a bachelor of science in business administration from Long Island University.