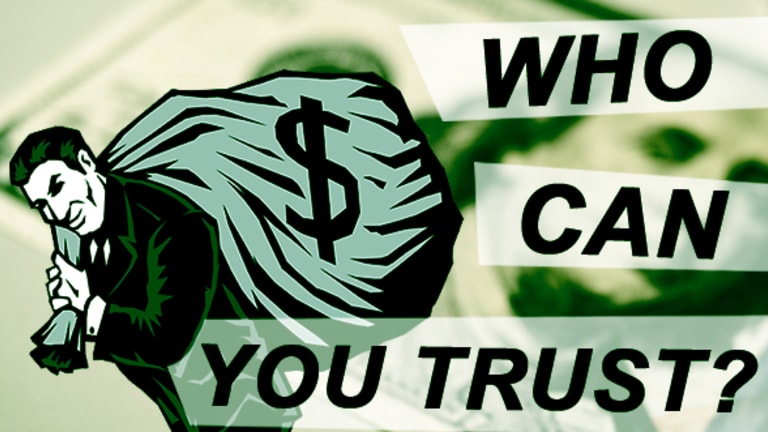 Retirement Fallout From a Penny-Stock Scam: 'We Don't Do Hardly Anything'
Twenty investors await a Finra arbitration hearing in September against two clearing firms that handled their trades in a penny-stock fraud. Did COR Clearing and Wilson-Davis ignore obvious red flags?
Editors' pick: Originally published April 19.
Ron and Barbara Turner don't go out for dinner these days as they struggle to live on a reduced retirement nest egg.
The Turners invested $277,000 -- half their net worth -- in a penny stock, VGTel Inc., that collapsed in early 2014.
Their accounts had fallen to less than $3,000 by the time the government charged four people, including their investment adviser, with fraud in an indictment unsealed on January 6. By then, the Turners were resigned to a lifestyle where dinners, vacations and other special treats were out of the question.
"We don't do hardly anything," said Ron Turner, 77, when I interviewed him last week. "It's been a heck of an ordeal."
It wasn't the way the Turners, retired and living in Surprise, Arizona, had envisioned their golden years. 
The penny-stock swindle that wreaked havoc on the couple's financial security took in more than 100 investors, according to the U.S. Attorney in Manhattan.
A group of 20 of those victims, including the Turners, await a Finra arbitration hearing set to begin Sept. 20. They say that the two financial firms that cleared their trades, Wilson-Davis & Co. of Salt Lake City and COR Clearing LLC of Omaha, ignored red flags that something was amiss.
COR already has settled a complaint with two Ohio investors who sought $1.5 million in compensatory damages for their VGTel losses from a group that included COR, Cleveland broker Larry S. Werbel and Werbel's former employer, Summit Brokerage Services Inc. Werbel, one of the four indicted in January, was the subject of this column on Feb. 9.
The amount of COR's February settlement of the complaint, which was filed with the Financial Industry Regulatory Authority, was not disclosed in Finra's arbitration database. Summit and Werbel also agreed to settle, but on the day after Werbel's indictment and arrest, his lawyer said Werbel would not be paying his portion of the settlement.
Neither COR nor Wilson-Davis have been named in the criminal case or in a related case involving VGTel brought by the Securities and Exchange Commission.
The Turners and the other investors in the case pending before Finra, who are seeking $6 million in damages, are not suing their former adviser Sheik F. Khan, whose finances are precarious. In a settlement with Finra in November, Khan agreed to a bar of four months and ten business days but was spared monetary sanctions because the regulatory authority said she had "demonstrated an inability to pay."
That case involved Khan's sale of a list of 31 clients to the man who the government says is the ringleader of the scheme involving VGTel and other penny stocks, Edward Durante. He, Khan, Werbel and a former stockbroker at Wilson-Davis and COR, Christopher Cervino, all were charged in the January indictment. Durante is still in hock to the Securities and Exchange Commission for $25 million related to a previous fraud case.
Khan has said in legal filings that she did not know at the time that the person buying her customer list was Durante, who had spent 7 years in prison for the earlier penny-stock fraud. She said he used the alias "Ted Wise" in his dealings with her. Khan declined to comment. Lawyers for Durante and Cervino did not respond to email inquiries.
Werbel's lawyer told me earlier this year that his client disputes the allegations and looks forward to the opportunity to present his defense.
Khan, Durante, Werbel and Cervino have pleaded not guilty to the criminal charges.
When the Turners and their fellow plaintiffs gather for their arbitration hearing, they will have to contend with a question that dogs many penny-stock fraud victims: When red flags wave prominently in customer accounts, is it the responsibility of the firm clearing the trades to detect fishy trading and do something about it?
Wilson-Davis and COR have said in legal filings that they did nothing wrong and that they, too, were deceived and hurt by the activities at issue. Both firms declined to comment.
But one of their former employees was a key player in making the alleged scam work.
The government says that Durante put together a team including Khan, Werbel, Cervino and others to assist him in a scheme to jack up the price of VGTel and bail out of his positions after purchases by investors like the Turners pushed the price up.
Durante recruited Cervino, who began opening accounts for the investors while he was working at Wilson-Davis, in July of 2013. While there, the government says Cervino twice executed what's known as a "match trade," in which he would buy the exact number of shares for a Khan client as he was selling from a Durante-related account.
Such trades should be a red flag to brokerage firm supervisors, said Adam Gana, the New York lawyer representing the Turners and other investors, because they can be signs that someone is trying to illegally inflate a stock's price.
Only a month after he began to set up accounts at Wilson-Davis, Cervino moved to COR, where he established new accounts for clients of Khan, Werbel, and several companies controlled by Durante, the indictment says. VGTel, which traded at 34 cents a share in April 2013, soared to $1.90 in October 2013 as a result of illegal manipulation, according to the government.
In court filings, Wilson-Davis and COR have said that they never solicited investors to buy VGTel, and that their only role was to execute trades the clients asked for.
Even is that is true, shouldn't they have noticed the classic warnings of manipulation?
The U.S. Attorney says that during the period in question, Cervino's trading accounted for as much as 80 percent of the daily trading in VGTel, whose volume soared to as much as a million shares a day from a more typical 27,000 shares before the manipulation began.
There were more red flags.
Gana, the investors' lawyer, says all his clients were 100 percent invested in the same penny stock. And that all of their account documents described them as "speculative" investors. And, to top it off, that their trades were marked "unsolicited," which would mean that 20 individual investors had inexplicably been inspired to call their broker and demand shares of the same obscure penny stock at the same time.
Really?
I wish COR had been willing to chat with me. I would have asked about Finra's findings in December 2013 that its surveillance program "failed to identify 'red flags' related to its correspondent firms and transactions by their customers."
And about Finra's observation that it had a "weak culture of compliance" that was particularly troubling given its business in low-priced securities.
(COR said in its answer to the allegations by the Turners and the other investors that, after it was purchased by a firm named Legent Clearing in 2012, it was "given a new life by management who instilled the present firm with a culture of compliance.")
I also would have sought explanations about its litigious history with former executives and compliance people.
A former executive vice president at COR turned whistleblower, assisting Finra with an investigation and then getting fired.
The executive, Julie Bussing, sued COR in 2012. It filed a counterclaim and said Bussing was rude, insubordinate and impossible to work with. COR settled with her on Feb. 10.
In a case filed with Finra, former chief compliance officer Kevin Daniels accused COR of defamation and wrongful termination. He told the arbitrators that COR had tried to suppress witness testimony in the case, and won $247,641 on his defamation claim. The arbitrators denied the wrongful termination claim but said COR had violated Finra's commercial honor rules.
COR even wound up in a tussle with its former general counsel. COR sued David Jarvis in 2013, asking a court to enjoin him from disclosing confidential attorney client communications between him and the company. The case was moved to Finra arbitration and on Aug. 5, 2015, COR's claim was denied.
And it sued Khan, Durante and others involved in the alleged VGTel scam for defamation last year. In that case, COR has asked to take depositions of 13 of the investors awaiting their Finra hearing, which Gana says is "a transparent attempt to harass" his clients and hurt them in their upcoming arbitration.
Amid all the energy being put into litigation strategies, real people have been hurt.
Barbara Turner, who lost hundreds of thousands on VGTel with husband Ron, said she's mostly been in bed for the past six months, suffering from debilitating depression. "I'm not doing too well," she told me. "I'm just worried we're not gonna have enough money left."