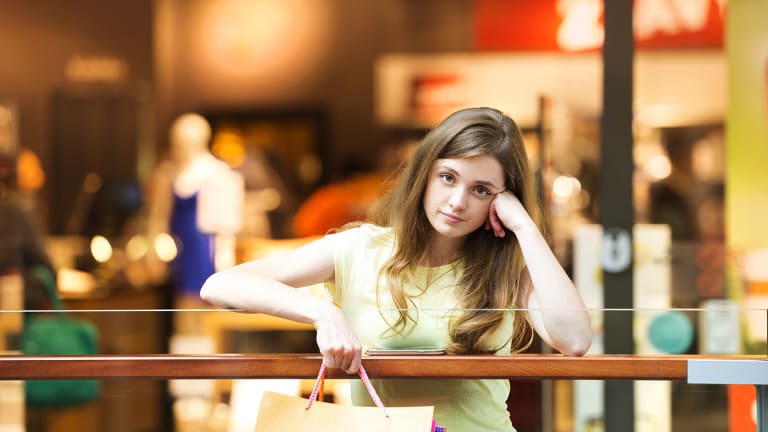 Retailers Clueless on Why U.S. Consumers Are on Life Support
Retail execs have been dumbfounded on why consumers didn't come out and spend, spend, spend in the first quarter.
Retail execs have been dumbfounded on why consumers didn't come out and spend, spend, spend in the first quarter.
The U.S. economy is creating jobs at a steady clip and stock prices have stabilized after a rocky start to the year. So why aren't more Americans out in malls and discount stores shopping?
Don't put that question to execs at the nation's top retailers, who have generally been at a loss for explanations on why U.S. consumers went into a foxhole in the first quarter, and in the process damaged their sales.
"We have seen a noticeable slowdown post-Easter," Target Chief Financial Officer Cathy Smith said on a call with reporters Wednesday, adding that first-quarter sales were below the company's expectations. Target's CEO Brian Cornell, who was also on the call, blamed the slowdown on unfavorable weather in the Northeast and volatile economic trends.
The Minneapolis-based chain reported first-quarter earnings of $1.29 a share, handily beating estimates of $1.19. Total sales clocked in at $16.2 billion, compared with forecasts for $16.3 billion. Same-store sales increased 1.2%, spurred by strength in the kids, women's apparel and health and wellness departments. Target pointed out it saw a slowdown in the number convenience trips by consumers to its stores toward the end of the quarter, leading it to take a cautious stance on its second-quarter outlook. 
Second-quarter sales may drop as much as 2% from the prior year. Earnings should be $1 to $1.20 a share, compared with Wall Street estimates of $1.19.
Target's dreary commentary on the health of the U.S. consumer and subdued outlook echoed those made by other retailers recently. 
"All of us have been reading the stream of negative news stories about various retailers over the past several weeks, and clearly, our industry is in something of a rough patch," said Macy's (M) - Get Report Chief Financial Officer Karen Hoguet to analysts, continuing, "I would say that we, too, are somewhat puzzled by the data that we're seeing on the consumer and the traffic we're seeing in the stores and on the website." 
Macy's first-quarter sales fell 7.4% year over year to $5.77 billion, missing forecasts for $5.94 billion. Same-store sales declined for the fifth straight quarter, falling 5.6% compared to estimates for a 3.8% decline. Store traffic fell an alarming 7%. The company slashed its full year same-store sales guidance to a decline in a range of 3% to 4% vs. a previous estimate for a 1% drop. For the year, Macy's now sees earnings of $3.15 to $3.40 a share, down from $3.80 to $3.90 a share offered back in February.
Why aren't people shopping? Large retailers are unsure.
Despite outperforming its rival in the mall this spring, J.C. Penney (JCP) - Get Reportwasn't immune from finicky ways of consumers.
"This was clearly a challenging quarter for retail driven by unseasonable weather and a change in consumer spending patterns -- we experienced a strong start to the quarter in February followed by a significant slowdown in March and early April," conceded J.C. Penney Chief Financial Officer Ed Record. 
J.C. Penney's first-quarter same-store sales fell 0.4% compared to estimates for a 3.3% increase. The company reiterated that it expects $1 billion in earnings before interest, taxes, depreciation and amortization (EBITDA) this year and for same-store sales to increase by 3% to 4%, with execs citing optimism over the launch of appliances, flooring and new apparel collections later this year.
Kohl's (KSS) - Get Report joined in the death parade, too.
"There seems to be some more macroeconomic issues given performances of both ourselves and competition, there seems to be some change in consumer behavior in terms of traffic coming into our stores maybe because of that," said Kohl's Chairman and CEO Kevin Mansell. In spite of a lackluster start to the year that saw same-store sales dive 3.9%, Kohl's left its guidance for the full year untouched at $4.05 to $4.25 a share in earnings and same-store sales of unchanged to an increase of 1% due to a belief consumers would return for back to school clothes and holiday gifts.
Even home improvement retailers such as Home Depot (HD) - Get Report and Lowe's (LOW) - Get Report , which had impressive first-quarter sales as people continued to invest in their homes, experienced slowing sales by the end of the quarter. Same-store sales at Lowe's rose 8.3% in February, 9.1% in March, and then gained by only 4.9% in April. Lowe's said its research has not shown any change in consumers intent to invest in their homes this year.
At Home Depot, U.S. same-store sales rose 11.8% in February, 7.7% in March and 4.6% in April. 
The barrage of earnings warnings and comments on slowing sales by retailers arrive in the face of several mixed reads on the economy of late.
Even home improvement retailers saw slowing sales by April. 
Employers added 160,000 new jobs in April, below forecasts for 202,000. Prior to April, the U.S. had added 200,000 or more jobs in five of the previous six months. The economy has averaged 232,000 jobs a month for the prior 12 months.
The number of jobs created in the prior two months was lowered by a combined 19,000.
The University of Michigan preliminary consumer sentiment index for May came in at 95.8, compared with a final April reading of 89.0. May's preliminary reading was the most robust since June 2015., But, April's reading was the worst since September 2015, and the overall report for May continued to be hurt by election uncertainty. 
"To be sure, the data still indicated the negative impact of uncertainty about future economic policies associated with the Presidential election, but its overall impact was overwhelmed by favorable economic developments," said University of Michigan Chief Economist Richard Curtin. 
Concern on who will be the next president -- with respective party delegate leaders Donald Trump and Hillary Clinton being such polarizing figures -- may have hurt retailers in the first quarter. "We have an election year -- especially this election, that's all I will say -- that is on the minds of people," said Walmart (WMT) - Get Report  Executive Vice President and CFO Brett Biggs at an investor conference in March when asked what may be causing tepid spending by U.S. consumers. 
Walmart will announce its first-quarter earnings on Thursday. 
The lone retailer that seems to be rolling right along in the volatile consumer spending environment? None other than off-price king TJX (TJX) - Get Report , parent of TJ Maxx, which may be in a prime position to score a ton of deals on the unsold merchandise sitting on the floors of department stores.
TJ Maxx' first-quarter earnings came in at 76 cents a share, easily beating Wall Street estimates of 71 cents a share. Total sales tallied $7.54 billion, compared to forecasts of $7.29 billion. Same-store sales in the U.S. at the Marmaxx division (Marshall's and T.J. Maxx) rose 6%, and spiked 9% at HomeGoods.
"We are in one of those modes right now where one of our most difficult challenges is controlling how much [inventory] we buy right now, because the markets are plentiful and they are plentiful with spring and summer goods -- based on the [retail] environment going on that's probably no surprise," said TJX CEO Ernie Herrman. While excess apparel inventory may be good news for a vulture buyer such as TJ Maxx, it could be bad news for Target as competitors offer aggressive discounts to get product out the door. 
Said Cornell, "There is a meaningful amount of excess inventory [at retailers], which may extend the promotional environment."