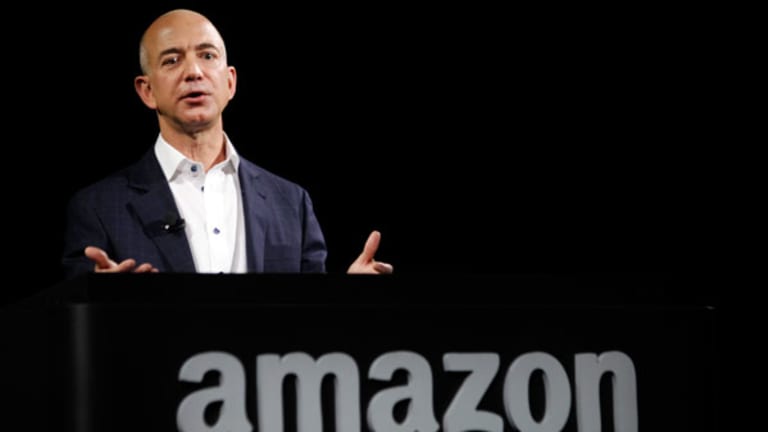 Retail Stocks: Year in Review; What to Shop for in 2016
At the start of 2015, retail stocks were viewed as one of the hottest categories to bet on. Here's some insight about which ones look good for 2016.
At the start of 2015, retail stocks were viewed as one of the hottest categories to bet on. It made sense, given the decline in oil prices. Investors expected that the money consumers saved at the gas pump would be spent instead on discretionary goods like home furnishings and apparel. In some instances, this theory was proven true: For example, the discretionary sector's stocks enjoyed a more than 9% average year-to-date increase, according toFidelity Investments, significantly outperforming the S&P 500undefined index's 0.8% decline.
Investors who went shopping for stocks in the  internet and catalog retailers group -- home to companies like Amazon (AMZN) - Get Free Report (up 115%) and eBay (EBAY) - Get Free Report (up 16%) -- did quite well. According to Fidelity Investments, that sector's shares strongly outperfromed the market, with gains of almost 82% in 2015. Specialty retailers fared well, too, gaining more than 10%. But consumers' largesse was not shared out equally -- under-performers like Kohl's (KSS) - Get Free Report (down 24%) and Macy's (M) - Get Free Report (down 46%), members of SPDR S&P Retail ETF (XRT) - Get Free Report (down 7%), were left behind.
And some formerly strong investments had it rough in 2015. Chinese e-commerce giantAlibaba (BABA) - Get Free Report was a huge disappointment compared to last year's results -- it's down 21% in 2015. And while nobody was using the phrase "high growth" a year ago to predict Walmart's (WMT) - Get Free Report 2015 performance, few expected the world's largest retailer to claim the title of worst-performing stock in the Dow Jones Industrial Average (DJI) , with a decline of 29%.
With the Fed signaling that we'll see higher interest rates in 2016, this year's surprises like J.C. Penney (JCP) - Get Free Report (up 6%) aren't guaranteed to win next year. Conversely, 2015's under-performers Kohl's and Macy's may only be a few good quarters away from becoming winners. And when considering that both retailers will have much easier comparisons to beat in 2016, it's tough to ignore how attractive both stocks are, trading at 12 and 9 times earnings, respectively, compared to a P/E of 21 for the S&P 500 index.
If you're looking for retail stocks that can deliver market-beating performances in the next 12 to 18 months, Home Depot (HD) - Get Free Report should be at the top of your list. The world's largest retailer of home-improvement products paid off handsomely in 2015, posting gains of more than 26% and trading near all-time highs. And 2016 is setting up to be even better.
Not only is Home Depot, which has beaten Wall Street's earnings estimates in six straight quarters, riding a hot hand, there are now clearer signs that residential home construction has begun to improve, according to the U.S. Census Bureau. Both building permits and housing starts have ticked up, which bodes well for Home Depot's sales and profits, since more home construction should translate to more demand for things like lumber, flooring and appliances.
Plus, combined with its solid 59-cent quarterly dividend that yields about 1.8% annually, there's tons of implied value in Home Depot shares. And what's good for Home Depot is also good for its competitorLowe's (LOW) - Get Free Report , which is up 11% on the year. For fiscal 2015, Lowe's is projected to earn $3.30 a share, translating to 22% earnings growth. And based on fiscal 2016 earnings estimates of $3.97 a share, earnings are expected to grow four times faster than revenue.
These forecasts underscore the focus management has placed on profitability and returning value to shareholders. Like Home Depot, Lowe's stock will have strong tailwinds in 2016 pushing it up from its current level of around $75 toward its average price target of $83. And its 28-cent quarterly dividend, yielding 1.50% will be an added bonus for shareholders.
Investors would also do well to buy shares of Dollar General (DG) - Get Free Report , though the discounter's stock has struggled in 2015, up by about 2% on the year. At around $72 a share, DG stock is priced at 19 times earnings -- two points below the S&P 500 index. And for its fiscal year, ending January 2016, earnings are projected to climb 12% to $3.92 a share, while revenue of $20.43 billion would yield an increase of about 8%.
All told, the revenue and profit projections don't suggest that Dollar General's business is struggling as much as its recent stock performance -- down more than 7% in six months -- would indicate. And not only does it have a consensus buy rating, its average analyst 12-month price target of $81 is some 13% higher than current levels. Not to mention, the company plans to buy back around 5% of its outstanding shares over the next year, based on the $1.3 billion shares remaining on its current buyback authorization.
This article is commentary by an independent contributor. At the time of publication, the author held no positions in the stocks mentioned.