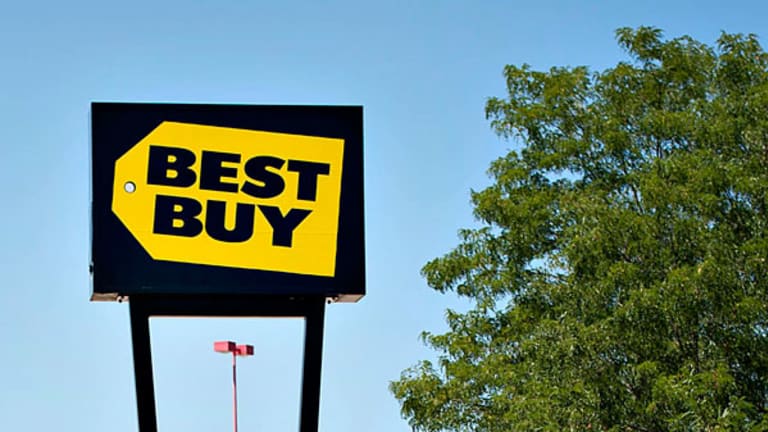 Retail Stocks: Year in Review
This was an exceptional year for retail, especially given the degree of uncertainty surrounding consumer confidence.
NEW YORK (TheStreet) -- With unemployment close to 8% and consumer confidence at all-time lows, investors entered 2013 with plenty of reasons to expect lackluster results from the retail industry. But investors weren't buying that.
Not only has the sector produced gains of 40% year-to-date, but the likes of Staples (SPLS) and Radio Shack (RSH) , names we've come to know as perpetual laggards, reversed last year's losses to post gains of 40% and 26%, respectively. But that was not the case for J.C. Penney (JCP) - Get J. C. Penney Company, Inc. Report, which posted losses of 60% on a well-publicized rebranding failure and reminded investors that things can always get worse.
I expect that there will be many who disagree with me, but I believe that 2013's best retail performer was Best Buy (BBY) - Get Best Buy Co., Inc. Report, a company many had written off for dead. This recognition has nothing to do with the fact that the stock posted gains of 260%. Well, maybe a little. Last year Best Buy posted gains of only 9% to go along with its 3-year average of 8%.
Even more impressive was that the electronics giant entered 2013 on its death bed after being butchered by Amazon (AMZN) - Get Amazon.com, Inc. Report and, to a lesser extent, by Wal-Mart (WMT) - Get Walmart Inc. Report. The company's founder and largest shareholder, Richard Schulze, even offered to take the company private at a price of $24 to $26 per share, or over 80% below Best Buy's recent high of $44.
The winners in Best Buy's turnaround are (obviously) the shareholders. But they have the company's board to thank for opting to not take the easy way out and bow down to Amazon, while also establishing partnerships with Samsung (SSNLF) to introduced the "store-within-a store" concept. This (and other moves) brought new life back into the stores. But for how long?
Speaking of Amazon, Barnes & Noble (BKS) - Get Barnes & Noble, Inc. Report didn't handle this challenge as successfully. With (only) 7% losses on the year, there will be some who consider this a "moral victory." But given all of the moves that Barnes & Noble's management has made, including its partnership with Microsoft (MSFT) - Get Microsoft Corporation Report, there were high expectations for this company. Now, we can argue about how realistic these expectations were, but based on management's decision to exit the tablet market in order to pursue growth in the retail business, I don't see how anyone can be pleased with this year's performance.
With gains of 112% that outperformed market leader Whole Foods (WFM) , the clear-cut winner in the organic/natural foods category was Natural Grocers by Vitamin Cottage (NGVC) - Get Natural Grocers by Vitamin Cottage, Inc. Report. I know full well that this is a young company with a limited growth history. So I don't expect this trend will continue. But what is nevertheless clear is that consumers continue to buy into healthy lifestyle, which bodes well for both companies.
It does raise questions about the gross underperformance of The Fresh Market (TFM) , which declined 16% in 2013. Unlike Whole Foods, it doesn't appear as if Fresh Market could withstand the pricing pressure from conventional retailers like Wal-Mart and Kroger (KR) - Get Kroger Co. Report, which have scaled their organic offerings.
That said, I would bet my money that the company will but up a better fight in 2014. And if I'm looking for a relative outperformance, Fresh Market should be at the top of the list, likely at the expense of Natural Grocers.
After being outperformed in 2012 by arch rival Home Depot (HD) - Get Home Depot, Inc. Report, with gains of close to 40%, Lowe's (LOW) - Get Lowe's Companies, Inc. Report won this year's domestic battle in home improvement stores. And this is even with a 5% decline over the past month.
Lowe's ended the quarter with 1,831 stores, and with comps advancing 6.2% year over year, the company managed to squeeze out strong profitability from each location as they generated (on average) over $7 million in sales. What this means is that, although Lowe's has not leapfrogged Home Depot in terms of size and operational efficiency, the company is now longer content with being in second place.
Without question this was an exceptional year for this industry. Given the improved unemployment rate, along with the jump in homeowner equity due to a better housing market, consumers are enjoying more flexibility with their spending. To that end, I don't see any scenario -- outside of poor execution -- for these companies to shed these gains in 2014.
At the time of publication, the author held no position in any of the stocks mentioned.
Follow @saintssense
This article was written by an independent contributor, separate from TheStreet's regular news coverage.