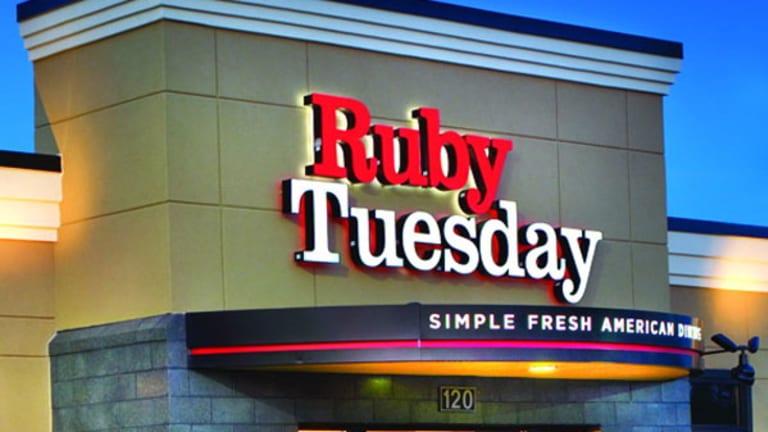 Restaurants Continue to Deliver
Stocks of many restaurant companies have soared so far this year. One laggard that could join the party is Ruby Tuesday.
NEW YORK (TheStreet) --The restaurant freight train continues to roll. Historically, restaurant stocks have been one of the top performing sectors coming out of recessions, primarily due to two factors.
First, during recessions the supply of restaurants either contracts or does not grow, as weaker chains are forced to close, and the healthier ones slow their growth. Once consumers regain their confidence, they typically eat out more often and it becomes a supply and demand issue.
But this time around, the outperformance seems to have continued long past the end of the recession (if it really did, in fact, end). This has occurred during a period of extended high unemployment numbers, and the lowest labor force participation rates we've seen in decades.
Commodity cost inflation, which would force either higher menu prices or lower margins, has not yet reared its ugly head in a significant way, although I still believe it ultimately will. It appears that one of our greatest pastimes as a nation is eating outside the home -- good economy or bad.
As a result, restaurant stocks have been on fire again this year. Year to date, a basket of 39 restaurant stocks, with a minimum market cap of $100 million, are up an average of 39.2%, versus 19.8% for the
S&P 500
, and 24.3% for the Russell 2000, which is the better benchmark -- given that the average market cap for the basket is about $1.3 billion.
But valuations for the group appear to be getting stretched out, with an average price-earnings ratio just above 30 and price-to-book ratio at 4. That's not to say restaurant stocks are on the verge of a meltdown, but they certainly are not cheap, and would likely get hit hard if the economic "recovery" (if you can call it that) loses steam, and/or if we see food costs rise substantially. These names would also likely be hit harder than the broad markets if we see a market pullback.
The biggest winner year to date is fast-casual name
Fiesta Restaurant Group
( FGRI), which went public in 2012 and operates Pollo Tropical and Taco Cabana restaurants in six states, primarily Texas and Florida. Last month, the company opened its 100th company-owned location.
Other big gainers include
Krispy Kreme
(KKD)
(+110%),
Red Robin Gourmet Burgers
(RRGB) - Get Red Robin Gourmet Burgers, Inc. Report
(+92%),
Wendy's
(WEN) - Get Wendy's Company Report
(+77%),
Famous Dave's
(DAVE)
(+76%),
Ruth's Hospitality Group
(RUTH) - Get Ruth's Hospitality Group, Inc. Report
(+67%),
Chuy's
(CHUY) - Get Chuy's Holdings, Inc. Report
(+66%), and
AFC Enterprises
(AFCE)
(+64%).
As a value investor, I'm interested in the losers, the names that investors are shunning. Just two names have negative returns year to date;
BJ's Restaurants
(BJRI) - Get BJ's Restaurants, Inc. Report
(-4%), and
Ruby Tuesday
(RT)
(-4%).
Ruby Tuesday, a name I've owned previously, has taken a 24% haircut in the past two months, primarily due to worse-than-expected fourth-quarter numbers. Consensus estimates were calling for earnings per share of 19 cents, but the company delivered 12 cents. Revenue of $316.1 million was less than the $331 million consensus.
After nearly imploding back in 2009, Ruby Tuesday has taken strides to right the ship. The balance sheet is much improved, and total debt has been reduced from $493 million at the end of 2009, to $299 million at the end of last quarter. The company has also altered its menu and is under new leadership. Whether that will ultimately translate into a better bottom line remains to be seen.
I'm attracted to the name because the company owns the land and buildings for 324 locations, and the buildings only for another 265. That's a compelling real estate portfolio for a company that has an enterprise value of just $700 million. Furthermore, the stock trades at just .86 times tangible book value.
RT
data by
We'll see whether new management and new menu can help deliver some better operating results.
At the time of publication, the author held no positions in any of the stocks mentioned.
Jonathan Heller, CFA, is president of KEJ Financial Advisors, his fee-only financial planning company. Jon spent 17 years at Bloomberg Financial Markets in various roles, from 1989 until 2005. He ran Bloomberg's Equity Fundamental Research Department from 1994 until 1998, when he assumed responsibility for Bloomberg's Equity Data Research Department. In 2001, he joined Bloomberg's Publishing group as senior markets editor and writer for Bloomberg Personal Finance Magazine, and an associate editor and contributor for Bloomberg Markets Magazine. In 2005, he joined SEI Investments as director of investment communications within SEI's Investment Management Unit.
Jon is also the founder of the
, a site dedicated to deep-value investing. He has an undergraduate degree from Grove City College and an MBA from Rider University, where he has also served on the adjunct faculty; he is also a CFA charter holder.