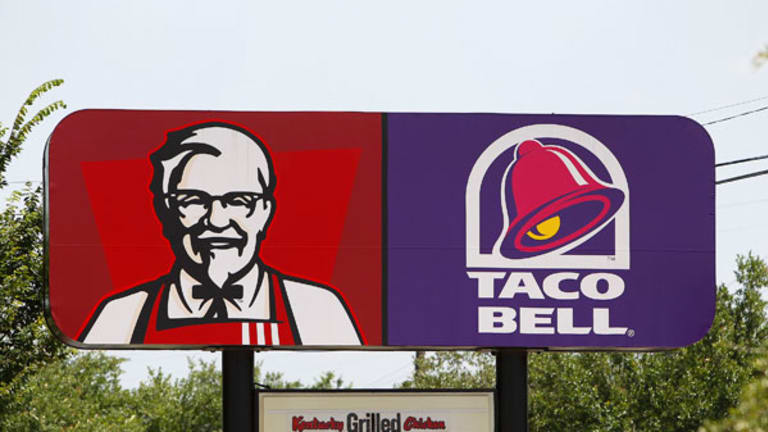 Restaurant Stocks: A Year in Review
While some restaurants will always perform better than others, what remains constant is that Americans love to eat out.
NEW YORK (TheStreet) - With all of the talk about China and the toll its economy have had on the likes of Yum! Brands (YUM) - Get Yum! Brands, Inc. Report and McDonald's (MCD) - Get McDonald's Corporation Report, it would surprise many to know the restaurant industry, which posted 27% gains in 2013, was actually one of the better performers in the market.
I believe this was one of those years where fear screwed up the Street's expectations into thinking that things were much worse than they actually are.
With gains of (only) 10% on the year, I have to say that Yum! Brands exceeded all expectations. I say this knowing that when compared to Wendy's (WEN) - Get Wendy's Company Report 81% gains, Yum! was a laggard. But you also have to remember the deficits Yum! was working with, many of which had analysts proclaiming at the end of 2012 that Yum! was "cooked."
[Read: Disney Bulks-Up on Social as Gannett Bows to Regulators: Media Roundup]
I do realize that Yum! entered 2013 with a couple of public relations gaffes, including a scandal in China involving two suppliers to its KFC restaurants that allegedly provided chicken contaminated with antibiotics. Then there was also the threat of avian flu in its chicken supply that scared off customers.
To that end, on more than one occasion this year I've felt it was my "duty" to come to the company's defense. No, it's not because I owned the stock but because I've never left any of Yum!'s restaurants unsatisfied. Even so, given that China accounts for more than 50% of Yum!'s total revenue and 40% of its profits, these issues proved to be a bit tough to overcome.
As bad as things were for Yum! in 2013, the company still exceeded its 2012 gains by 4%. When you consider the company's three-year average stands at 14% gains, it does underscore the degree to which the Street can magnify certain situations. But I do expect 2014 will be a better year for the company.
This year also proved how much investors loved their pizza, wings and doughnuts -- all made a huge comeback. With Domino's Pizza (DPZ) - Get Domino's Pizza, Inc. Report, Buffalo Wild Wings (BWLD) and Krispy Kreme (KKD) posting gains of 61%, 95% and 98%, respectively, it seems that 2013's health craze with organic and natural foods were offset by some fun eating.

Along these same lines, with 72% gains, Chipotle Mexican Grill (CMG) - Get Chipotle Mexican Grill, Inc. Report made a lot of doubters look foolish, including yours truly. But I do need to clarify that my doubts on Chipotle has been about the Street's overzealousness, which assigned the company a valuation that consistently stayed three times higher than McDonald's.
As a value investor, this never sat well with me. But I will acknowledge that the Street turned out to be right.
[Read: Affordable Care Act Coverage Gap App]
I don't, however, believe this trend will continue. With several analysts having raised estimates for Whole Foods (WFM) and The Fresh Market (TFM) , it seems the consensus is leading towards "healthier results." To that end, I would caution investors about going into 2014 with such strong gains on the table.
Let's not forget, consumers are notorious for coming up with New Year's resolutions -- some of which include diet and healthier eating and may adversely impact upon the performance of some of these companies, at least for a full quarter anyway.
Having said that, I do see an opportunity in a relative underperformer such as Panera Bread (PNRA) , which has begun to post improved restaurant-level margins.
There are many more names that I will be watching. Some will have better success than others. But what remains constant is that Americans love to eat out.
With that in mind, don't discount a resurgence in McDonald's in 2014. Although the company's 10% gains this year didn't overwhelm the Street, as with Yum! McDonald's performance didn't sway that drastically from its three-year or five-year average.
With the company's strengths in innovation and outside-the-box thinking -- not to mention its strong dividend -- there's still plenty of value to digest.
At the time of publication, the author held no position in any of the stocks mentioned.
Follow @saintssense
This article was written by an independent contributor, separate from TheStreet's regular news coverage.