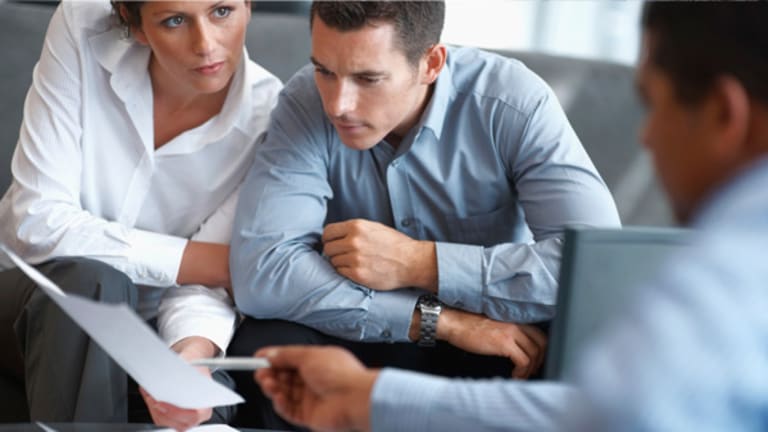 Rescue-on/Rescue-off, Round Two
The ECB set the stage for a game of chicken, creating a policy of instability.
NEW YORK (TheStreet) -- European Central Bank President Mario Draghi announced the bank's policy of Outright Monetary Transactions, or OMT, on Sept. 6.
Shortly after, upon hearing Spanish Prime Minister Mariano Rajoy denied he was considering making an application for rescue, I laid out this game plan:
Market assumes Spain will apply for rescue, Spanish debt yields go down.
Which reduces Spain's need for rescue and increases its bargaining power in easing the conditions for rescue.
As a result, Spanish debt yields shoot up.
Which increases Spain's need for rescue.
As a result, Spanish debt yields go down.
Go back to Step 2.
We are currently in Step 2 of the first iteration.
In theory, the loop can settle into an equilibrium, the yield premium based on the probabilities and risks of rescue/no-rescue scenarios. But this is an unstable steady-state, like a pencil standing on its tip.
One might say it has already been at equilibrium, only it's dynamic. But this dynamic "equilibrium" is poised to swing wildly each time it goes through the loop due to the inherent positive feedback mechanism, as explained below. (By the way, I have a gripe with people calling it "negative feedback," which makes the system stable. Just because the effect is bad, doesn't mean the feedback is "negative.")
The OMT Positive Feedback Loop
It continues to amaze me how people still think Portugal, Italy, Ireland, Greece and Spain (the PIIGS) want to avoid default. OK, maybe they do. But the point is there is no real incentive for them to do so. Austerity is the right (only?) solution in the long term, but it's painful.
At some point the people will cry out in pain and force their politicians to drop the pretension and take the easy way out.
It is perfectly rational and moral to demand the people endure painful austerity since it was they who reaped the benefits of overspending. But this is an external view, with no resonance inside the austerity zone, and therefore irrelevant unless forced on by an external power.
And who dreads the PIIGS default more, elites with the "United States of Europe" dream or people struggling to get by?
The mistake by Greece was that it's not big enough. In this sense, Spain is not Greece. With Too Big To Fail status, Spain can afford to bluff, to dominate and prevail at the negotiation table. Unless and until the conditions for rescue are watered down enough, Spain has no incentive to apply or, even after accepting money with pride and grace, to actually comply with conditions.
This is due to the philosophically flawed design of OMT, as is the case for all euro rescue plans so far -- or one might say even the euro itself -- not the moral quality of any individual or group.
So the reality is the supposed conditions for OMT have no teeth. They are there only to stop German Bundesbank President Jens Weidmann from resigning, at least for now, causing a huge embarrassment to ECB and serious damage to its credibility and effectiveness,
as reported by Reuters
in a fascinating account of events leading to the OMT announcement.
The ECB is destined to capitulate every time. The reluctance may be genuine on the individual level, but borders on scam in the sense that the bank has no choice from day one. The German people will be reminded of various previous capitulations on Greece and Italy, only this time on a much bigger scale.
How long will Germans endure such Outright Monetary Thievery I do not know. It's just a step down the road leading to the
Market Cycles
To summarize, as long as the ECB holds the line on conditions, the swing will become wilder and quicker through each rescue-on/rescue-off iteration as the stakes get higher and the likelihood of complete capitulation (by either side) increases.
When the ECB finally gives in, though probably with some conditionality if only as a nod to Germans but otherwise destined to be violated without any consequences, the swing will take on a new direction: German political upheaval will set in, maybe even just in time for the election next year, and the word "Gerxit" will go mainstream.
Then it's game over for Experimento Euro.
For now, the rescue-off mode will last until Spanish 10-year bond yields make another run at 7% and Prime Minister Rajoy subtly hints at maybe considering rescue, if ECB begs him hard enough.
During this phase, stocks, as represented by the
S&P 500 ETF
(SPY) - Get SPDR S&P 500 ETF Trust Report
, the euro, as represented in the
Euro ETF
(FXE) - Get Invesco CurrencyShares Euro Trust Report
, commodities, and commodity currencies such as Australian dollar, as seen in the
Australian Dollar ETF
(FXA) - Get Invesco CurrencyShares Australian Dollar Trust Report
, will be under downward pressure.
The U.S. dollar, as represented by the
U.S. Dollar Index ETF
(UUP) - Get Invesco DB US Dollar Index Bullish Fund Report
, and bonds will be under upward pressure.
Gold in terms of the U.S. dollar may go up or down, but in terms of the euro will likely go up. I continue to think gold, as seen in the
Gold ETF
(GLD) - Get SPDR Gold Trust Report
, as having the best risk/reward ratio in this environment.
Timing will be impossible to predict unless you have reliable inside info from the euro-zone political inner circle, and from many sides. Such is life in a market completely dependent on politics.
At the time of publication the author had holdings in gold.
This article was written by an independent contributor, separate from TheStreet's regular news coverage.