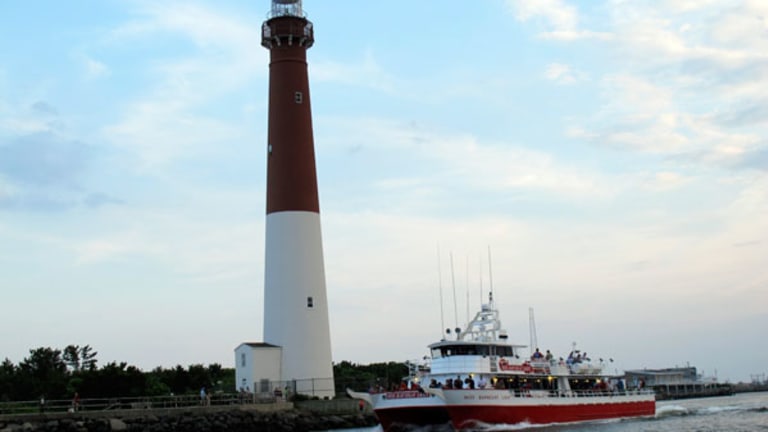 Reopened Pizza Joint Signals Hope for Long Beach Island
Long Beach Island on the Jersey Shore is well on the road to recovery following Hurricane Sandy.
NEW YORK (
) -- Riding along much of Long Beach Boulevard, the main drag on Long Beach Island, a skinny 18-mile stretch of sand off the New Jersey coast, you'd never know that it was ravaged by Hurricane Sandy less than seven months ago.
Many businesses are open, the mounds of debris from flooded homes have been cleaned up and it appears to be business as usual on the island that has been near and dear to several generations of my family.
But if you listen, you'll hear the sounds of saws and pneumatic nail guns. You'll see contractor's trucks on almost every street. The island has
, for sure, and much more quickly than I expected, but the challenges remain.
During my last trip to Holgate, on the southern end of the island, there were still visible scars: houses pushed off foundations, others knocked over, beachfront homes with overly exposed pilings and the remnants of what was once a trailer park.
Read the local newspapers, and you'll learn about the main island controversy over beach replenishment projects, which have expanded the sizes of protective dunes and widened the beaches dramatically over parts of the island.
Some beachfront homeowners have refused to sign easements in order to allow the replenishment work to move forward. This has limited the ability to complete larger contiguous stretches of beach.
Also see: 'Jersey Shore' Ready for Summer >>
Last year, work on a one-mile stretch that included our own beach was completed. The replenished dunes held during Sandy, and I'm convinced that the damage would have been worse had the beaches not been replenished.
Unfortunately, that one-mile stretch ended two blocks from our beach, where a homeowner refused to sign his easement. Nearby, on the bayside, one of the locals, who rode out the storm, witnessed the bay and ocean meet during the storm surge.
Now, I'm certain that flood water from the bay was responsible for some of the flooding, but it does raise the question as to the extent to which the beach replenishment limited the damage in areas where it had been completed.
Also see: SBA Approves $2B in Hurricane Sandy Loans >>
Since the storm, some beachfront homeowners have signed their easements, but there are still holdouts. This issue, which was contentious before the storm, has gotten hotter since the storm.
The names of the "hold-outs" are prominently displayed on our township's Web site. Some have objected due to fears that signing the easements will take away their property rights.
Others were quoted in the press prior to the storm that they objected to having their ocean views blocked by the larger sand dunes. Right or wrong, talk of "eminent domain" proceedings, which started long before the flood, is gaining steam. But make no mistake, beach replenishment is the biggest issue that our little island is facing.
Also see: Can Your Smartphone Replace Your Financial Adviser and Accountant? >>
It will no doubt be an interesting summer on LBI. I've heard anecdotally that rentals are down, and there are still homes where repair work has not started. That being said, all in all, the recovery has so far been quite remarkable, and those who may be fearful of vacationing there this summer because they are not sure what they'll find would be shocked to see the extent of the recovery.
Personally, I'd been concerned about the plight of many of the small businesses on the island. I know of a couple of restaurants that are not reopening, but overall it should be business as usual this summer.
My benchmark for the return to normalcy was set that first day we were allowed back on the island following the storm. I thought there would be hope if
Ravioli & More
, a small restaurant in the town of Ship Bottom, reopened.
This restaurant, which makes what I consider to be the best pizza on Earth, was ravaged by the flood. But a pizza box with the word "soon" written on it appeared in the window a few months ago, giving me hope.
A couple of weeks ago, I greeted the owner of that restaurant with a big hug and picked up two pies after a long day working on our little cottage. That settled it for me. Long Beach Island is back. Other Jersey Shore communities are still struggling, and I am hopeful that they will also recover to the extent that our little strip of sand has.
This article is commentary by an independent contributor, separate from TheStreet's regular news coverage.
Jonathan Heller, CFA, is president of KEJ Financial Advisors, his fee-only financial planning company. Jon spent 17 years at Bloomberg Financial Markets in various roles, from 1989 until 2005. He ran Bloomberg's Equity Fundamental Research Department from 1994 until 1998, when he assumed responsibility for Bloomberg's Equity Data Research Department. In 2001, he joined Bloomberg's Publishing group as senior markets editor and writer for Bloomberg Personal Finance Magazine, and an associate editor and contributor for Bloomberg Markets Magazine. In 2005, he joined SEI Investments as director of investment communications within SEI's Investment Management Unit.
Jon is also the founder of the
, a site dedicated to deep-value investing. He has an undergraduate degree from Grove City College and an MBA from Rider University, where he has also served on the adjunct faculty; he is also a CFA charter holder.