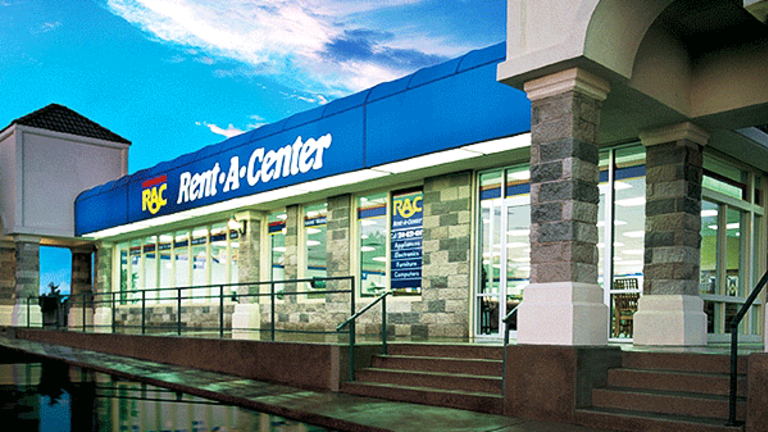 Rent-A-Center Shares Spike on Glenn Welling's Campaign
The furniture and electronics rent-to-own company finds itself a potential target for private buyers after Engaged Capital urged the company it to consider a sale
Rent-A-Center's  (RCII) - Get Free Report  shares rose 10% early Monday as the furniture and electronics rent-to-own company finds itself a potential target for private buyers after activist investor Engaged Capital's Glenn Welling launched a campaign urging it to consider "a sale" of itself "in whole or in parts."
Welling, whose fund owns equity and swaps representing about a 12.9% stake, said in a securities filing that he has been talking with Rent-A-Center's management team and board and about a variety of options for the company, such as restructuring its capital allocation, strategy and board.
Rent-A-Center has similar financial characteristics to two other Engaged Capital targets, Boulder Brands and Outerwall,  both of which were sold after pressure from Welling. Boulder Brands was sold to Pinnacle Foods (PF)  in 2015 and Outerwall was acquired by Apollo Global Management in 2016.
It is possible Engaged Capital would launch a proxy contest to install dissident directors at Rent-A-Center if it doesn't take steps to consider a sale. The insurgent fund has launched 21 campaigns at 17 companies since 2013, including 10 director-election proxy fights, according to FactSet. If so, expect that Welling would launch a director election contest at the company's 2017 annual meeting, expected to take place on June 8. If he does so, Rent-A-Center doesn't have much time to consider its options - the deadline for shareholders to nominate director candidates for the company's annual meeting is in March.
And Rent-A-Center could be particularly vulnerable for a sale after a management shake up following a share price drop of roughly 75% in the last two years. Following some missteps and earnings estimates misses, Rent-A-Center's CEO, Robert Davis, resigned and was replaced earlier this month on an interim basis with the company's founder, Mark Speese.
There is only one other publicly-traded furniture and electronics rent-to-own company - Aaron's Inc. (AAN) - Get Free Report . In 2014, it was the target of a hostile bid, proxy contest and activist attack, which it withstood. Privately-owned Vintage Capital Management LLC, a majority owner of smaller rent-to-own competitor Buddy's Home Furnishings, had hoped to combine Aaron's with Buddy's. However, Aaron's acquired Progressive Finance Holdings LLC, a virtual rent-to-own business, in 2014 in a move that essentially blocked Vintage's efforts.
It's possible that Vintage Capital, spurned by Aaron's in 2014, could be interested in acquiring Rent-A-Center. Kyle Joseph, analyst at Jefferies LLC, said he believed that Rent-A-Center would be in a better position, given all its troubles, as a private business.
However, he didn't think Aaron's would be interested in acquiring Rent-A-Center, in part because the two companies control roughly two-thirds of the rent-to-own market and would likely face antitrust risk if they sought to combine. In addition, he said Aaron's may not be interested because it is concentrating on managing its expenses and its existing business, with a focus on repurchasing shares and investing in Progressive Finance.
Alternatively, Joseph said he didn't know whether Vintage Capital or a private equity company would be interested in acquiring Rent-A-Center, in part because of company's already has a large leverage load. "An leveraged-buyout would be very difficult given its existing debt load," Joseph said. "You would have to stabilize the business first."
Vintage Capital and Rent-A-Center did not return calls for comment.