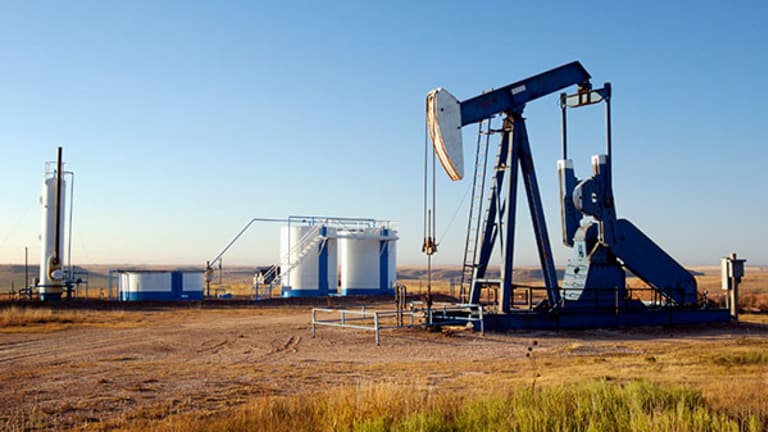 Relax Restrictions on Crude Exports, Says Exxon, Conoco? Just Say No!
Lifting the crude export ban would be the worst idea since the Rangers signed Alex Rodriguez.
NEW YORK (TheStreet) -- If there was ever a case to keep the U.S. ban on oil exports alive, we've seen it in the last six months. We are producing more oil and using less of it, yet the price of gasoline is currently an average of $3.50.
Recently big oil companies have been lobbying government to lift export bans on all crude oil. Since January of this year, we have broken our own records for reserves several times. One might think that would be a strong case for the lifting of such a ban.
Oh, on the contrary, my friends.
We've seen nothing but higher prices built upon fear of other countries' geopolitical problems. Despite the fact that we still have huge reserves -- and gasoline reserves continue to build -- prices have done nothing but increase.
Herold Hamm, CEO of Continental Resources (CLR) - Get Continental Resources, Inc. Report has been at the forefront of drillers petitioning the government to lift the ban on WTI crude exports. Continental Resources, EOG (EOG) - Get EOG Resources, Inc. Report, ExxonMobil (XOM) - Get Exxon Mobil Corporation Report, Conoco Phillips (COP) - Get ConocoPhillips Report, and the American Petroleum Institute have all come out against the ban.
An end to the ban would would lead to untold profits. Almost all of these companies are seeing record profits already, but it's not enough for them. They want the ability to sell to the global market and to the highest bidder. They argue that this would lead to more production and more jobs. I would argue that it would lead to a more volatile market that is susceptible to all global turmoil on perceived supply and demand.
There would be no spread on WTI vs. Brent crude oil, which would move together at every skirmish that pops up.
And there are lots of those skirmishes. You know all the headlines. Iraq, Ukraine, Libya and even Iran have all put fear into the markets. The irony is that of all of those countries, we've actually got an increase in oil from Iraq, Libya and Iran, due to loosening sanctions.
U.S. production is very near all-time highs. Gasoline stockpiles continue to climb, as U.S. consumption continues to decline year over year. Iraq actually increased its output despite the northern occupation of ISIS. Libya, which was not expected to produce anything, is getting out about 3.4 million barrels a day. Iran, which largely disregarded earlier sanctions, is ratcheting up its production every month. The conflict between Ukraine and Russia hasn't slowed down one barrel of oil. In fact, Barack Obama has repeated that any future sanctions against Russia will avoid disruption of the oil markets.
People will argue that West Texas Intermediate crude oil inventories actually declined for the second straight week.
This is true. But why?
Due to the Iraq conflict, Brent Crude prices bounced pretty hard. Despite the U.S. ban on WTI crude exports, there are ways around that. Exports have steadily increased every week since the Iraq insurgency began. Companies can export straight crude to Mexico and Canada. Distillates and refined products have little to no restriction on them. We are exporting far more than 200,000 barrels a day of crude, and far more of distillate products.
And WTI crude is also in strong backwardation.
Why is that important?
With short term supplies costing more than future supplies, it reduces the likelihood that companies will work to stockpile reserves. It is price manipulation, but understandable. If you knew that you could get more from your oil right now exporting or refining it, you would do that as opposed to storing it for later at Cushing, OK.
It's about trying to get the most bang for your buck. I do not blame companies for doing this; I just mention it to explain the perceived draw on reserves.
WTI crude is a minimum of $14 overpriced per barrel right now. The only thing driving prices is fear built upon old fears. Knowing that fear can drive up our prices so much while we already have bans on crude exports, why would we ever allow those bans to be removed?
We are so close to becoming energy independent, why would we want to reverse that good fortune willingly?  Heck, if anything, I'd recommend tightening up restriction on distillates. 
I'm one of the biggest proponents of free-market capitalism. But sometimes you simply have to sit back and ask, "Is this good for the U.S.?" In this case it is only good for large oil companies. As prices inevitably increase, it would squeeze the common man and take away from GDP. It may lead to greener energy in the future, but we'd all suffer in the short run.
At the time of publication, the author held no positions in any of the stocks mentioned.
This article represents the opinion of a contributor and not necessarily that of TheStreet or its editorial staff.