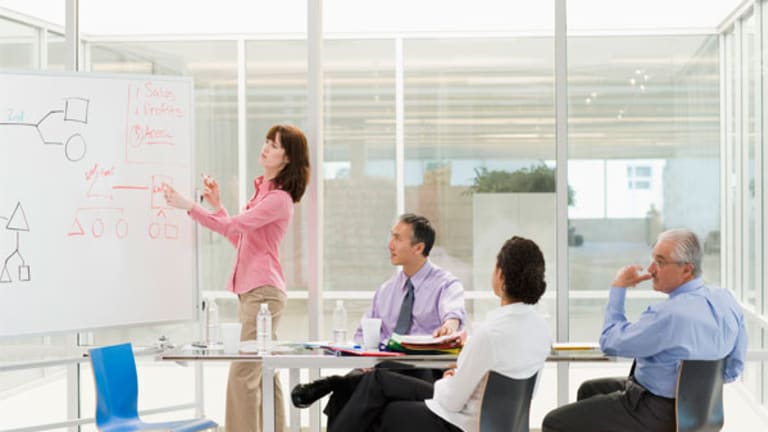 Reinventing Your Strategy Development
A path for quickly setting a strong strategy that your team will be invested in achieving.
NEW YORK (TheStreet) -- Building a business strategy is an annual headache. Strategy discussions go on and on with little discernable progress.
Often, the reason is each team member reads a different strategy book, senses confusion and tries to lead the discussion towards his or her model. Lewis Carroll wrote: "If you don't know where you're going any road will get you there." And during strategy discussions, it feels like everyone's on a different road.
I have seen cases where discussions continue for six months and more. By the time the strategy is complete, the marketplace has changed. In the end, the business operates without a plan to proactively address the market.
Many CEOs become so frustrated they hire consultants to tell them what to do. There are benefits to using consultants, such as industry expertise and analytical skills, but there are drawbacks too.
Drawback 1: Inadequate Learning.
In digging through the data, consultants typically learn a tremendous amount about the market and competitors. Client executives are left with the Cliff Notes. Contrast the learning of a person who reads "War and Peace" cover-to-cover with another who reads the Cliff Notes.
Drawback 2: Lack of Ownership.
If you tell me what to do, I will always find fault. If you ask for my opinion, I will feel responsibility for success.
Drawback 3: Poor Alignment.
Executive No. 1 wants to
maximize
product quality, while executive No. 2 wants to
optimize
product quality (e.g., meet industry standards) and
maximize
profits. Executive No. 1 will make logical daily decisions based on her assumptions, but executive No. 2 will see those decisions as completely illogical. In the end, they will fight and disrespect one another. Perhaps the greatest benefit that can come from strategy discussions is improved alignment.
Reinventing Strategy Development
One of the greatest strategy turnarounds in history was
IBM's
(IBM)
shift to become a services company. In April 1993, Lou Gerstner was hired to save or break-up IBM. Earlier in his career, Gerstner was a director at McKinsey & Co., so he knew strategy.
As Gerstner walked around IBM, Gerstner saw consulting-firm strategy documents on many executives' desks. When he asked, "What are you doing to implement this," the responses were disappointing. He later wrote that IBM's demise was not caused by inadequate strategic plans. It was caused by poor execution. Gerstner decided to reinvent strategy development.
IBM's Business Leadership Model.
Gerstner's first step was to ban strategy consulting firms and enable leadership teams to build their own strategies. This required a common strategy model and vocabulary. The new model was named the IBM Business Leadership Model (BLM). This model is still in use today.
The BLM is very simple. It has two parts: strategy and execution. Ask an IBM executive about strategy and he will see the BLM model in his mind. This common perspective and vocabulary is essential for real communication.
IBM's Strategic Leadership Forum.
IBM designed the Strategic Leadership Forum (SLF) to build business unit (BU) strategies. The SLF is a four-and-a-half day working session for BU top teams. Typically four to six business unit top teams attend with 10 to 15 members on each team.
The week begins on Sunday evening and ends of Friday mid-afternoon with a completed strategy. It is important to note that some of IBM's BUs employ more than 100,000 people. Yet regardless of size, the process is the same. In one week, the strategy is complete.
The SLF methodology is straightforward. One month before the session, team leaders hold a kick-off meeting to define data needs. Like a business school case study, attendees review this data prior to the SLF.
The Sunday evening objective is to gain consensus on the performance gap -- the main problem they are trying to fix. Note that this is the "main problem" and not "main problems." Perhaps the ultimate failure factor during strategy design is addressing too many performance gaps. These teams inevitably get lost and the process grinds to a halt. Successful teams address only one gap.
Over the next four days, the teams complete each part of the BLM model. For example, BLM "strategy" is broken into three parts: strategic intent, marketplace insight and business design.
On Monday morning, members of all the teams assemble in a theater-style room to listen to a one-hour lecture on strategic intent. After the lecture, the BU work teams move into breakout rooms and spend three hours forming a consensus on a statement of strategic intent for their BU.
After lunch, participants return to the lecture room to listen to a presentation on marketplace insight. They again break into their teams for four hours and document critical marketplace changes, perhaps with customers, competitors or technologies.
By Friday, the teams have finished all seven parts of the BLM and the strategy is complete.
Don't Outsource Strategy
There are many activities a business may choose to outsource, but strategy development is not one. The main task of the head of any business is to set direction and align the organization to move in that direction. It's hard to imagine a new NFL coach outsourcing strategy development.
Putting a time limit on strategy development ensures it will be completed and implemented quickly.
These strategies may not have the analytical beauty of a year-long consultant-led strategy. However, too often, data is overused during strategy discussions. Dive too deep and you miss important conceptual patterns. And will your decisions really change if you find that your market share is 18.3% versus 17.4%? Get enough data to make a quality decision and then move forward.
Finally, strategies should be living documents written in pencil and revised as the marketplace changes. Mike Tyson said it well: "Everyone has a plan until they get punched in the mouth."
Don't outsource strategy. Make it your managers' main responsibility. Then get really good at it.
This article is commentary by an independent contributor, separate from TheStreet's regular news coverage.
Hall is managing director of Human Capital Systems (www.humancapitalsystems.com), a firm that designs systems for improving workforce performance. He is also an instructor in Duke Corporate Education's teaching network and author of The New Human Capital Strategy. Hall was formerly a senior vice president at ABN AMRO Bank in Amsterdam and IBM Asia-Pacific's executive in charge of executive leadership and organization effectiveness. During his tenure, IBM was twice ranked No. 1 in the world in Hewitt/Chief Executive magazine's "Top Company for Leaders." Hall completed his Ph.D in industrial-organizational psychology at Tulane University, with a dissertation on people management practices of Japanese corporations.