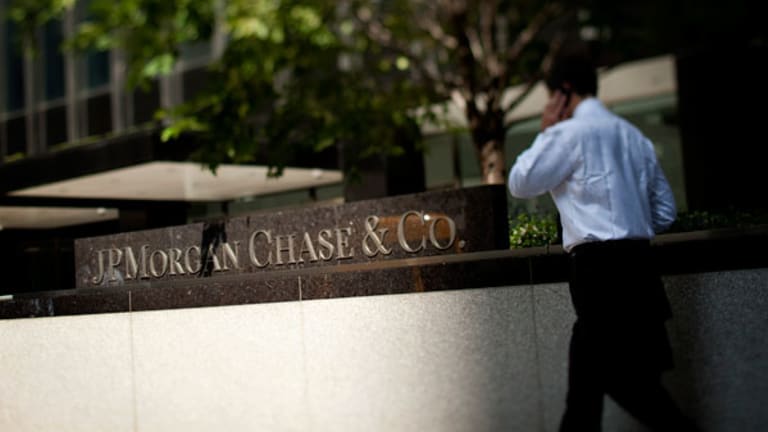 Regulators Lump JPMorgan With Crisis-Era Banks (Update 1)
JPMorgan Chase's confidential regulatory rating was cut last year to the same level as Citi and BofA during the credit crisis.
Update with afternoon market action and comments from Mark Williams, a former Federal Reserve bank examiner and current lecturer at the Boston University School of Management.
NEW YORK (
) -- The onslaught against
JPMorgan Chase
(JPM) - Get Free Report
continues unabated.
Maybe whoever leaked confidential regulatory rating information to the
Wall Street Journal
was jealous that the bank all but sailed through the credit crisis while casually absorbing the "
" trading losses last year. The company posted 2012 earnings of $21.3 billion -- increasing from $19 billion in 2012 -- despite taking at least $6.2 billion in losses while winding down the hedge trading losses that were at the center of a
last week.
JPMorgan shares were up slightly in afternoon trading, to $49.30.
In its report on the London Whale losses, the Senate Permanent Subcommittee on Investigations disclosed that the Office of the Comptroller of the Currency lowered JPMorgan Chase's CAMELS rating in July 2012 for main banking subsidiary,
JPMorgan Chase Bank NA
. The rating was lowered because of "lax governance and oversight" of the bank's Chief Investment Office, which is the group that handled the hedge trades leading to the losses.
The OCC determined that JPMorgan Chase's "board and management failed to ensure that CIO management was properly supervised, and that an adequate risk management and control infrastructure was in place," according to the Senate committee report. One of the Senate committee report's conclusions is that bank regulators should finalize their implementation of the
, which bans proprietary trading by banks and has been championed by Senate Permanent Subcommittee on Investigations Carl Levin (D., Mich.)
Banking is among the most highly regulated industries, for reasons that are all too familiar to most residents of the U.S. in the wake of the housing and credit crises. But bank examination reports are confidential, with good reason. With banks' management teams, financial results and business strategy subject to a very high degree of scrutiny in the reports, it would be grossly unfair, not to mention highly disruptive in the market, for the examination reports to be made public.
CAMELS is an acronym standing for capital adequacy, asset quality, management, earnings, liquidity and sensitivity to risk. According to the
Journal
, JPMorgan Chase was lowered to a CAMELS 3 rating, which is a "needs improvement" rating. That's the same rating that
Citigroup
(C) - Get Free Report
and
Bank of America
(BAC) - Get Free Report
were lowered to, at the height of the credit crisis.
While "needs improvement" may not sound that bad, it is a very big deal to the management of any bank. And now it is a stigma for JPMorgan Chase, which earned $74.963 billion over the five-year period ended Dec. 31, compared to $13.68 billion for Bank of America and a net loss of $80 million for Citigroup, over the same period, according to data provided by
Thomson Reuters Bank Insight
. During that time, JPMorgan managed to integrate Bear Stearns and the failed Washington Mutual, which it purchased from the
Federal Deposit Insurance Corp.
in September 2008, with the FDIC's insurance fund not losing a dime.
It seems quite a stretch to lump JPMorgan Chase with crisis-period Citigroup and Bank of America, but this is what the regulators did, following the London Whale losses. The OCC examiners obviously failed either to detect or to act upon the outsized risks being taken by the CIO. According to the Senate committee report, "several OCC examiners were responsible for overseeing the CIO."
While investors seem to be shrugging off the report of JPMorgan's regulatory downgrade, some industry observers think it is serious business.
A CAMELS 3 rating "is unacceptable for the largest bank in the nation, the largest derivatives dealer and the largest trader in the credit derivatives market", according to Mark Williams, a former Federal Reserve bank examiner and current lecturer at the Boston University School of Management.
Williams in an email on Wednesday said "it is highly unusual that a bank's regulatory CAMELS score is released publicly. Typically regulatory ratings are confidential and only shared with senior bank management. The concern is that publicly disclosing this information could trigger a bank run."
Over the long haul, investors could pay a price for the regulatory downgrade, according to Williams, who said that having the management component of the CAMELS rating also scored a 3 "indicates that this is a clear mismatch between level of bank risk taking and level of management quality," and that it could take several years for the OCC to upgrade the rating.
There is a risk "that regulators will not upgrade the bank for several years to come," he said, meaning the bank will "spend more time satisfying regulator concerns and will have less time to focus on expanding its banking activities," he wrote.
-- Written by Philip van Doorn in Jupiter, Fla.
>Contact by
.
Philip W. van Doorn is a member of TheStreet's banking and finance team, commenting on industry and regulatory trends. He previously served as the senior analyst for TheStreet.com Ratings, responsible for assigning financial strength ratings to banks and savings and loan institutions. Mr. van Doorn previously served as a loan operations officer at Riverside National Bank in Fort Pierce, Fla., and as a credit analyst at the Federal Home Loan Bank of New York, where he monitored banks in New York, New Jersey and Puerto Rico. Mr. van Doorn has additional experience in the mutual fund and computer software industries. He holds a bachelor of science in business administration from Long Island University.