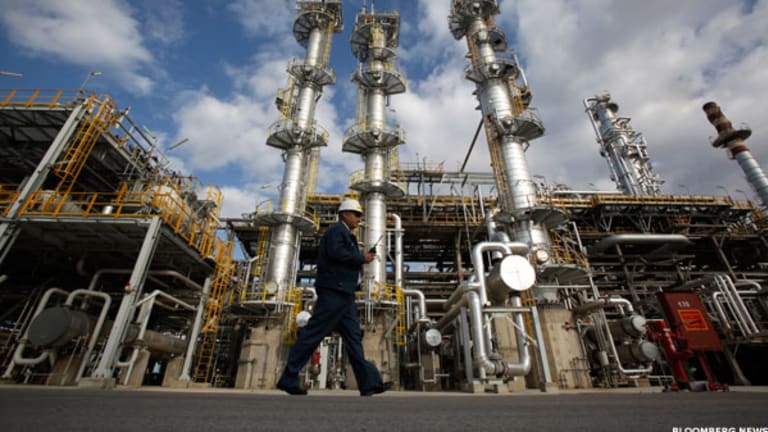 Refiners Primed to Regain Pricing Power
Oil refiners could benefit from improving price relationship between crude oil and gasoline.
NEW YORK (
) -- Imagine for a moment, that you run a company that must sell its goods at a lower price point, yet simultaneously must pay more to produce this good. This seems like a reasonable cause to send a company's shares downward, which is exactly what has occurred with refinery stocks.
The rally in crude oil, coupled with muted prices at the local gas station, has created a troublesome environment for oil refining companies. Investors, though, have recently savored the gift of a run-up in oil prices; and consumers have welcomed the gradual slide in prices charged at the pump. As appreciated as this pairing is for consumers and investors, it's terrible for the refiners who must pay those higher energy input costs and receive the lower retail pump revenue.
We believe this trend is due to reverse shortly.
Read: video Dicker: Unlocking Shareholder Value in Energy
Crude oil
(USO) - Get United States Oil Fund LP Report
prices have advanced along with other risk assets over the last several years, making notable and recent price leaps in reaction to the situation developing within Syria. As global economies lurch along, either organically or by the coercion of central banks, both commodities and global stock markets have rallied sizably.
During this time, crude oil, gasoline
(UGA) - Get United States Gasoline Fund LP Report
, diesel and heating oil
( UHO) have all mostly advanced in step, until recently. It is this divergence that has sent refinery stocks into a tailspin.
Prices at the local gas station have begun to lose their high correlation to crude oil over the recent past. Gasoline has made a series of lower price highs since the summer of 2011, while crude hit a new high in August. Fortunately, companies like GasBuddy.com, have made pump prices readily available for all 50 states and most major cities.
Viewers can quickly see the price charts showing retail gasoline prices that have not tracked alongside prices of crude oil recently. Instead they have, on balance, been declining. Now, this is great news for U.S. consumers and their wallets, but not for companies such as
Valero
(VLO) - Get Valero Energy Corporation Report
,
Western Refining
(WNR)
and
Marathon Oil
(MRO) - Get Marathon Oil Corporation Report
.
Lastly, the complications facing
British Petroleum
(BP) - Get BP Plc Report
, which is still battling the repercussions from its 2010 Deepwater Horizon oil spill and the subsequent claims process, could be enough to remove it from a list of candidates for a portfolio.
Fortunately for companies like
Hess
(HES) - Get Hess Corporation Report
and
Holly
(HFC) - Get HollyFrontier Corporation Report
, most price relationships tend to revert to the mean. This will most likely remain true for the relationship between crude oil and gasoline prices. The price relationship between these two commodity markets is sitting right at the high of its 17-year range. In our experience, commodity spreads like this one, rarely remain at price extremes for very long. This means, in the near future, gasoline prices should rally strongly in relation to crude oil prices.
All of these points ultimately create an improving environment for oil refinery stocks, and a potential buy point. When these companies see a drop in their input costs compared to the prices they can charge through a retail outlet, their margins should swell. This would reward stockholders. At the very least, the primary driver for the substantial declines in the refinery sector should be waning.
Historically, situations like this one have shown refinery stocks to at least perform well compared to the broad market. What does this mean?
If an investor is bearish on stocks as a whole and looking for short-sell candidates, refining stocks are probably not ideal. Also, investors looking to create a neutral portfolio could buy refining stocks and sell short a broad market ETF, like the
SPDR S&P 500 ETF Trust
(SPY) - Get SPDR S&P 500 ETF Trust Report
. This pairing says, "I like the improving conditions for refining companies, but I'm unsure about the broad stock market".
There are a number of ways to take advantage of the changes coming to the refining sector, and well-informed investors should be rewarded for identifying these developments. Many of the oil-refining companies have been shunned by portfolio managers and general investors as a whole, which has helped to push prices lower by up to 33%. Now may be the time to view this decline as a gift, rather than the start of a new bear market within the sector.
Read: 54% of Americans Feel This Way About Their Finances
At the time of publication, Andrew McCormick, MKC Global Investments, LLC and the MKC Global Fund, LP are long December Mini Russell 2000 futures.
This article was written by an independent contributor, separate from TheStreet's regular news coverage.
Andrew McCormick is the president and founder of
MKC Global Investments
, an alternative investment company (CTA) based in Seattle, WA. Through individually managed accounts, the company provides active strategies that trade in more than 90 global commodity, currency and financial markets.
McCormick contributes market commentary to ZeroHedge.com and China's CBN TV. His research has been used in U.S. Senate Agricultural Committee hearings in regard to the troubles facing the financial industry. McCormick also serves in a consulting capacity to assist in risk-management solutions for utility companies, international proprietary trading firms, introducing brokers and hedge funds.