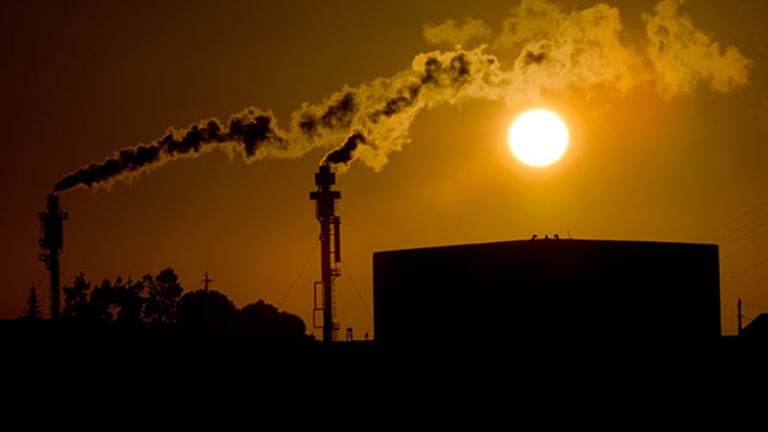 Refiners May Have Already Peaked For 2014
The mild 2014 hurricane season forecast should give refinery investors pause as inventories are high and expected peak summer driving is down.
NEW YORK (TheStreet) -- Sun, fun and relaxation are typically associated with the summer months, but those investing in the refining space may find the upcoming season far less compelling than in years past. 
According to Colorado State University, the upcoming 2014 Atlantic Hurricane Season, which begins on June 1, is not expected to be very active this year (cue the band) thanks to an expected El Nino effect. That means the price of retail gasoline will likely be kept in check, something that may take some of the sizzle out of the refining crack spread during a time when it typically sees a bounce. Then add into the mix forecasts for temperatures to be above-normal in many parts of the country, and refiners may actually see less demand for gasoline as summer driving plans become less favorable. 
Then there's the Energy Information Administration (EIA). The government agency is predicting the price of a gallon of regular gas to drop to a national average of $3.57 per gallon through September, down from the $3.58 per gallon average seen last summer. That estimated price may prove to be high since there is a notable boost to North American oil production thanks to the shale boom. U.S. Gulf Coast crude oil is presently at a record high (207.2 million barrels) even without all the proposed Arctic drilling. Plus, according to the EIA this year's increase in production has been "particularly notable". This suggests the typical concerns associated with supply constraints can, "for now at least", be shelved. That may help take the allure out of investing in the refining sector this summer. 
>>Read More: 10 Most American-Made Cars of 2014
Further making me less inclined to get excited about the sector was a recent glaring comment by refining giant Valero (VLO) . The industry bellwether last week said demand has simply not yet recovered from 2008 global recession. This further illustrates that the record stock market performance is not really indicative of the average Joe's spending power thanks to stagnant wage growth despite longer hours worked. This new reality (I know, I hate it too) may further crimp travel plans this summer and lessen demand for gasoline at the pump during the upcoming peak season. 
Valero also went so far as saying financially the refineries it owns in California are the is weakest group of assets. That's fascinating since there is market speculation that Valero could sell its San Francisco and Los Angeles refineries to Tom O'Malley's PBF Energy (PBF)  a company that has expressed interest. The problem is if PBF is looking for growth, Valero's California assets may not be the answer. 
O'Malley has the been the magic man of the refinery industry for years with past notable triumphs at Tosco and Premcor. However, I'm not convinced he would be able to strike lightning a third time. The market has seen vast changes in supply and demand behavior in recent years. Now there are growing environmental concerns that may only rise thanks to the California Air Resource Board (CARB). O'Malley has been known for turning around refinery operations and getting the most out of his assets, but Valero's issue in California was not operational. Therefore any official move to acquire those assets by PBF would make me a seller of that stock on the news. 
>>Read More: Sozzi: New Alien Vans are Invading the United States!
As for Tesoro (TSO) , the company does have two refineries in The Golden State so investors may have reason to be concerned, especially since Valero said operationally their refinery assets in California were "excellent". This has me thinking Tesoro's valuation may come under pressure, despite the company having the best 5-year and 10-year average performance (8% and 27.58% respectively) in the entire space during hurricane season. Why? The West Coast has historically been the best refining margin environment, so it is surprising Valero's assessment of its California assets didn't get more mainstream attention.
From a sustainability perspective, the game is changing for refiners. More stringent CAFE standards, a wider adoption of electric/hybrid vehicles by consumers and a significant but low-key announcement by United Airlines (UAL) to adopt more biofuels, collectively solidifies my view this is not the same refining space even a few years ago. Keep in mind Tesoro counts aviation fuels as one of its largest commercial marketing businesses (heavy fuels are the other major segment for the company). Valero on the other hand has a growing reliance on ethanol to save the day for revenue growth despite recent droughts which affect corn crop growth and the EPA lowering the amount of ethanol to be blended into fuel from 16.55 billion gallons to 15.21 billion gallons. 
>>Read More: Ford to Recall 4,000 Units of F-Series Pickup Truck
Clearly, the drum is beating louder for a looming decision on a carbon tax and that's yet another ball in the air today's refiners must now juggle. Refiners will no doubt look to pass along to consumers any carbon tax, but that threat doesn't carry the same weight it once did since fewer younger people are driving today. Therefore refiners like Valero, Tesoro and even Alon USA Energy (ALJ)  hurt by less favorable crude oil differentials and the resulting margins along with historically weaker summer driving season stock performers like Delek (DK)  and HollyFrontierundefined, don't hold the powerful pricing sword they once yielded. 
With a milder hurricane season forecasted, the 2014 highs may already be in the review mirror for refining stocks. Of course Mother Nature always beats to her own drum and anything can happen, but as of now, the refining sector's valuation may have peaked for 2014. 
At the time of publication the author held no positions in any of the stocks mentioned.
This article represents the opinion of a contributor and not necessarily that of TheStreet or its editorial staff.
Follow @bluephoenixinc