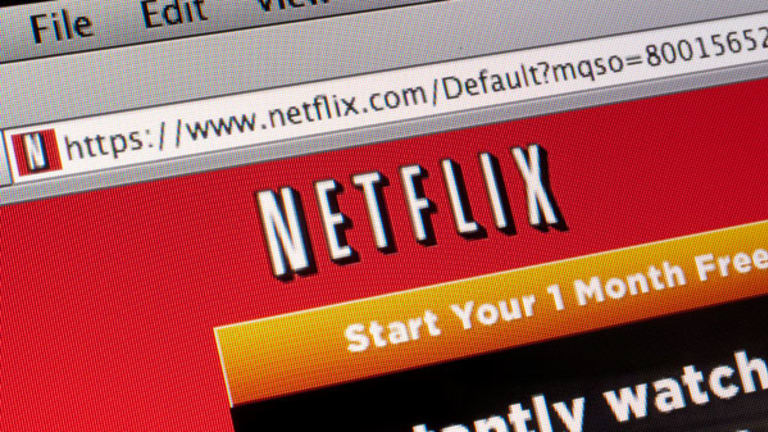 Reed Hastings Hypnotizes Wall St. Analysts
Netflix is as close to going bust today as it was in the summer of 2011, yet Wall Street happily lines up to make the same mistake twice.
NEW YORK (TheStreet) -- In 2011, a large number of Wall Street analysts made fools of themselves. We're not just talking at the standard level we have come to expect.
I hate to pick on one person, but, in 2011, she became emblematic of the horrid analyst coverage of
Netflix
(NFLX) - Get Free Report
. Ingrid Chung,
Goldman Sachs
, December 1, 2011, as depicted in an article I wrote for
:
For example, has anybody heard from Ingrid Chung at Goldman Sachs . . . After Netflix's disastrous Q2 and weak Q3 guidance in July, Chung waxed bullishly, not only reiterating a buy rating and her $330 price target, but raising EPS estimates from 2011 through 2013.
Before you read this next sentence, call some family, friends or co-workers over to your computer screen, because there's nothing like sharing a laugh with others around the holidays. For 2012, Chung predicted Netflix would post EPS of $7.69.
For the record, Netflix recorded 2012 EPS of $0.29.
Just this past week, Andy Hargreaves, an analyst at
Pacific Crest
his NFLX price target to $225 and raised 2015 and 2021 subscriber and earnings estimates. While I don't necessarily disagree with the price target --
remember, I have been bullish the stock since last summer
-- or the notion that Netflix employs a smarter content acquisition strategy than it used to, I can't get with the contention that Netflix's investment in what Hargreaves calls "high-quality original content" will do anything but bankrupt the company.
Also see: The Startup That Wants to Send Its Next Developer to Space >>
How soon we forget Netflix's precarious financial situation. In fact, some of these analysts have never even acknowledged it. Not even after 2011 and 2012's implosions. It hasn't gotten any better. Netflix will still require some sort of bailout -- again -- if it expects to continue operations at anything close to the current pace.
See if you notice a pattern in this series of numbers: $194,499, $150,419, $175,207, $159,199, $508,053, $395,992, $402,251, $370,298, $290,291. Those numbers represent, in chronological order (and in thousands), Netflix's cash and cash equivalents over the last nine quarters, ranging from the quarter ending Dec. 31, 2010, to the most recent reported quarter ending Dec. 31, 2012 (see Netflix's Q4 2012 financial statement at the company's
investor relations Web site
).
That pop -- from $159,199 to $508,053 -- came when Netflix had to hit the market for extra cash at the end of 2011 as things really began to unravel. At the time, Reed Hastings claims Netflix really didn't need to raise cash; it just did so to give itself a cushion.
Also see: The Digital Skeptic: Facebook-Killing Dark Social Rules The Web >>
In the company's most recent letter to shareholders (
January 2013
), Hastings stated that Netflix would merely take "advantage of the current low interest rate environment to refinance our $200 million in outstanding notes and raise additional cash through new debt financing."
Thanks to the cost of funding original programming and international expansion, not to mention domestic marketing, cash on hand trends down while free cash flow plummets. Netflix continues to spend more than it takes in. The proportion of cash payments relative to P&L expense continues to rise. Hastings and CFO David Wells admit this much in the same shareholder letter they claim they're raising cash because of attractive rates. In the next breath, however, they claim FCF will turn around, as if Netflix will ever be able to stop the bleeding of cash out the door to pay for originals and third-party content.
Also see: Jaguar Land Rover Sees Big Sales Gains in 2013 >>
Just as it did in 2011, Netflix continues to fire off red flags quarter after quarter. And a vast majority of Wall Street analysts refuse to use their MBAs for anything more than tickets to a six- or seven-figure gigs in Downtown Manhattan. Again, they're irresponsibly ignoring the writing on the wall and falling for Hastings' lines like giddy college coeds interfacing with the football team after the homecoming game. Their clients ought to hold them in contempt.
That aside, at least be honest enough to say,
Listen, we're recommending the stock because it will go up on nothing but pumping and blind momentum, but, we really can't put our faith beyond the company
. Because that's the reality of the situation: Netflix is as close to imploding today as it was in the summer of 2011 when the stock barreled past $300.
--
Written by Rocco Pendola in Santa Monica, Calif.
Rocco Pendola is
TheStreet's
Director of Social Media. Pendola's daily contributions to
TheStreet
frequently appear on
CNBC
and at various top online properties, such as
Forbes
.