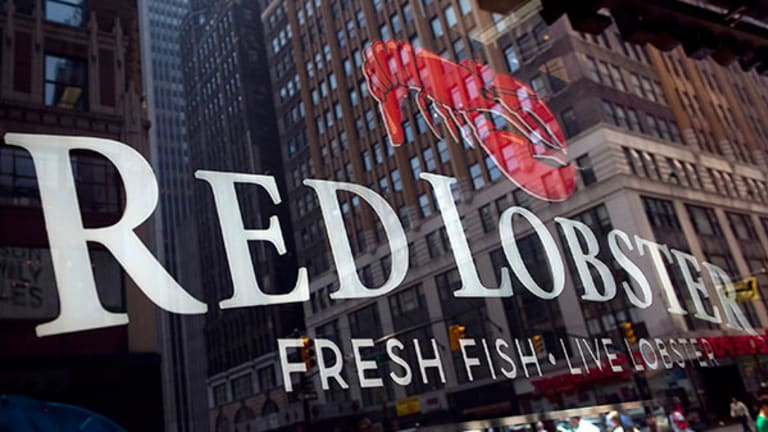 PORTLAND, Ore. (TheStreet) -- Red Lobster and its struggling casual dining cohorts don't need more deals or better decor to keep customers: It just needs some quality and even the faintest suggestion that its local diners matter.
There was a time when casual dining paid at least lip service to the notion that restaurants should not only draw repeat business, but should be neighborhood fixtures. Pre-DineEquity (DIN) - Get Dine Brands Global, Inc. Report, Applebee's filled its walls with local high-school tchotchkes and made its case as a post-graduation, Thanksgiving Eve community meeting place. For years, Olive Garden's pitch was "When You're Here, You're Family." Even Red Lobster was positioned as the "fancy" dining option -- or only seafood option -- in many suburban U.S. towns. At the very least, DineEquity's IHOP had its peaked ceilings, Olive Garden had its Tuscan decor, and Ruby Tuesday had its salad bar and Tiffany-style lamps.
At some point, all of these ideas became "outdated" and the food was left to stand on its own. What resulted was absolutely awful. Sales at Red Lobster have been sliding since the last recession, with same-store sales last quarter down 4.5%. It parent company, Darden Restaurants  (DRI) - Get Darden Restaurants, Inc. Report, flirted with the idea of ditching wait staff for counter service, spinning Red Lobster off into its own division and tinkering with both the menu and pricing. Darden increased the number of chicken and beef items offered at Red Lobster from 8% of the menu to nearly a quarter of it, but its 2-for-$25 and 2-for-$30 meal deals not only couldn't match competitors' offerings, but hurt Red Lobster's little remaining chance of being a premium brand.
Meanwhile, Darden added low-calorie options to Olive Garden's menu and changed its slogan to the more fast-paced "Go Olive Garden" and tore down its faux-Tuscan decor in favor of a more streamlined look. It even replaced Olive Garden's president early last year in an effort to boost results. Olive Garden's sales remain stagnant, but it's not the only casual dining chain that's suffering.
NPD Group notes that the number of restaurant visits driven by deals rose between 3% and 5% at the height of the recession in 2008 and 2009, but slumped 3%in 2012. The cost of dinners out rose nearly 3% over the last year, according to the Consumer Price Index. That's more than the overall rate of inflation and isn't helped when a $10 promotional meal jumps to $12 or $14, jacking up the price 20% to 40%. Combined with drops in casual-dining spending reported by NPD Group every quarter since spring of 2010 and the gradual shunning of roadside chains by people ages 18 through 47, casual dining is having a tough go of it.
Darden's, Chili's and Maggiano's Little Italy parent company Brinker International (EAT) - Get Brinker International, Inc. Report reported in 2013 that the end of a spate of deals made it pessimistic about the year ahead. As Applebee's and IHOP owner DineEquity and Outback Steakhouse and Carraba's Italian owner Bloomin' Brands (BLMN) - Get Bloomin' Brands, Inc. Report face similar struggles, but typically blame increasing pressure from fast-casual establishments like Panera and Chipotle Mexican Grill (CMG) - Get Chipotle Mexican Grill, Inc. Report even from reworked casual dining models like Buffalo Wild Wings, whose emphasis on beer, wings, sports and lots of big televisions helped it grow from 340 restaurants in 2008 to 510 last year and boosted its revenue by 6.6% in 2012 alone.,
But that's not entirely true. As my wife and I discovered during an errand in Vancouver, Wash., earlier this week, there's still a way to make casual dining work. While picking up the last remaining replacement part for my dying printer, we decided to stop for breakfast at the local chain Elmer's. There's an outlet near our home, but we usually bypass it for a diner. This particular location didn't have a lot of other options nearby and the advance word we'd received about the place was especially good for a chain.
The Vancouver outlet was an absolute gem. Divided into a main dining room and a booze-serving lounge, Elmer's had wood-paneled vaulted ceilings, mid-century lighting fixtures, blonde wooden furniture, wood balusters between the kitchen and dining room and gas fireplaces at either end. The menu is laden with Pacific Northwest references: Omlettes with cheese from Oregon's Tillamook Dairy, Snoqualmie Falls oatmeal, Ivar's chowder, Alaskan cod and the like. My wife ordered a plate-sized German Pancake -- a plate-sized portion of fried dough topped with powdered sugar, lemon juice and butter -- while I had potato pancakes stuffed with cheddar cheese and bacon and accompanied by two eggs over hard. The lemon juice came from wedges on the pancake, the eggs were not poured from a carton and the bacon at the very least resembled an actual cut of bacon. Overall, it vastly exceeded expectations.
When the bill arrived, it came in the hands of the restaurant's manager, who asked us how we enjoyed our meal and if it was our first time at an Elmer's. We had no complaints and made it clear we were not only new, but had bypassed our hometown Elmer's on several occasions. On our way out the door, he handed us an envelope with "Welcome!" handwritten across the front. Inside was a signed welcome letter, a map of the chain's other locations, a to-go menu and a $10 voucher for our next visit. Considering our bill came out to roughly $25, $10 is no small chunk of change at this chain.
It should be noted that Elmer's is a fairly small chain. Based in Portland, it has only 25 locations in the Oregon, Washington, Idaho and California -- with the overwhelming majority in its home state and only one south of the Oregon border -- in Palm Springs. It's a network of independently owned franchises and not only can take the time to extend these kind of courtesies, but has to if it intends to compete with national casual-dining chains and local competitors like the Shari's diner chain.
As a customer, however, that little extra effort means a lot. Elmer's has been in existence for more than 50 years, but it takes great pains to point out its local owners, Pacific Northwest suppliers and regional ties. It recognizes its local past and keeps locations as close to the vision that Walt and Dorothy Elmer had when they started them business in 1960, but it realizes that it has to adapt to stay relevant. Walt Elmer's pancake batter recipe can stay, but the Sanka coffee and Liver and Onions entrees had to go.
Elmer's also seems to realize that it may only get your attention once. It can't hope you'll stop back again during its makeover or will be enticed by meal deals that slash its margins to nothing. It has to get your attention that first time and, hopefully, convince you it's worth returning. That's what the welcome package is all about. That's what the manager is at your table instead of hurriedly chasing staffers around the kitchen or sitting in an office. That's why the eggs have to be real eggs, the bacon has to be at least passable bacon and the ingredients have to be as local as the names of the dishes they're going into.
That's also why I'll be going back. In that one experience, Elmer's not only restored my faith in the chain eatery, but showed the way forward by turning to its past. Instead of ripping out all the fixtures and making wholesale changes to the menu when something goes wrong, casual dining places can make it right simply by focusing on the customer's experience. If the food is good, is a good value, is presented in such a way that it makes you want to come back again and fosters a following that makes the establishment a core part of the community, then that's the solution. Cramming as much reheated food as you can into a $25 package, shoving a loyalty card into a customer's hand for use anywhere and hoping just occupying land in a nearby strip mall makes you a local fixture just can't work anymore.
The casual dining customer wants food, but they also want a reason to come back. There's no shortage of logo-laden highway stops waiting to give U.S. diners a cut-rate special. One that's willing to spend a little extra time and money improving the food and customer experience is a bit more rare.
-- Written by Jason Notte in Portland, Ore.
>To contact the writer of this article, click here: Jason Notte.
>To follow the writer on Twitter, go to http://twitter.com/notteham.
>To submit a news tip, send an email to: tips@thestreet.com.
RELATED STORIES:
>>Nirvana's Nevermind and the Death of Guy Rock
>>The Mysterious Shine Of Twilight Pop Stars
>>How Dusty Springfield Made Adele Possible
Jason Notte is a reporter for TheStreet. His writing has appeared in The New York Times, The Huffington Post, Esquire.com, Time Out New York, the Boston Herald, the Boston Phoenix, the Metro newspaper and the Colorado Springs Independent. He previously served as the political and global affairs editor for Metro U.S., layout editor for Boston Now, assistant news editor for the Herald News of West Paterson, N.J., editor of Go Out! Magazine in Hoboken, N.J., and copy editor and lifestyle editor at the Jersey Journal in Jersey City, N.J.