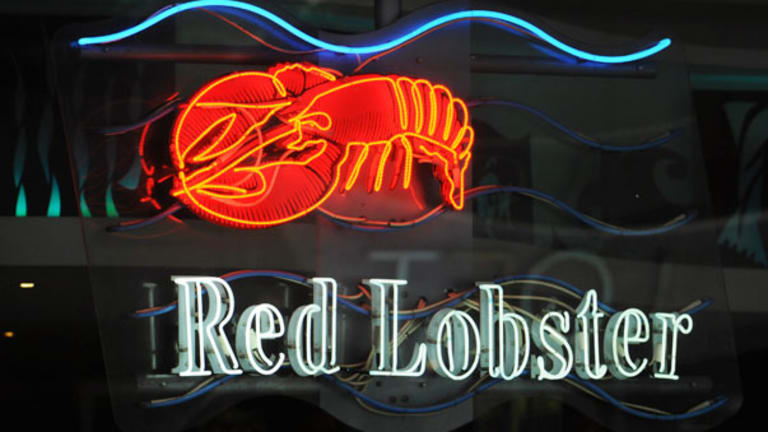 Red Lobster Isn't Quite Dead Yet
Slumping sales, high prices and questionable quality made rumors of its impending demise a little too believable.
PORTLAND, Ore. (TheStreet) -- When a rumor circulated last week that casual dining chain Red Lobster was going to close its more than 700 locations in North America, only its parent company's denials made such a thing seem implausible.
Even after Darden Restaurants (DRI) - Get Darden Restaurants, Inc. Report assured everyone that all was well, there's still little to convince diners or investors that the strip-mall favorite has much of a future. Once occupying the "fancy" pinnacle of the casual dining world, Red Lobster has become the industry bottom-feeder its crustacean mascot would suggest.
Same-store sales slipped 4.5% last quarter and Darden has been making noise about spinning off Red Lobster into its own entity. Even in a Darden portfolio that includes the Olive Garden, Longhorn Steakhouse and Yard House chains, Red Lobster falls somewhere beneath the Capital Grille in the pecking order. Darden issued warnings as early as 2012 that its 2 for $25 meal deals were falling short of the 2 for $20 deals offered by its competitors. It's been fairly disastrous since.
Red Lobster's pain has been spread around the casual-dining world like a shared appetizer. One of its adversaries, Chili's and Maggiano's Little Italy's parent company Brinker International (EAT) - Get Brinker International, Inc. Report, reported earlier this year that the end of those deals coupled with the end of a Social Security tax cut would force it to lower expectations for 2013. NPD Group wasn't surprised and noted that the number of restaurant visits driven by deals rose between 3% and 5% at the height of the recession in 2008 and 2009, but slumped 3% last year.
What casual dining establishments are quickly learning is that nobody's going to buy their reheated food or pre-fabricated atmosphere if they don't feel it's a value. The cost of dinners out rose nearly 3% over the last year, according to the Consumer Price Index. That's more than the 2.2% overall rate of inflation and isn't helped when a $10 promotional meal jumps to $12 or $14, jacking up the price 20% to 40%.
In Red Lobster's case, it's just not the only game in town anymore. It was always billed as a premium seafood spot, which made it a laughable afterthought in coastal areas where options were more plentiful. In landlocked places where such offerings were in short supply, it was destination dining.
At least until recently. As Outback Steakhouse and Carraba's Italian owner Bloomin' Brands (BLMN) - Get Bloomin' Brands, Inc. Report added the Bonefish Grill seafood chain to its family more than a decade ago and even lower-tier casual-dining chains like DineEquity's (DIN) - Get Dine Brands Global, Inc. Report Applebee's added seafood to their menus at reduced prices, Red Lobster's appeal diminished. As Matthew Yglesias at Slate pointed out, those changes made Red Lobster seem not only overpriced by comparison, but both costly and subpar.
In casual dining, where even fast-casual establishments like Panera (PNRA) and Chipotle (CMG) - Get Chipotle Mexican Grill, Inc. Report have gained an aesthetic upper hand over their slower table-service competitors, chains have been quickly moving away from the cheery, cheesy '80s and '90s pre-fab archetype. Ruby Tuesday (RT) , for example, ripped out the Tiffany-style lamps, ferns and brass, de-emphasized the salad bar and bathed everything in black and red. The company's share price has dropped nearly in the last year, it has unloaded three non Ruby Tuesday chains and reported flat sales. Darden decided to change the menus and Red Lobster and Olive Garden, tear down Olive Garden's Tuscan decor and tear off its trademark white uniforms in favor of black and has even toyed with the idea of removing servers altogether and going with a pay-at-the-counter system. Sales and earnings still haven't recovered, largely because none of it matters.
Milennials don't see casual dining restaurants, or restaurants in general, nearly as important to their social experience as Baby Boomers did. According to NPD, Millennials cut back on restaurant visits since 2008 while Boomers only increased their intake of Bloomin' Onions and unlimited breadsticks.
Meanwhile, diners don't really like the idea of paying a premium for formerly frozen fare of questionable nutritional value. The Hudson Institute discovered a direct correlation between the number of healthy items on casual dining menus and the foot traffic at each restaurant. The Institute included restaurants like Denny's (DENN) - Get Denny's Corporation Report, Panera Bread, Romano's Macaroni Grill, Applebee's, Outback Steakhouse, Chili's, Red Lobster and Olive Garden.
Of the 21 chains surveyed, nine increased the number of lower-calorie items sold from 2006 to 2011 and averaged a 5.5% same-store sales increase while increasing foot traffic. The 12 chains that didn't boost their low-cal offerings averaged a 5.5% same-store sales decline.
It's not that casual dining can't work. It just needs to meet the customer where he or she is at. In the post-recession casual dining world, that means being as accessible as Buffalo Wild Wings. That chain's emphasis on beer, wings, sports and lots of big televisions helped it grow from 340 restaurants in 2008 to more than 500 by 2010 last year and boosted its revenue by 6.6% that year alone.
Hey, online death hoaxes happen. Granted, they happen to people the public hasn't seen in a while or who've faded into a state of near irrelevance, but they happen. A rumor about Red Lobster's demise wouldn't have gained traction if it was a thriving chain that gave Americans a reason to believe otherwise. By falling out of touch with diners and changing just about everything but the quality of its food in response, Red Lobster isn't doing much to reassure customers that it's alive and well.
Meanwhile, Darden's PR folks should get some boilerplate responses ready. If Red Lobster maintains the status quo, rumors of its demise won't seem so greatly exaggerated in the near future.
-- Written by Jason Notte in Portland, Ore.
>To contact the writer of this article, click here: Jason Notte.
>To follow the writer on Twitter, go to http://twitter.com/notteham.
>To submit a news tip, send an email to: tips@thestreet.com.
RELATED STORIES:
>>Nirvana's Nevermind and the Death of Guy Rock
>>The Mysterious Shine Of Twilight Pop Stars
>>How Dusty Springfield Made Adele Possible
Jason Notte is a reporter for TheStreet. His writing has appeared in The New York Times, The Huffington Post, Esquire.com, Time Out New York, the Boston Herald, the Boston Phoenix, the Metro newspaper and the Colorado Springs Independent. He previously served as the political and global affairs editor for Metro U.S., layout editor for Boston Now, assistant news editor for the Herald News of West Paterson, N.J., editor of Go Out! Magazine in Hoboken, N.J., and copy editor and lifestyle editor at the Jersey Journal in Jersey City, N.J.