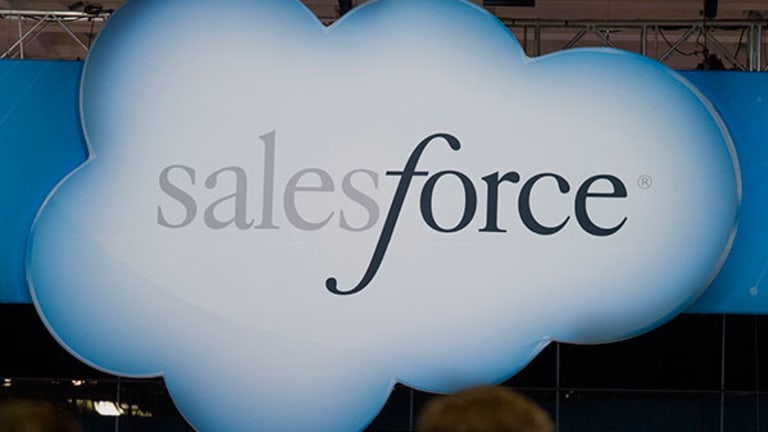 Red-Hot Salesforce Positions Itself for the Next Stage of Growth
This cloud computing pioneer continues to be an excellent profit maker for investors, and shows no signs of slowing down.
Salesforce.com (CRM) - Get salesforce.com, inc. Report was built on a mission to eradicate software in a box, and since 1999 this cloud computing pioneer has used the Internet to re-imagine the way software programs are designed and distributed.
The company's growth has been phenomenal. In just 10 years, Salesforce has ramped up annual sales by 13-fold, for a compound annual growth rate of 22%.
However, at a forward price-earnings ratio of 61 times, it doesn't come cheap, especially compared with competitors Oracle (13.1 times) and SAP (17.6 times). 
But don't be put off by the share price. Salesforce is the de-facto standard bearer of enterprise business applications, ahead of both Oracle and SAP. 
What's more, still growing at a superb pace, the stock is worth every penny.
For a company that took software out of the box and put it onto the cloud, Salesforce has deservedly become a technology titan in its own right.
The $55 billion market capitalization company has rewarded investors handsomely for hanging on. The stock has delivered positive annual returns during nine of the past 11 years, booking losses in 2008 and 2011.
With a 10-year total return of 28% CAGR, Salesforce is the king of the software app segment in which other companies, including Oracle and SAP, are struggling to position themselves.
Salesforce looks like it is growing faster than its 10-year CAGR sales run rate, based on revenue growth expectations of 21% to 24% for at least the next two years.
From a forward P/E perspective, Salesforce is available at 61 times. Annual earnings per share are estimated to grow by more than 29% over the next five years. 
The company is clearly among the fastest-growing opportunities that money can buy.
By contrast, Oracle and SAP, projected to deliver single-digit sales growth over the next couple of years and an 8% to 12% EPS growth rate for the next half a decade, trade at 13 to 18 times forward P/E.
Salesforce is also positioning itself for the next stage of growth. It has agreed to acquire Demandware, a provider of software to design e-commerce websites, in a deal worth $2.8 billion.
The company is also betting big on artificial intelligence.
Last year, Salesforce nearly became an acquisition target itself when Microsoft, which probably outbid Salesforce to acquire LinkedIn, held talks to acquire cloud computing maverick firm, but valuation expectations didn't match.
If Microsoft is still planning to buy Salesforce, it may need to move in faster because the stock is expected to rise. Most analysts have a buy rating on Salesforce shares, and in a year the stock could be close to triple digits.
As Salesforce improves its profitability, its free cash flow will easily cross the billions mark every year. Operating margins have been negative because the costs of revenue and marketing and sales make up the bulk of Salesforce's expenditures, but that isn't the whole story.
The company's cash from operations has steadily grown. Even five years ago, cautious investors looked at Salesforce and derided its worth, suggesting that it was full of hot air or a bubble waiting to burst.
Salesforce is half the market value of SAP already.
The message is loud and clear: Salesforce isn't a flash in the pan and deserves its premium valuation because its products are superior to most others in the marketplace. Investors stand to make great gains with this stock.
---
An 85% accurate trader gives his personal guarantee: "Give me nine minutes a week, and I guarantee you $67,548 a year." Here is a way to make $67,548 per year or more without stocks, just by following this simple step-by-step process. The trader who is sharing this secret has been right more than eight of 10 times, turning $5,000 into more than $5 million. Click here to see how easy it is to follow his lead and collect thousands of dollars in free money every month.
This article is commentary by an independent contributor. At the time of publication, the author held no positions in the stocks mentioned.