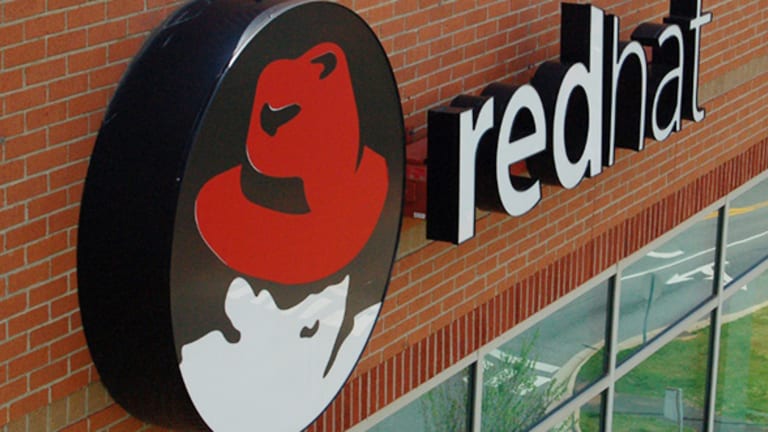 Red Hat's Price Is in the Clouds, but Innovation Should Send It Higher
Even trading at 82 times earnings, enterprise software and cloud services giant Red Hat could deliver gains for investors. Look for it to extend its streak of earnings beats Thursday.
Even trading at 82 times earnings, enterprise software and cloud services giant Red Hat could deliver gains for investors. Look for it to extend its streak of earnings beats Thursday.
 NEW YORK (TheStreet) -- Enterprise software and cloud services giant Red Hat (RHT) - Get Report will report first-quarter fiscal 2016 earnings on Thursday after the closing bell. The Raleigh, N.C.-based Linux specialist is looking to extend its streak of consecutive quarterly earnings beats to 10, and I wouldn't bet my own money against its success.
Whether on public or private clouds, businesses today are growing more willing to make their data more accessible to employees and customers. Aside from the convenience and improved service quality, using the cloud also helps businesses save time and money, which -- in turn -- helps boost their profits and their stock prices. Few companies have capitalized as well as Red Hat on servicing these needs.
Led by CEO Jim Whitehurst, Red Hat has emerged as the world's largest provider of open-source solutions. Aside from the company's dominant Enterprise Linux business or RHEL, Red Hat is driving innovation in open-source platforms like OpenStack and OpenShift. Red Hat has placed a huge bet on OpenStack. And while it's a much younger part of its business than the Linux segment, OpenStack is now growing at a steady rate.
Matt Hedberg, an analyst at RBC Capital Markets, recently issued a report to investors, noting that his channel checks reveal that beyond RHEL, Red Hat customers are most interested in OpenStack, followed by Red Hat's Virtualization services and OpenShift. The latter is Red Hat's cloud computing platform-as-a-Service (PaaS) -- one that allows developers to build applications and collaborate on testing before they are deployed.
Partners stated 31% of customers have made a purchase from the company outside of its Red Hat Enterprise Linux segment, and they expect that to grow 46% by this time next year, noted Hedberg. In addition, 82% of partners have seen positive interest in container [software]," Hedberg added.
The reference to "container" is Red Hat's application/software delivery model, which is considered streamlined and more agile. In layman's terms, containers make programs run faster, cutting down on time and the processing power it takes to execute tasks.
In short, while Red Hat is broadly known for its Linux expertise, the company is driving innovation in a host of other technologies. And beyond having delivered nine straight earnings beats, the company has grown revenue for 52 consecutive quarters. During that span, revenue has grown in the mid-to-high teens 11 straight times.
For that level of performance, obviously these shares wouldn't be cheap. At 82 times earnings, which is almost four times the average P/E ratio of 21 for stocks in the S&P 500 (SPX) index, Red Hat trades at a premium. But you'll be hard pressed to find a hotter company with this type of growth momentum.
The old saying "You get what you pay for" applies here. Red Hat shareholders own a market leader that consistently delivers where and when it matters the most. Plus, with Red Hat having just boosted its stock buyback plan to $500 million, after buying back $535 million worth of its shares in the last fiscal year, shares are likely to reach $80 to $85 per share in the next 12 months, yielding 10% gains.
This article is commentary by an independent contributor. At the time of publication, the author held no shares in any of the stocks mentioned.