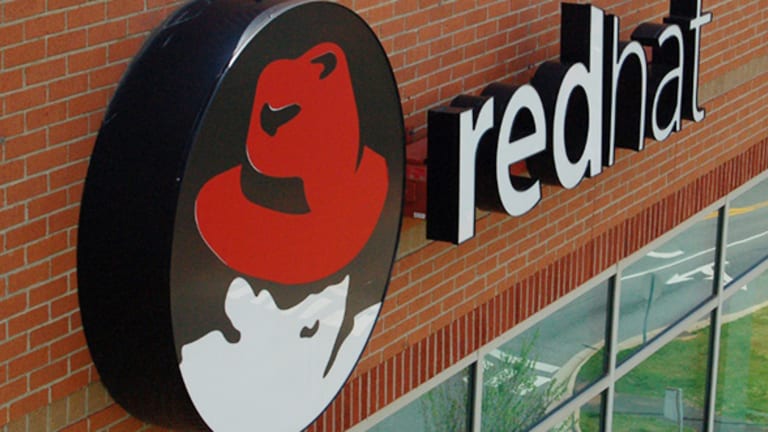 Red Hat's Open-Source Success Points to Other Investing Options
Red Hat recently became the first $2 billion open-source company. Does that make it the best open-source investment opportunity?
Most tech companies prefer closed systems and tight control of their products. Take Apple for example: Consumers don't seem to mind that its products work best together, rather than in conjunction with competitors' products. And it makes sense for investors who like the companies they own to have competitive advantages, like valuable intellectual property that they own.
Common sense dictates that making open-source software, where the original code can be modified by anyone and freely distributed, doesn't seem like a sound business decision. After all, competitors could freely use code to create products. The success of Red Hat Software (RHT) - Get Red Hat, Inc. Report proves otherwise.
This North Carolina-based company has experienced astounding success thanks to its open-source model and growth in subscriptions. The company earned $544 million in revenues in the most recent quarter, up 17% from the previous quarter. The company has wisely been shifting to cloud computing and began working with Microsoft last year.
"Customers are demanding technologies that modernize the development, deployment and life-cycle management of applications across hybrid cloud environments," said Red Hat President and CEO Jim Whitehurt, reports ZDNet. "Many are relying on Red Hat to provide both the infrastructure and the application development platforms to run their enterprise applications consistently and reliably across physical, virtual, private cloud and public cloud environments."
Red Hat is the king of open-source when it comes to publicly traded companies, but the company isn't alone. Some of the biggest companies have been investing in open-source, despite not technically being open-source themselves.
Google (GOOGL) - Get Alphabet Inc. Report
Google, the main division of conglomerate Alphabet, keeps a tight grip on most of its products. The big exception is its Android operating system for mobile devices. Making Android open-source was probably one of the smartest decisions the company has made, as Android maintains a much larger market share worldwide than Apple's iOS. In China, Android had a 71% market share by the end of 2015. In the U.S., sales data from Kantar Worldpanel Comtech had Android at 59%.
All these users mean more customers spending money on Google's products. The downside to making Android open source is that it ends up on devices that are sometimes extremely low quality and impacts the brand. Since Apple only allows its operating system on its own devices, it can ensure that the devices are all above a certain level of quality and charge customers a premium for them. It's a tradeoff for sure, but it works well for both companies.
Google maintains other open-source projects, but none have nearly the same impact as Android.
You see Jim Cramer on TV. Now, see where he invests his money and why Alphabet stock is a core holding of his multimillion-dollar portfolio. Want to be alerted before Jim Cramer buys or sells GOOGL? Learn more now.
Microsoft (MSFT) - Get Microsoft Corporation Report
Much like Google, Microsoft favors open-source when it's convenient, but remains protective of its products otherwise.
Earlier this year, Microsoft made its artificial intelligence framework open-source for developers to use in their apps. The decision to make the CNTK framework open-source comes after Google did the same thing with its own artificial intelligence project.
There are sometimes calls for Microsoft to make its flagship product, the Windows operating system, open-source. If Microsoft were to do this, it'd be an incredibly bold move. The odds are unlikely, as Microsoft can be conservative to a fault.
The Future of Open-Source
Companies that aren't particularly amenable to the idea of open-source typically snatch up truly open-source companies. When this happens, open-source often falls by the wayside as the parent company often pursues business in a more conventional manner. Red Hat Software is definitely an exception to this trend. Aside from Red Hat, not many investors have faith in open-source software companies becoming financially stable.
Peter Levine, a partner at a Silicon Valley venture capital firm Andreessen Horowitz, believes open-source companies aren't viable in their current form. What they need to do, he told CIO, is move to cloud-based services and add their own propriety code. The latter means a company's software wouldn't be fully open-source, yet Levine says the business model must be changed in order to fully compete with the big companies.
Red Hat might be successful, but he argues the company could be even more successful by moving away from open source.
This article is commentary by an independent contributor. At the time of publication, the author held no positions in the stocks mentioned.