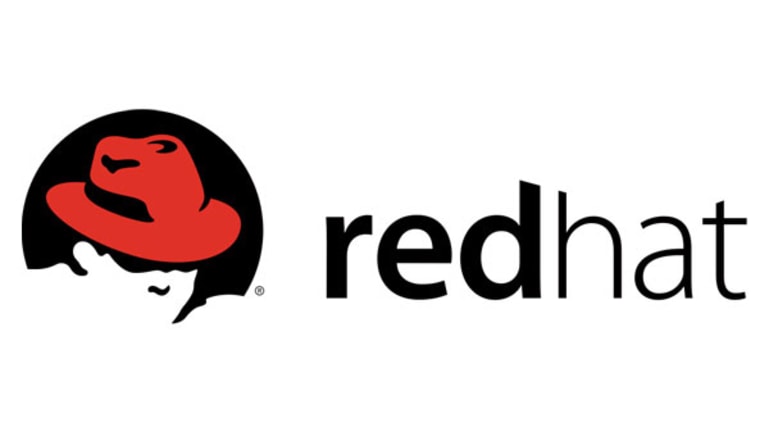 Red Hat CEO Jim Whitehurst: No One Knows OpenStack Better Than Us
Whitehurst tells Richard Saintvilus he is working to differentiate Red Hat's products, which should accelerate OpenStack's adoption rate and cloud platforms in the coming years.
NEW YORK (TheStreet) -- There's a war brewing for corporate IT dollars.
Tempers flare whenever certain industry buzzwords are used to suggest one company has stronger capabilities than another. This is especially true when CIOs are pulling their pursestrings tighter waiting for a market leader to emerge and help them achieve their productivity goals.
Jim Whitehurst, CEO of Red Hat (RHT) - Get Red Hat, Inc. Report believes the wait should be over. In a phone conversation over a two-day period following Red Hat's earnings report last week, Whitehurst assured me his company has a stacked deck in that all-important new frontier known as OpenStack. With the sort of confidence you would expect for someone of Whitehurst's pedigree, he proclaimed "no one knows OpenStack better than us." Investors and analysts have no reason to doubt him.
Whitehurst believes his company has an added advantage -- not only from its long history of open source expertise, but he believes very few players actually understand what OpenStack is. He explained that some make the mistake of confusing OpenStack's relationship to the cloud and server virtualization. In other words, having a cluster of virtualized servers does not qualify as a legitimate cloud platform.
Whitehurst envisions OpenStack as the "default choice for next-generation architecture." He  does not see a scenario where "Red Hat does not emerge as the leader." He described this as "his mission."
OpenStack is the term used to describe a worldwide collaboration of developers and cloud-computing experts who are working together on an open-source platform to advance the public and private clouds. The goal of OpenStack is to bring to market scalable cloud solutions that are feature-rich, yet easy to implement.
In a nutshell, imagine you're competing in an Amazing Race (like the TV show). Based on the criteria described above, your company's job is to produce such a product as quickly as possible. Except, the product must also deliver various elements for cloud infrastructure, which will come from a series of interrelated projects. If this sounds overly complicated and technical, that's because it is.
But it's a world where Whitehurst and his assembled team thrive. After having dominated the Linux world for more than two decades, Whitehurst describes OpenStack in the same manner reminiscent of Linux -- when many proclaimed themselves experts, but very few survived to prove it.

The original OpenStack concept was founded in 2010 by RackSpace Hostings (RAX) and NASA. Red Hat is one of several distributors now battling for the enterprise and cloud supremacy.
Some of the others are SUSE, Ubuntu and Cononical, which were three of the dominant names at the height of the all-things Linux craze 15 years ago. Back then this was a battle for the desktop. But as Whitehurst explained, the stakes are now bigger because unlike the "niche market" Linux was always perceived to serve, 84% of companies have already said they plan to use OpenStack for their private clouds.
This survey has not been lost upon some of the bigger tech giants on the market. Aside from Red Hat, some of the other names gunning for OpenStack dominance includes RackSpace, IBM (IBM) - Get International Business Machines Corporation Report, Hewlett-Packard (HPQ) - Get HP Inc. Report, Cisco (CSCO) - Get Cisco Systems, Inc. Report and VMware (VMW) - Get VMware, Inc. Class A Report, among others.
According to a recent survey by research firm IDG Connect, of the 84% of companies that plan to use OpenStack, 55% of them are struggling to meet the staffing and budgetary needs. But Whitehurst described this a situation Red Hat is prepared to address, given that more than 90% of Fortune 500 companies already use some of Red Hat's technologies.
Whitehurst explains that he's also working to grow Red Hat's capabilities in software-defined storage and middleware, which is the software that lies between an operating system and specific software applications.
All told, Whitehurst is quickly differentiating Red Hat's products, which should accelerate OpenStack's adoption rate and cloud platforms in the coming years. The company's recent acquisition of eNovance, a leader in OpenStack services, only adds to Red Hat's cloud firepower.
At the time of publication, the author held no position in any of the stocks mentioned.
This article represents the opinion of a contributor and not necessarily that of TheStreet or its editorial staff.
>>It's Google's Turn to Dazzle at This Week's I/O Conference