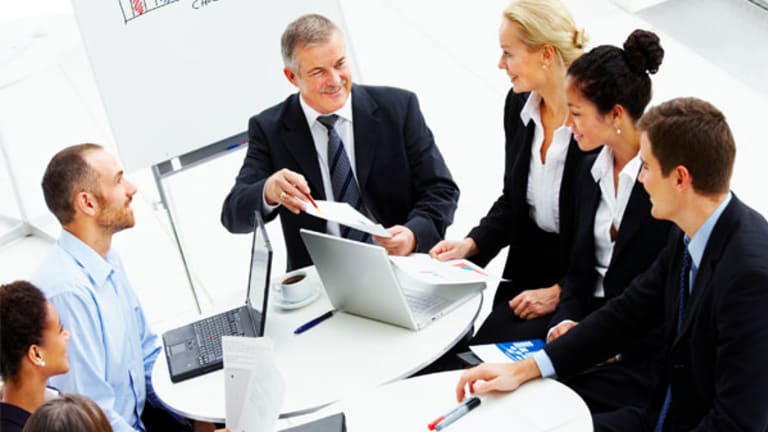 Record Profits?: Jobless Aren't Giving Thanks
Record corporate profits look great on paper, but the unemployment picture presents a different take on the U.S. economy.
NEW YORK (
) -- Residents of Main Street may have trouble digesting their gargantuan Thanksgiving meals on Friday, but another kind of upset isn't sitting well with many Americans and an antacid pill won't make it go away: record corporate profits being reported while the employment outlook remains as bleak as a gray November day in New England.
The U.S. president may have pardoned another turkey this week, but when are the unemployed going to get some relief from the masters of U.S. capitalism, who are making, and hoarding, record amounts of green, without risking much of it on helping the job market to rally?
The Commerce Department reported this week that American businesses earned profits at an annual rate of $1.659 trillion in the third quarter, the highest figure recorded since the government began keeping track more than 60 years ago. Sure, the headlines didn't mention that the data isn't adjusted for inflation. Also, the third quarter pace of economic growth of 2.5%, which was the major Commerce data point, is the minimum growth rate needed to keep unemployment from rising further, according to the Fed. Still, neither of these points is the real troublesome footnote.
The Federal Reserve released new projections this week indicating that unemployment will be rearing its ugly head -- lopped off, or not, by the pilgrim's axe -- for a long time to come. The Fed is now estimating that more than 10 million Americans will remain jobless through the 2012 elections. The current 9.6% national unemployment rate will only fall to 9% at the end of 2011, and 8% by the time the next presidential election is taking place, a weaker employment outlook from the Fed than it previously provided.
Nevertheless, one must give thanks for some things. Companies are becoming increasingly productive, and productivity gains drive profits in a jobless recovery. Additionally, jobless claims actually fell in the most recent week by 34,000, to a total level of 407,000, and that marked a two-year low.
Some economists were out on Wednesday saying that between the jobless claims positive surprise, and uptick in consumer spending and personal income, self-sustaining recovery was starting to be delivered. Stocks reacted enthusiastically. Yet corporations haven't been spending cash in a way that expresses this level of confidence.
The record corporate profits have led to the biggest year in stock repurchase activity by U.S. corporations since the financial meltdown, buoying share prices. Spending cash on stock buybacks is often judged a conservative choice among corporate strategies.
>>Top 10 S&P 500 Buybacks of 2010
One isn't seeing the New England forest for the trees just looking at productivity gains or one week of jobless claims, either. The picture is obscured when placed side by side with the Fed's newly sober outlook on unemployment.
There is also an inverse relationship between productivity gains and need for new hires. Innovation driving more efficient operations is part of the old "American excellence" equation, and by its nature means jobs will be eliminated. Yet it also can be seen as corporate managers eeking out incremental gains already embedded in the system.
Even with the big rebound in corporate profits -- 28% in the third quarter -- Commerce reported that spending by corporate America on compensation for employees in the past year has only risen by 7.6%.
Corporate insiders have been cashing out of their stocks this month through insider sales, too, at higher rate than at any other time in the previous few years.
>>Top S&P 500 Insider Sales of 2010
One has to suspect something is rotten in the state of record corporate profits when the unemployed have corporate America's best pal and former Fed Chairman Alan Greenspan speaking about the irrational exuberance of recent profit generation. Greenspan said in an interview with
Bloomberg
this week, "When markets shut down, and capacity expansion comes to a halt, companies direct all of their capabilities toward harvesting untapped cost-saving innovations accumulated during the previous boom. We have been experiencing this harvesting for a year or so. You have to ask the question: Are we running out of backlog?"
Indeed, the overstuffed turkey has been bred by the miracle of modern food science to exist only to fatten up. It can't stand on its own two legs -- let alone see them -- for more than a year or two without ultimately giving out in a stress-induced heart attack. How long can corporate America keep stuffing itself without feeding the work force and expect this little colony's harvest to remain bountiful?
The 8.5 million jobs that companies axed during the recession may seem like a drop in the bucket compared to the roughly 50 million turkeys consumed on Thanksgiving across the U.S.
However, we're not gobbling up the deliciousness of the rebound in corporate profits. Thanks for nothing, we say, and we ask,
Where's the give to balance out the take? When will corporate America risk some of the current bounty on the unemployed descendants of the Plymouth Rock experiment?
-- Written by Eric Rosenbaum from New York.
>To contact the writer of this article, click here:
Eric Rosenbaum
.
>To follow the writer on Twitter, go to
.
>To submit a news tip, send an email to:
.
RELATED STORIES:
When Will Corporate Profits Translate to Jobs? >>
>>Top 10 S&P 500 Buybacks of 2010