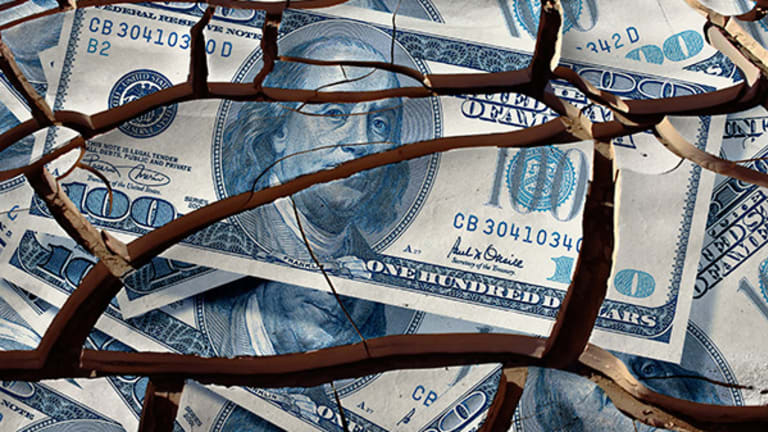 Recession? We're Not There Yet, So Don't Hit the Panic Button
Don't freak out yet. The U.S. economy isn't on the verge of a recession, according to both researchers and indicators from the bond market to employment data.
Editors' pick: Originally published Tuesday, Feb. 9.
The doomsayers may have jumped the gun a bit: Some pundits and analysts say a recession is just around the corner. 
The evidence isn't there, however. Not just yet, anyway. Yes, eventually we will have a recession in the United States. The world of commerce has always had business cycles -- expansions followed by contractions. This time is no different.
But is one imminent now? Not at all, according to some key measures.
The first two involve the bond market, which is full of very sophisticated investors. 
"It signals slower growth, but still growth," says Anthony Valeri, an investment strategist at LPL Financial. A recession, by definition, requires a contraction in the economy. So as long as the economy is growing, however slowly, that means we aren't in one.
Valeri says yields of intermediate maturity bonds, like the 5-year Treasury, are a good proxy for the longer-run growth rate of the economy. Those rates have been dropping lately, which is why the iShares 3-7 Year Treasury Bond (IEI) - Get iShares 3-7 Year Treasury Bond ETF Report exchange-traded fund, which tracks similar securities, has rallied. Bond prices and yields tend to move in opposite directions.
Five-year Treasuries recently yielded 1.27%, down from 1.81% on Dec. 29, according to data from the St. Louis Federal Reserve.
He also looks to see whether the yield curve is inverted, meaning that interest rates on shorter-dated securities are higher than on longer dated ones. 
"When that happens, it means short-term rates need to come down quickly to stimulate the economy," he says.  An inverted curve is viewed by many market observers as a harbinger of recession.
Whatever way he calculates the slope of the curve, it still isn't inverted yet. One common method of calculating the inversion is to look at the 10-year Treasury note and compare it to the 3-month Treasury bill. But the shorter security's yield has been distorted by the Federal Reserve's extraordinary policies. So he used other combinations of bond yields that weren't affected by the Fed. It still wasn't inverted.
Not everyone buys into the predictive power of the inverted yield curve. Still, the conclusions are similar.
"Conceptually, it's really important and makes perfect common sense that the economy cannot be captured by one statistic," says Lakshman Achuthan, cofounder of the New York-based Economic Cycle Research Institute. "It's a highly complex system."
He says for the economy to drop into recession, you need a "pronounced, pervasive, and persistent" drop in output, employment and sales. That's why his institute's indexes use many components. "There is no one indicator which is omnipotent," he says.
Achuthan says the institute has never failed to call a recession. It did identify one that didn't actually happen -- though it was a near miss, helped by revisions to the government data.
Neither the institute's public index, the Weekly Leading Index, nor its others, are currently pointing to recession, says Achuthan. That's the good news.
Just like Valeri, Achuthan says growth is slowing, but also adds: "There is no acceleration of growth in sight yet."
Still, Friday's employment numbers from the government (4.9% unemployment and 151,000 new jobs created in January) don't point to recession.
Hourly earnings were up 2.5% year-to-year and the number of hours worked also climbed, Marc Chandler, global head of currency strategy at Brown Brothers Harriman, points out in a recent report. Both are positive factors for increased consumption.
"Although there is more talk of recession in the U.S., this is still not the kind of data one associates with an economic contraction," he writes. "That the U.S. economy hit a soft patch is indisputable. However, this is not the same thing as a contraction."
This article is commentary by an independent contributor. At the time of publication, the author held no positions in the stocks mentioned.