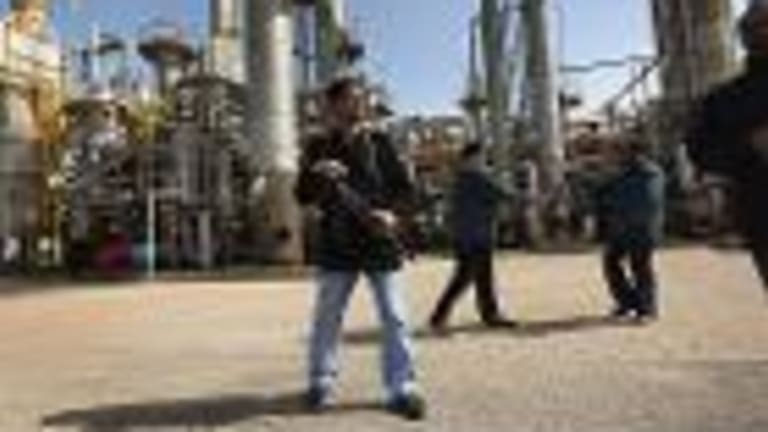 Rebound in Oil Prices a Good Sign for UniFirst Ahead of Earnings
With fiscal 2016 earnings estimates of $6.35 a share, representing a 7% year-over-year increase, now is the time to own UniFirst's stock.
With fiscal 2016 earnings estimates of $6.35 a share, representing a 7% year-over-year increase, now is the time to own UniFirst's stock.
NEW YORK (TheStreet) -- Oil prices have rebounded some 20% to above $60 from about $52 per barrel, since we last discussedUniFirst (UNF) - Get Report, which is due to report fiscal third-quarter earnings Wednesday before the opening bell.
Investors looking for a solid turnaround candidate that is trading at a relatively cheap price for the second half this year should pay close attention to what UniFirst will say Wednesday about its outlook for the rest of the year.
Although no one can say with certainty what direction oil prices will take next, it is nonetheless encouraging as it appears that the market has already seen the worst. And this makes UniFirst's stock an interesting play because its customers can now get back to normal or as close to fully operational as possible.
The more money its customers can spend the more revenue and profits UniFirst will generate.
Shares of UniFirst, which supplies and services uniforms and work wear to various industries, have been under pressure all year, falling some 5%. The shares are also down more than 1% in the past six months, against 2% gains for the S&P 500 (SPX) index during that span, which makes UniFirst's stock even more attractive.
Not only are the shares trading at just 18 times earnings, against a price-earnings ratio of 21 for the S&P 500, but the stock has an average analyst 12-month price target of $128, suggesting 11% gains from this level of about $115.
Why has the stock underperformed? Given UniFirst's industrial ties, customers of the Wilmington, Mass.-based company have felt the pressure of weak oil prices, forcing many to slash capital expenditures in order to adjust their businesses for profitability.
UniFirst, which sells protective work clothing to industries like oil and gas, among others, has been a casualty of those budget cuts, as evidenced by a recent slowdown in its revenue. In its fiscal second quarter, for instance, revenue growth slowed by some 2 percentage points from the fiscal first quarter because about 10% of UniFirst's customer base is closely related to the energy industry.
But since January when UniFirst warned that revenue would be under pressure due to weak oil prices there has been about a 30% rebound in oil prices. And there will likely be a commensurate effect on UniFirst's earnings results Wednesday.
For the fiscal third quarter ended last month, earnings are expected to come in at $1.39 a share, down 9% from a year earlier, while revenue for the quarter is projected to have climbed 2.3% from a year earlier to $360 million. For the full fiscal year ending in August, earnings are projected to be down half a percent to $5.92 a share from a year earlier, while full-year revenue of $1.45 billion would mark a 4% climb.
The expected full-year earnings decline reflect the adjustment that UniFirst has had to make to navigate the struggles of its customers. But with fiscal 2016 earnings estimates of $6.35 calling for a 7% year-over-year increase, now would be the time to own the stock, which has beaten both revenue and earnings estimates for four straight quarters.
This article is commentary by an independent contributor. At the time of publication, the author held no shares in any of the stocks mentioned.