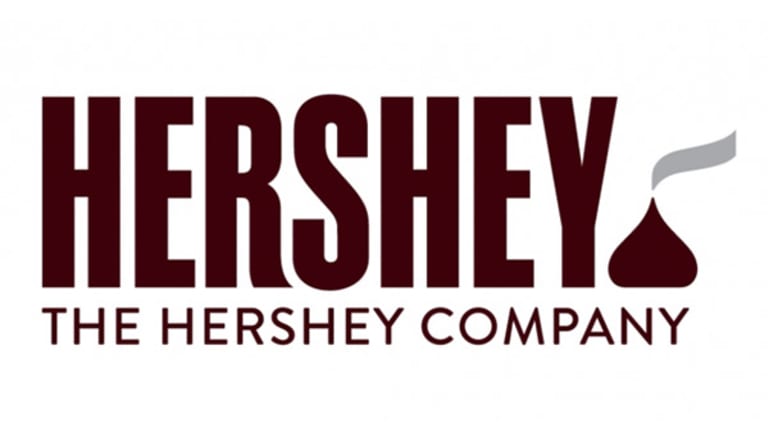 Reasons to Kiss Hershey's Sweet Dividend -- Despite Its Pricey Stock
Hershey stock is expensive and has taken a beating in the past year, but it is appealing for its dividend and its potential growth.
Hershey stock is expensive and has taken a beating in the past year, but it is appealing for its dividend and its potential growth.
Shares of global chocolate giantHershey (HSY) - Get Report will trade ex-dividend Monday, Nov. 23. To qualify for a dividend check, investors must own shares of the Kisses manufacturer on or before its ex-dividend date. That's the last day the Hershey, Pa.-based company will finalize its roster of shareholders to whom it will send dividend checks.
Hershey pays a 58.3-cent quarterly dividend, yielding 2.78% annually. The company is scheduled send dividend payments on Tuesday, Dec. 15 to shareholders of record as of Wednesday Nov. 25. This will mark the second quarter in row it will made the 58.3-cent payment.
Hershey's yield is also almost 80 basis points higher than the average payer in the S&P 500 (SPX) index. What's more, Hershey has raised its dividend more than 80% in the past five years. There are signs suggesting that more dividend increases should come in the quarters and years ahead, making Hershey stock worth holding.
It's true that Hershey stock is down 18% in 2015 and down 12% in the past 12 months. It has not been the delight investors hoped it would be. Its shares have underperformed the Dow Jones Industrial Averages (DJI) and the S&P 500 index during both spans. Plus, even with its underperformance, Hershey stock -- priced at 37 times earnings -- is pricey when compared to an average price-to-earnings ratio of 21 for companies in the S&P 500 index.
"Expensive," doesn't mean it lacks value, however.
In business over 120 years, Hershey recently raised the price of some of its products by some 8%. The company is looking to grow profits in a packaged food industry that has struggled not only with weak profit margins, but also plummeting sales. Plus there is the impact of the strong U.S. dollar, which devalues sales in overseas markets.
In the case of Hershey, the company has begun to benefit from its price increases. In its fiscal third quarter, it enjoyed a 220 basis-point improvement in adjusted gross margin, reaching a rate of 46%. This was primarily driven by productivity improvements in its supply chain, cost savings initiatives and price increases.
With Hershey stock priced at just 19 times consensus fiscal 2016 estimates of $4.43 a share, there is tons of implied value. Aside from the drop in its forward P/E, that growth would mark an acceleration of more than four percentage points above projected growth levels for 2015. And this is assuming Hershey doesn't continue to make the sort of operational improvements it has made to grow profit margins even more.
Hershey stock is at around $85 -- $9 below its average analyst 12-month price target of $94. Investors should buy now for its dividend, and then profit from its growth later.
This article is commentary by an independent contributor. At the time of publication, the author held no positions in the stocks mentioned.