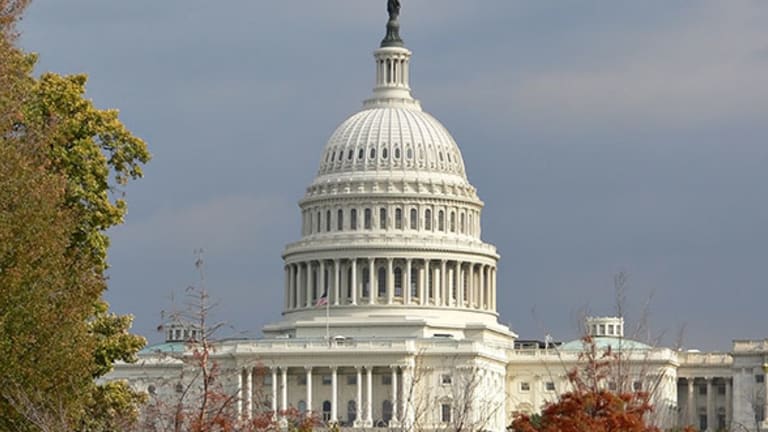 Rare Bipartisan Unison This Week in Congress Is a Bonanza for This One Stock
Lawmakers in Washington actually stopped fighting long enough to embrace a big change to Obamacare that should send this health care player's stock soaring. The time to buy is now.
There's scant unanimity in Washington, D.C. these days on any issue, as squabbling lawmakers increasingly resemble kindergartners in a food fight. In particular, Republican lawmakers have continually deployed scorched-earth tactics to derail the Affordable Care Act (ACA, aka, Obamacare) ever since it was signed into law in 2010.
But this week witnessed a Christmas miracle on Capitol Hill, when House and Senate negotiators agreed to alter a major provision of the ACA (otherwise known as Obamacare), by delaying a planned tax on medical devices for two years. The provision is part of a huge year-end spending measure that President Obama is expected to sign.
The biggest beneficiary of this legislation: Medtronic (MDT) - Get Report , a developer, manufacturer and marketer of medical devices for use in clinical and home settings.
data by
Watch for Medtronic's stock to soar in the coming days and months. This investment is among a group of stocks tapped into unstoppable trends, making them suitable for long-term growth portfolios.
Device industry executives have derided the 2.3% medical device tax as a "jobs killer" ever since Congress in 2009 included it on medical devices in President Obama's health care reform legislation.
Medical device makers have been collecting and remitting this new tax since it went into effect on Jan. 1, 2013, but the industry also has been relentless in its drive to repeal the levy.
The tax is designed to raise about $29 billion over 10 years, to help pay for health coverage of the uninsured. The device industry insists that the tax will dampen demand for its products and many lawmakers are lending a sympathetic ear to this view.
Events this week indicate that the hated tax will get lifted, at least for two years, which means the already thriving device industry will get a big lift as well. As 2016 looms ahead and you look for new opportunities, major health care players such as Medtronic that dominate their respective market niches should be part of your long-term wealth building strategy.
Medtronic offers laparoscopic instruments, surgical staplers, soft tissue repair products, hernia mechanical devices, and a host of vascular products. The company also offers nursing care products for incontinence, wound care, enteral feeding, urology, and suction products, as well as accessories, electrodes, thermometry, chart paper, and syringes.
In January 2015, shareholders of medical device maker Covidien and Medtronic approved the acquisition of Covidien by Medtronic in a cash-and-stock deal, giving the combined entity a market cap of $108.41 billion and making Medtronic the largest player in this vital market.
This month, Medtronic reported second-quarter fiscal 2016 adjusted earnings-per-share (EPS) of $1.03, a year-over-year increase of 1% that beat the consensus estimate of $1.00. Adjustments in the quarter largely included special charges related to the integration with Covidien.
Second-quarter earnings came in at $520 million, down 37% year-over-year. The decline was driven by the post-merger reorganization, positioning the company for earnings gains in future quarters. Revenue reached $7.05 billion, up 6% year over year.
Medtronic stock has risen nearly 7% year-to-date (YTD), roughly in line with the YTD gain of the SPDR S&P Health Care Equipment ETF (XHE) - Get Report . With a trailing 12-month price-to-sales (P/E) ratio of 4.1, the stock's valuation compares favorably to the P/S ratio of 4.0 for major competitor Johnson & Johnson (JNJ) - Get Report .
Medtronic now trades at about $77, with the analysts' consensus calling for a one-year price target of about 91, for a gain of nearly 19%. This week should see an even bigger short-term jump, when Wall Street absorbs the news of the medical device tax suspension. The time to buy this stock is now, before the rest of the investment herd catches on.
Are you making the right investment moves for your retirement, or are you blowing it by making all-too-common money mistakes? There are crucial steps that you should be taking now, to build wealth over the long haul. To find out whether you'll have enough money in your later years, download our free report: Your Ultimate Retirement Guide.
John Persinos is editorial manager and investment analyst at Investing Daily. At the time of publication, the author held no positions in the stocks mentioned.