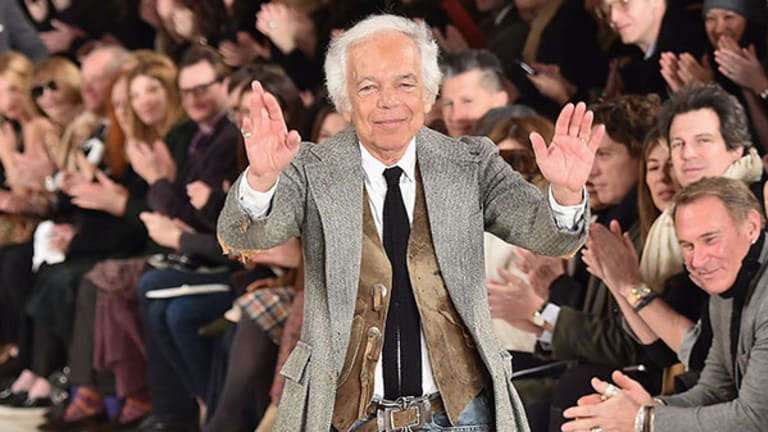 Iconic designer Ralph Lauren readily admits his luxury goods creation, which is about to turn 50 years old, is not where it needs to be right now.
"Did we drop the ball? Yes. Am I happy about it? No. But I still believe we have a handle on what we are doing," Lauren told a group of analysts and investors Tuesday. In explaining why he hired Polo's first outside CEO, Stefan Larsson, away from leading Gap's (GPS) - Get Gap, Inc. (GPS) Report Old Navy division late last year, Lauren said, "My baby has to grow up, and [Stefan] has the knowledge that I don't have. I can't keep up with everything." 
The presentation was Polo's first to investors in its almost 50-year history, and comes at a crossroads for the staple in American malls and on the fashion runways. Shoppers want exciting merchandise, they want it quickly and they want it at amazing prices. By Polo's own admission Tuesday, it has become too broad in what it offers to consumers, has lost some of its product "wow" factor and is pushing too many products into department stores that love to discount.
The net effect of Polo dropping the ball is evident in its financial results.   
For the 12 months that ended April 2, Polo's sales fell 3% from the prior year to $7.2 billion. Operating profit, excluding one-time items, plunged 23.2% to $794 million. Pain was equally distributed through Polo's various segments. Sales at the company's retail segment, which includes over 490 stores and e-commerce operations , declined 0.6% to $3.9 billion and operating profit margin dropped to 10.7% from 13.3% a year ago.
At the wholesale segment, which reflects sales at major department stores such as Macy's (M) - Get Macy's Inc Report , sales declined 5.7% to $3.3 billion. Operating profit margin declined to 27.2% from 30.7% a year earlier.
Larsson tossed in a worrying but telling stat during the presentation: Over the past three years, sales for Polo have risen by 7% while inventory has ballooned 26%. 
Polo's shares have gone onto nosedive about 35% in the past year compared to a 1.6% gain for the S&P 500.
Polo will focus more on its iconic styles, and cut those styles that aren't working.
Now, Polo is hitting the reset button on how it does business. 
The company will close over 50 stores, or about 10% of its total retail footprint. "Our store development has under-delivered -- there are stores that don't strengthen the brand and don't drive profitable growth," said Larsson. Polo said it's bringing in a new exec whose job will be to find the right locations for stores and design them properly. 
Shipments to department stores will be reduced in the attempt to drive some scarcity and full price sales. It's a move that will also help clean up all of the Polo inventory that tends to flood off price retailers such as TJ Maxx (TJX) - Get TJX Companies Inc Report .
Further, the company plans to remove six months from its production times in order to get products quicker to market to compete with the likes of fast-fashion house H&M, which will lead to slashing three layers of management. The moves are expected to result in the termination of about 1,000 jobs, or 8% of Polo's full-time staff .
Said Larsson on the layoffs, "I believe in working like a small company."
The maneuvers will not be without some medium-term pain.
"We have lasted so long because we weren't in fashion, we were leading fashion," said Ralph Lauren.
First-quarter sales are seen falling by a mid-single digit percentage, with operating profit margins declining 110 to 160 basis points from the prior year. For the full year, Polo expects sales to plunge by a low double-digit percentage. Polo will book a $400 million restructuring charge this year, and a $150 charge related to writing off excess inventory. 
The company doesn't anticipate its sales and profits will stabilize until next year, aided by a $180 to $220 million in savings from its new cost-saving efforts. By 2020, Polo sees it operating profit margin reaching a mid-teens percentage, up from about 10% in the current fiscal year.
"I feel young and excited, I own most of this company, and I still work very hard," said Lauren. The legendary designer will now have to tap into a fountain of youth to help do his part to re-imagine the baby he created.   
A Polo spokeswoman did not immediately return a request for comment from Larsson.