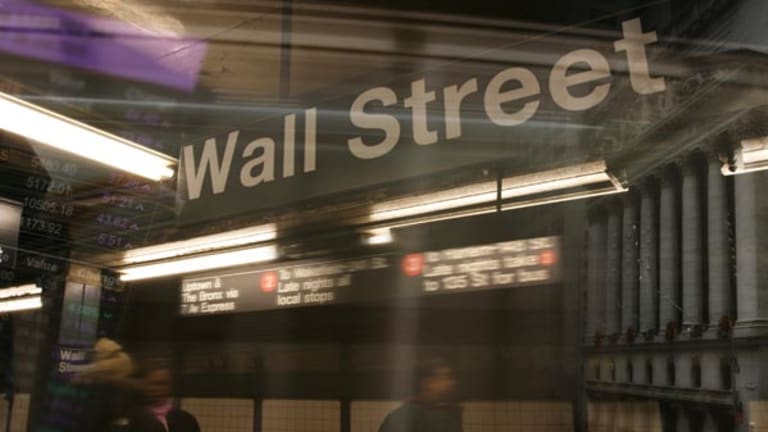 Rally? So What? The Stock Market Is Still Trending Bearish
The stock indexes moved higher Wednesday on decelerating upside volume.
NEW YORK (TheStreet) -- I missed out on all the downside fun Tuesday. As the DJIA, Nasdaq, S&P 500 and Russell 2000 are all now in "Trend Bearish" territory, it was no surprise to see the markets get whacked.
As I have been writing about for quite a while, Tuesday's total U.S. equity market volume was up 15% versus its one-month average. Again, on down days the volume accelerates and on up days the volume decelerates.
Wednesday was an up day in the markets as we saw a small relief rally with decelerating volume. The S&P 500 Trust Series ETF (SPY) - Get SPDR S&P 500 ETF Trust Report saw volume come in at over 94 million shares. That was down from the 152.6 million shares traded on Tuesday.
The DJIA had a gain of 13.87 points to 16443.34 and the S&P 500 saw a fractional gain to 1920.24. The Nasdaq was higher by 2.22 at 4355.05 and the Russell 2000 gained 3.99 points at 1125.55.
The machine-driven hedge funds now are looking for opportunities to sell the market as it goes higher. This is quite the change from the bubble days of just a couple weeks ago when the hedge funds were looking to buy any selloff.
As a trader, you need to adjust your way of viewing the market. Many support levels have been broken to the downside. Three of the four major indexes are in bearish territory, both from a trading perspective and a trend perspective. This needs to be recognized.
As additional proof, the German DAX has entered the 10% correction zone since peaking July 3 and Italy peaked in June and is now down 13%. Europe is a train wreck.
In addition, Core Logic estimates that home prices rose 7% year over year in July, a deceleration versus +7.5% in June and +8.3% in May. Home price appreciation is slowing.
Thus, there are many indicators out there to confirm the "Growth Slowing" thesis. It will only get worse as the stock market continues to fall.
That does not mean that buy side opportunities do not exist.
The DJIA, S&P, and Nasdaq are all in oversold territory. I am looking for that upside trade and rally. I have no short or overbought stocks on my scan, large or small. Without question, the next move is higher or to the upside.
When the rally occurs, as traders we need to understand that profits need to be taken because of the character and trend change in the marketplace.
Since I was not available on Tuesday, I did sell my long positions in Vertex Pharmaceuticals (VRTX) - Get Vertex Pharmaceuticals Incorporated Report, Owens Illinois (OI) - Get O-I Glass Inc Report and most of my Flowers Food (FLO) - Get Flowers Foods, Inc. Report on Tuesday and Wednesday, all for gains.
I added new long positions in Popular (BPOP) - Get Popular, Inc. Report, Coca-Cola (KO) - Get Coca-Cola Company Report and Glu Mobile (GLUU) - Get Glu Mobile Inc. Report on Wednesday. BPOP and GLUU have extremely oversold numbers and KO was a channel break higher momentum play. All can be found at www.strategicstocktrade.com.
At the time of publication, the author was long FLO, BPOP, KO and GLUU, although positions may change at any time.
This article represents the opinion of a contributor and not necessarily that of TheStreet or its editorial staff.