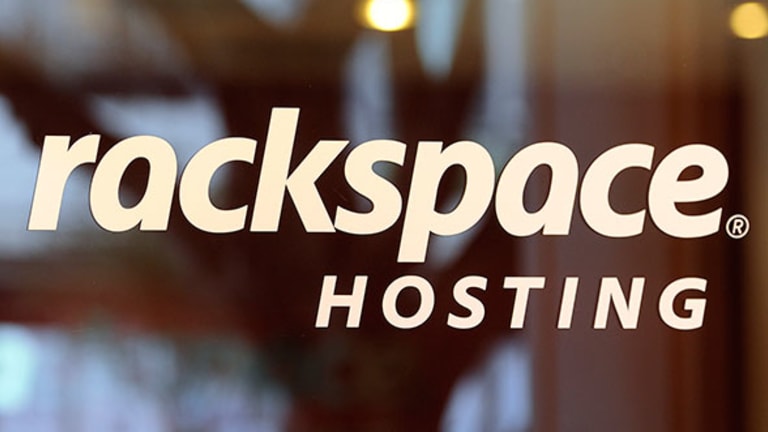 Rackspace Is Going Higher so Buy More
The cloud computing specialist is on track to deliver 12% gains by year's end, according to its chart.
Can Rackspace Hostings (RAX) stock go higher? Yes, it can. If you hold shares, buy more now.
The cloud-computing specialist's stock, which trades around $23.30, has soared about 12% just in the past five days. The stock has now risen some 15% since falling to a low of $20.49 in May.
However, Rackspace's chart, courtesy of TradingView, still points to additional gains of 8% to 10% in the weeks ahead.
Despite the recent rise 12% surge the past five days, the shares are down more than 8% year to date, including 4.4% declines in the past three months. This compares with a 5.9% year-to-date rise in the S&P 500 (SPX) index.
Recent buying after an initial post-Brexit fall, has moved the stock back above the 20-day ($21.72 -- blue line) and 50-day ($22.85 -- pink line) moving averages. With stock establishing support at around $23, the next move points to its resistance level at $25.30 (red line), suggesting a rise of about 9% in the next couple weeks. From a technical perspective, this presents a solid buying opportunity.
Fundamentally, the stock is also attractive. Based on Thursday's close, the stock is priced at 21 times forward estimates of $1.10 per share. True, that's about five points above the S&P 500's price to earnings multiple of 16.5. But unlike several S&P 500 companies, Rackspace has seen its earnings estimates climb 14%, to $110 per share presently from 96 cents per share three months ago. Its estimates for fiscal 2017 of $1.19 per share have also climbed from $1.17 in the past seven days.
Why are estimates rising? The company has beaten earnings estimates in three straight quarters. This trend, combined with the improved chart pattern and buying interest, should push RAX above resistance at $25.33.
The stock looks poised to reach second-level resistance at $26, delivering 12% gains by year's end.
This article is commentary by an independent contributor. At the time of publication, the author held no positions in the stocks mentioned.