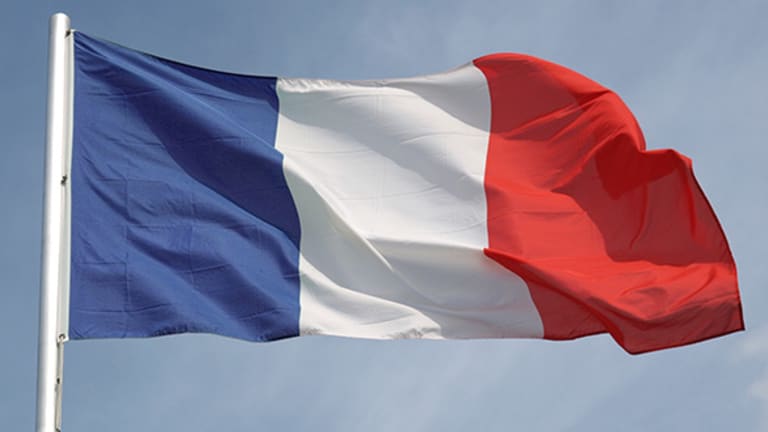 Rémy Cointreau Asia Pacific Sales Blip Nothing to Fret About as China Recovers
The world's No. 3 cognac maker says a first-quarter sales drop in the region is "not representative" of full-year expectations.
Don't cry into your cognac over Remy Cointreau's (REMYF) latest Asia Pacific sales slip. Most experts and the company itself see it as a one-off and expect recent global price hikes to pay off. 
The French spirits maker said Wednesday that sales in the region fell in the first quarter - but without giving numbers -- following "significant" growth in the second half reported in April.
Keep in mind the first quarter is typically the weakest. Total sales in the three months through June 30 were flat on an organic basis at €218.6 million ($240.8 million), undershooting the 1.1% gain projected in a Bloomberg News poll.
Remy Martin cognac sales alone were 0.5% lower in the first quarter, a sharp contrast to the 12.3% fourth-quarter gain. Remy Martin cognac sales rose 3.2% last year an an organic basis.
So what's happening in Asia now?
The main story is China, where over-shipments just before recent global price increases of 2% to 3% forced the company to tweak inventories. After saying last month the company had "hit the bottom" in China, CEO Valerie Chapoulaud-Floquet is now singing a different - and happier - tune.
On Wednesday, the company said in an investor presentation that the first-quarter Asia Pactiic sales decline is "not representative" of full-year expectations, and that Greater China was improving further with volume and value depletions --or what wholesalers sell to retailers -- up in the mid-single digits. 
Remy Cointreau shares were down 0.5% in Paris at €76.27 by early afternoon, paring losses after falling to €74.84 earlier in the morning. That gives it a market value of €76.6 billion and a 13.4% one-year return, easily outshining peers Pernod Ricard (PDRDF) which is down 8.3% over the past year and LVMH (LVMHF) whose stock price is 14.2% below that it was a year ago.
A Remy Cointreau spokeswoman told TheStreet that the first-quarter drop in Asia Pacific sales had been planned, and that quarterly sales can be very volatile. "What matters to us is the depletion trends..., which is less volatile and a good early indicator of our upcoming sales performance."
Many analysts see reason to be optimistic on Remy Cointreau in China.
"What's really important is that the underlying consumption in China is clearly strong," said Virginie Roumage, a Paris-based analyst with Bryan Garnier. She added that the recent price hikes are also a good sign that "the environment is getting better" especially Asia where sales had previously fallen. She has a buy rating on the shares and a price target of €80.
Analysts at Barclays are equally bullish, writing in a note before today's sales report that organic growth rates and margins should show further improvement in the current fiscal year as China recovers. They also applaud the company's strategy to focus on higher-end spirits priced $50 a bottle and higher, after sales in the category rose by an "impressive" 16% last year.
Remy Cointreau reinforced that view today, referring to an "accelerating trend" in high-end drinks and "buoyant" end demand for its cognac brands.
It also said the Americas had a "very good" first quarter, lifted by cognac, as well as positive growth in Europe, the Middle East and Africa led by emerging markets. However, Western Europe was hurt by an earlier Easter holiday and a weakness in Belgium due to a duty increase.
The company spokeswoman said that cognac, dark rum, single malt and rum are all experiencing solid growth where high-end brand positioning has paid off with 7% growth in the $30-plus segment last year in a market that grew 2%. "We are in the right price points and the right categories," she said. She also noted the company has invested "substantially" in brands through campaigns such as  One Life/Live Them for Remy Martin and the Cointreau Creative Crew philanthropist initiative.
Not all experts are convinced the company should stake its future on any one part of the world, especially China.
"While the situation in China seems to be improving, the results show the company's increasing reliance on North America, particularly the U.S.," said Jeremy Cunnington, senior alcoholic drinks analyst with Euromonitor. "Just as the company's unhealthy reliance on Chinese growth ... caused difficulties, Remy needs to make sure it doesn't repeat the same mistake again and diversify its geographic spread."
Euromonitor figures show that Remy Cointreau is the world's third-largest cognac player with 15.2% volume market share in 2015, well behind top-dog LVMH with 45.8% but closely trailing No. 2 Pernod Ricard's 15.8%.