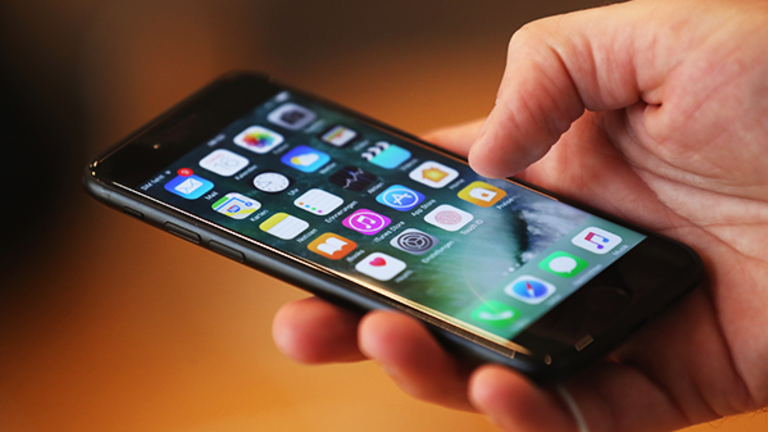 Why Qualcomm's Attempt to Ban iPhones With Intel Parts Could Put Apple In a Tough Spot
What a battle.
That Qualcomm Inc. (QCOM) - Get Report is now seeking a U.S. iPhone import ban as part of its legal battle with Apple Inc. (AAPL) - Get Reportover iPhone and iPad royalty payments shouldn't come as a surprise, considering Bloomberg reported in May that Qualcomm was planning such a move. But Qualcomm did add a couple of unexpected wrinkles into its legal salvo.
One of these wrinkles aims to neutralize some of the legal arguments Apple, as well as certain regulators, have been making against Qualcomm. The other aims to both lower the odds of a political intervention in Apple's favor, as well as boost Qualcomm's near-term chip sales at Intel Corp.'s (INTC) - Get Reportexpense.
This column originally appeared on Real Money, our premium site for active traders. Click here to get great columns like this.
After the bell on Thursday, July 6, Qualcomm announced it's filing a complaint with the U.S. ITC alleging Apple is infringing 6 patents via iPhone sales. As is common for ITC suits, Qualcomm's complaint is accompanied by a request for an import ban on the infringing products, as well as a cease and desist order for sales of those infringing products already imported. Qualcomm expects the ITC to start investigating the complaint in August, and for the case to be tried in 2018.
Neither Apple nor Qualcomm's shares moved much in after-hours trading following the news. Qualcomm fell sharply in January after Apple sued Qualcomm for withholding $1 billion in rebate payments, allegedly for cooperating with South Korean regulators in a probe of the company (Qualcomm has a different view of things), and accused Qualcomm of charging excessive royalty rates.
Apple is a holding in Jim Cramer's Action Alerts PLUS Charitable Trust Portfolio. Want to be alerted before Cramer buys or sells AAPL? Learn more now.
Since then, Qualcomm has countersued Apple, as well as filed suit against the iPhone/iPad contract manufacturers that were responsible for making royalty payments to the company via licensing deals. And Apple has -- by withholding from its contract manufacturers the royalty payments they're supposed to be making to Qualcomm -- stopped paying Qualcomm royalties altogether, something that led Qualcomm to issue a June quarter sales/EPS warning.
An iPhone import ban request is the logical next step for Qualcomm, and easily the most potent weapon it can deploy against Apple, which obviously has the resources to keep a mere battle over owed royalties and damages tied up in the courts for years (and withhold many billions in royalties along the way). But it's important to note that Qualcomm isn't trying to ban all iPhones from entering the U.S., even though all of them use its IP. Nor is it trying to ban infringing 4G-capable iPads. Rather, Qualcomm just wants a ban on iPhones featuring modems from companies other than Qualcomm, which in practice means Intel.
By making such a move, Qualcomm likely hopes to lower the odds that the Trump administration, no doubt aware of the public uproar and economic damage that would ensue if U.S. consumers weren't able to buy the iPhone 8 or any other newly-manufactured iPhones, would veto an ITC-imposed ban. Back in 2013, the Obama Administration vetoed an ITC import ban on certain iPhones and iPads ruled to be infringing a Samsung patent.
Should the ITC impose a ban, Qualcomm, which like Apple has plenty of lobbying experience under its belt, could tell the Trump administration and Congress that a veto is unnecessary. That Apple can keep the U.S. flush with new iPhones just as long as it imports models containing Qualcomm modems.
That, of course, leads to Qualcomm's other big incentive for only seeking a partial ban: Strengthening its iPhone modem sales, along with sales of the complementary chips that accompany its modems, after Apple began partly relying on Intel for its modem needs with the iPhone 7, following several years of solely relying on Qualcomm. Bloomberg reported in early June that Apple will also split its modem orders for this year's iPhones between Qualcomm and Intel.
And as Qualcomm tries to prevent iPhones containing Intel modems from entering the U.S., it can also argue -- both to politicians and the public -- that it's in the interests of consumers that Apple only use Qualcomm modems because they are faster. The Qualcomm Snapdragon X12 modem used by some iPhone 7 models has a 600Mbps peak download speed, while the Intel XMM 7360 modem used in other models has a 450Mbps peak speed. Likewise, the Qualcomm Snapdragon X16 modem expected to be used in some of this year's iPhones has a 1Gbps peak speed, while the Intel XMM 7480 modem expected to go into others has a 600Mbps peak speed.
The performance difference between the X12 and the 7360's peak speeds led Apple to throttle the X12's peak speeds within iPhone 7 units to keep them from exceeding the 7360's. Apple is reportedly planning to do something similar for the Qualcomm modems going into this year's iPhones, which in turn would prevent carriers and others from promoting them as "Gigabit LTE" capable, the way they promote Samsung's Galaxy S8 and certain other Android phones. Thus Qualcomm would have a pretty good PR talking point as it lobbies for a partial iPhone ban.
Just as the specifics of Qualcomm's import ban request are very calculated, so are the specifics of its infringement claims. Though Qualcomm has hundreds of patents it could allege infringement for, it picked out 6 patents that aren't essential to 3G or 4G standards -- or any other technology standards -- and thus aren't required to be licensed on fair, reasonable and non-discriminatory (FRAND) terms.
The company also claims the patents "play an integral role" in phones that use them that goes beyond the phone's modem. For example, one patent (#8,487,658) involves a method for controlling voltage levels on chips to save power, and another (#8,698,558) involves a technique for an energy-efficient power supply.
By asserting such patents rather than, say, ones related to 4G radios, Qualcomm is looking to sidestep Apple's claim -- echoed to a degree by the FTC in in its complaint against Qualcomm -- that it's charging excessive royalty rates for standards-essential patents (SEPs). It's also looking to render moot Apple's claim that it should only pay Qualcomm a royalty based on a percentage of the sale price of the 3G/4G modems it uses (likely below $30), rather than a percentage of the sale price of the devices the modems go into.
The latter claim strikes at the heart of the historical business model of Qualcomm's licensing unit, which still accounts for a solid majority of its profits. By charging royalty rates generally in the 3% to 5% range on sales of 3G and 4G-capable devices (subject to a dollar cap), the licensing unit produced $7.7 billion in revenue in fiscal 2016 (ended in September 2016), of which $6.5 billion was turned into operating income.
As Qualcomm tries to protect this business from Apple's aggressive actions, it's deploying some creative maneuvers, rather than just relying on a frontal attack centered around infringement claims for its core 3G and 4G patents. That doesn't guarantee success, but it does amplify the pressure faced by Apple, and could force Tim Cook's company to wage a PR and lobbying battle with Qualcomm on less favorable terms than what it was expecting.
Qualcomm's shares rose 1.1% to $55.41 early Friday afternoon.
Visit here for the latest business headlines.
Don't miss these top stories from TheStreet:
Here's How Many Airplanes Boeing Just Sold
Amazon Prime Now Has a Mind-Blowing 85 Million Members, Up 35% from Last Year