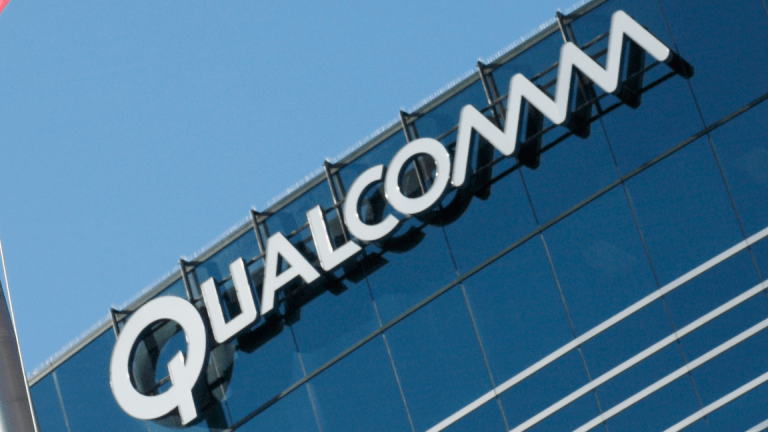 Qualcomm's 5G, VR, Auto and IoT Efforts Take the Spotlight at CES
Qualcomm is now shipping over 1 million chips per day for the burgeoning Internet of Things hardware market.
These days, Qualcomm's (QCOM) - Get Report chip business is pretty far down on the list of things it draws headlines for, as battles with Broadcom's (AVGO) - Get Report management, Apple's (AAPL) - Get Report legal department and NXP Semiconductors'  (NXPI) - Get Report shareholders take the spotlight.
The company tried its best to change that dynamic at its CES press event on Monday, unveiling a number of new chips, design wins and partnerships that collectively aim to burnish its credentials as a leading and envelope-pushing supplier of processing, connectivity and RF chips for connected devices. Qualcomm also tried its best to remind the world just how substantial its non-mobile chip businesses are, and how important they are to its growth strategy.
The growing automotive chip market, a field that Qualcomm would significantly grow its exposure to if it bought NXP, got a fair amount of attention. Qualcomm announced new Snapdragon processor and/or modem design wins with Honda (the 2018 Accord), Jaguar/Land Rover and Chinese electric car maker BYD, and noted 12+ automakers are using its Snapdragon Automotive platform for infotainment systems.
Qualcomm also noted virtually every major automaker is using Qualcomm chips of some kind (in many cases, 4G modems), and that its total backlog of automotive design wins is north of $3 billion. With Nvidia indicating it plans to de-emphasize its market-leading infotainment processor business (based on its Tegra processors) to focus on autonomous driving opportunities, there could be an opportunity for Qualcomm to take share.
Tech analyst Patrick Moorhead is impressed with the auto backlog disclosure, as well as with the fact that Qualcomm's total non-smartphone chip revenue in "adjacent areas" totaled $3 billion in fiscal 2017 (up over 25% annually and equal to almost a fifth of total chip revenue). "I thought Qualcomm did a good job showing their growth opportunities independent of NXP and Broadcom," he said.
Also disclosed: Qualcomm is now shipping over 1 million chips per day for the burgeoning IoT hardware market. The company announced deals with Amazon (AMZN) - Get Report , Alphabet/Google (GOOGL) - Get Report and Microsoft (MSFT) - Get Report to allow their respective voice assistant platforms to be baked into Qualcomm-powered smart speakers, and - for companies looking to launch alternatives to Apple's very popular AirPods, which are based on Apple's W1 Bluetooth system-on-chip (SoC) - a new Bluetooth audio SoC claimed to consume 65% less power than "previous single-chip Bluetooth audio solutions."
For the virtual-reality headset space, Qualcomm had Hugo Barra, Facebook's (FB) - Get Report VP of VR, appear on the stage to confirm that the recently-announced Oculus Go standalone VR headset is powered by a Snapdragon 821 processor. And a Xiaomi exec appeared to announce that the Chinese smartphone maker will be shipping a headset for the Chinese market that's based on the Go's hardware.
As for Qualcomm's giant mobile chip business, the company was eager to talk about the traction made by its RF chip business. 11 months after launching a major RF filter JV with Japan's TDK, Qualcomm says it has landed design wins for its RF front-end solutions (they contain a number of RF components and modules) with Samsung (SSNLF) , Google, HTC, LG and Sony (SNE) - Get Report .
Not surprisingly, Qualcomm's 5G efforts also got some airtime. The company reiterated it aims to make 5G-capable smartphones a reality by 2019, and noted 5G will bring about another major increase in RF complexity; the company thinks over 10,000 5G band combinations will need to be supported, or more than 10 times as many combinations as 4G requires. Aside from acting as a boon for RF chip sales, Qualcomm thinks this complexity makes the "system-level" approach it's taking to 5G R&D - one that covers modems, RF and much else - more compelling.
After taking in the announcements, I have a little more appreciation for why many chip industry followers aren't happy about Broadcom's hostile bid to acquire Qualcomm. Broadcom spends much less than Qualcomm on R&D as a percentage of revenue, and should it succeed in buying Qualcomm, it's not hard to imagine at at least a few of the initiatives highlighted at Qualcomm's CES event being axed or at least having their budgets cut.
Of course, none of that means a Broadcom-Qualcomm deal would be bad for Broadcom shareholders. But as its CES event shows, Qualcomm is a different kind of company, one that's willing to make big R&D investments in growth markets that could take a few years or more to deliver a major payoff.
Jim Cramer and the AAP team hold positions in Broadcom, Apple, NXP Semiconductors, Alphabet, Microsoft and Facebook for their Action Alerts PLUS Charitable Trust Portfolio. Want to be alerted before Cramer buys or sells AVGO, AAPL, NXPI, GOOGL, MSFT or FB? Learn more now.
More of What's Trending on TheStreet: