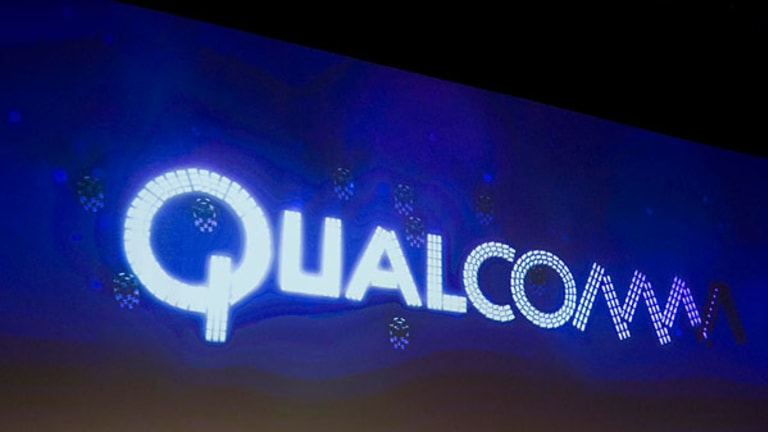 Qualcomm Quietly Dominates in Wireless Technologies
While Intel struggles to get into the mobile and wireless technology race, Qualcomm has extended its lead.
NEW YORK (TheStreet) -- Imagine trying to enter a 100-meter race where one competitor is "The Jamaican Lightening Bolt," Usain Bolt.
It doesn't matter how many races you won back in 1998 or 2003: You're 37 years old and you think you're going to beat this 27-year old Olympic gold medal winner today? What are you smoking?
That's the simile I like to use whenever anyone asks me if
Intel
(INTC) - Get Intel Corporation Report
can catch up and surpass the Usain Bolt of wireless and mobile technology,
Qualcomm
(QCOM) - Get Qualcomm Inc Report
.
Don't get me wrong. I respect INTC and it is the 800-pound grizzly bear of microprocessors and computer chips. But like a wrestling match between two bears, it doesn't help if you're older and weigh more.
Intel is trying to get its act together and figure out how to become a major player in the mobile device space with its products. It's barely gotten out of the starting gate.
To make matters worse it hasn't begun to catch up with its British rival
ARM Holdings
(ARMH)
.
In fact on Monday ARM announced a deal with
Cadence Design Systems
(CDNS) - Get Cadence Design Systems, Inc. Report
in which the companies have signed a definitive agreement for the sale and transfer of Cadence PANTA display controller cores to ARM.
"The agreement enhances the companies' long-standing ecosystem collaboration and strengthens their technical alignment" a press release stated.
Cadence's PANTA family of high-resolution display processors and scaling co-processor IP cores was co-developed in conjunction with ARM and is targeted at advanced multimedia applications for high-end mobile devices with ultra-low power consumption.
ARMH shares closed up over 2% on Tuesday closing at $41.37 and CDNS closed down 20 cents to $13.27.
Pete Hutton, ARMH's executive vice president and general manager, Media Processing Division, explained further in the press release: "Display technology is critical to the mobile consumer's user experience. The addition of the PANTA family of display cores to the ARM product portfolio will help our ecosystem of partners get to market quickly with high-end displays that are fully integrated with ARM's leading Mali graphics and video solutions and protected with ARM TrustZone security."
So I'm not betting on INTC to finish any better than third place in a race with ARMH and QCOM. When you spend time getting to know the San Diego-based QCOM you'd likely wager on its dominance.
With a market cap of $114.5 billion, QCOM is still the world leader in 3G, 4G and next-generation wireless technologies. Qualcomm includes Qualcomm's licensing business, QTL, and the vast majority of its patent portfolio.
There are numerous layers to QCOM's capabilities. Qualcomm Technologies, a wholly owned subsidiary, operates, along with its subsidiaries, substantially all of Qualcomm's engineering, research and development functions.
QTI operates substantially all of QCOM's products and services businesses, including its semiconductor business, QMC. It's a bit complicated and that's why I encourage you to visit QCOM's
down-to-earth Web site for the overview
.
Shares of QCOM are still looking relatively inexpensive. With a forward (one-year) PE ratio of slightly more than 13 and a price-to-earnings-to-growth (PEG) ratio (five-year expected) of only 0.88, it's priced for consideration.
It won't surprise you when you see the one-year price chart below with QCOM's quarterly revenue per share growth lifting the stock's price higher and higher!
data by
Analysts have an estimated consensus average revenue growth rate for the quarter and for the current year to be an impressive 30%. Earnings per share for the current quarter is estimated to have grown by over 21%, and for the current year EPS will likely be ahead by more than 22%.
TheStreet's
research department rates QCOM as a buy, noting, "The company's strengths can be seen in multiple areas, such as its robust revenue growth, largely solid financial position with reasonable debt levels by most measures, notable return on equity, impressive record of earnings per share growth and increase in net income."
Examine it closely for yourself and keep in mind its reasonable current dividend yield of 2.10%. This represents only a 29% payout ratio of the company's earnings so there's plenty of levered free cash flow ($4.67 billion as of June 30) to allow for a dividend improvement.
Through its own R&D accomplishments and through strategic partnerships with other forward-thinking companies, Qualcomm's business model accommodates the breakthrough technology wireless companies need to power their business.
QCOM openly licenses these innovations across the wireless industry, providing all companies big or small an equal opportunity to shape the future of wireless. This, to me, is a big part of its success.
If you decide to buy shares of QCOM I'd encourage you to use a
stealth trailing stop loss alert system like the one offered by TradeStops
. One way or another you'll need a smart exit strategy.
My advice to Intel would be to shape up and drink lots of energy drinks if you think you'll catch up with this technology "track star." Like running against Usain Bolt, you'll be lucky to stay close enough behind to be able to read the number on the back of Qualcomm's shirt.
At the time of publication the author had no position in any of the stocks mentioned.
This article was written by an independent contributor, separate from TheStreet's regular news coverage.
Marc Courtenay is the founder and owner of Advanced Investor Technologies, LLC, as well as the publisher and editor of www.ChecktheMarkets.com.
Courtenay holds a Master's of Science degree in Psychology from California Polytechnic State University, and is a former senior vice-president of Investments for two major brokerage firms. He's been a fiercely independent investment "investigator" and a consulting contributor to the investment publishing world for over 30 years. In addition to his role as an investment publisher and analyst, he serves as a marketing consultant to the investment media industries.
In his role as a financial editor, he specializes in unique investment strategies, overlooked stock investments, energy and resource companies, precious metals, emerging growth companies, the prudent use of option strategies,real estate related opportunities,wealth preservation, money-saving offers, risk management, tax issues, as well as "the psychology of investing". Because of his training and background in Clinical Counseling and Psychology, he enjoys writing about investor behavior, the ¿herd mentality, how to turn investment mistakes into investment breakthroughs and the stock market's behavioral trends and patterns.