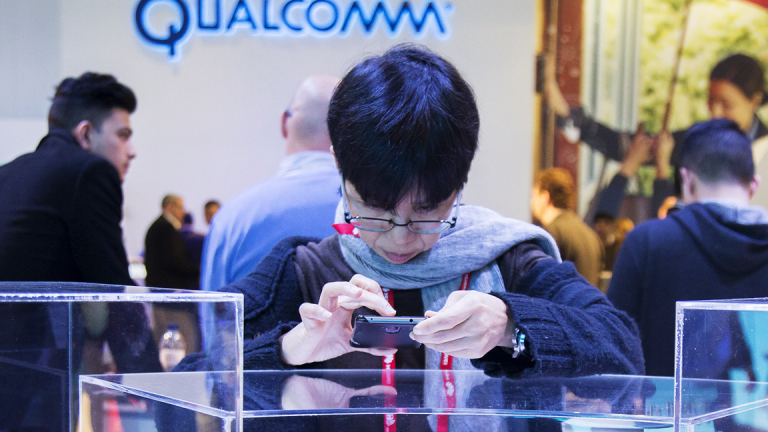 Qualcomm's Latest Notebook Chip Could Be a Sign of Things to Come from Apple
As Apple reportedly develops its own processor for Macs, Qualcomm is making impressive performance and battery life claims for a new chip meant for Windows notebooks.
Qualcomm (QCOM) - Get Free Report claims its latest notebook processors can go toe-to-toe with high-end Intel (INTC) - Get Free Report  processors, while delivering superior battery life.
That by itself doesn't guarantee the chip will be a smash hit, not when software support remains a work in progress. However, Qualcomm does have an interesting sales pitch, one that's likely to appeal to a subset of consumers and which also provides context for Apple's (AAPL) - Get Free Report  reported plans to launch Macs featuring its own CPUs.
Qualcomm's Snapdragon 8cx Processor
About a year after the first Qualcomm-powered Windows systems were announced, Qualcomm has unveiled the Snapdragon 8cx, a 7-watt notebook system-on-chip (SoC) promised to ship inside of commercial devices in Q3 2019. Notably, whereas Qualcomm's first two notebook processors -- the Snapdragon 835 and 850, respectively -- were either also used in smartphones or had much in common with a Qualcomm smartphone processor, the 8cx was built from the ground up specifically for notebooks and notebook/tablet hybrids.
Qualcomm asserts the 8cx, which features 8 CPU cores based on its proprietary Kryo architecture, delivers performance on par with 15-watt Intel Core i5 CPUs, which are found in many mid-range and high-end notebooks. Assuming Qualcomm's claim holds up, the 8cx should address the performance complaints that are common for its predecessors.
In spite of its performance boost, Qualcomm promises that battery life for 8cx systems will be comparable to prior Snapdragon notebook systems, some of which are declared by OEMs to deliver over 20 hours of battery life. Chalk that up to Qualcomm's use of Taiwan Semiconductor's (TSM) - Get Free Report cutting-edge 7-nanometer (7nm) manufacturing process, which is more advanced than the 14nm processes that Intel (thanks to manufacturing delays for a 10nm process believed to be competitive with TSMC's 7nm process) is still using for its most powerful PC CPUs.
The 8cx also packs Qualcomm's high-end Snapdragon X24 4G modem -- it wouldn't be surprising to see the chip eventually support Qualcomm's standalone Snapdragon X50 5G modem -- and the Adreno 680, an integrated GPU said to be twice as powerful as the Adreno 630 GPU found inside the Snapdragon 845 and 850. And as is the case for existing Snapdragon Windows systems, 8cx systems support a standby mode that lets them instantly wake in a manner similar to phones and tablets.
Major notebook OEMs such as HP Inc. (HPQ) - Get Free Report , Lenovo, Samsung (SSNLF) and Asus have already launched Snapdragon 835 and/or 850-based Windows systems, and are likely to launch 8cx-based systems as well. Microsoft (MSFT) - Get Free Report , meanwhile, says 8cx systems will be able to run the enterprise version of Windows 10, rather than just the consumer version, like existing Snapdragon systems.
"Qualcomm is removing nearly all objections [for] a connected PC," said tech analyst Patrick Moorhead about the 8cx. "Connected speeds are higher, overall compute performance is now at the levels of a standard laptop and users get true multi-day battery life."
Apple and Microsoft are holdings in Jim Cramer's Action Alerts PLUS member club. Want to be alerted before Jim Cramer buys or sells AAPL or MSFT? Learn more now.
Pros and Cons
Qualcomm's notebook push still faces some major hurdles. Chief among them: Though Microsoft is strongly backing Qualcomm's efforts -- in addition to creating versions of Windows meant to run on ARM microarchitecture CPUs such as Qualcomm's, it has also created ARM versions of its Office 365 apps and Edge browser -- many other leading developers haven't yet created ARM versions of their apps. As a result, their Windows apps can only be run using emulation software that results in a performance hit.
Until this changes, many users of mid-range and high-end Windows notebooks are likely to prefer sticking with x86-architecture CPUs such as Intel and AMD's (AMD) - Get Free Report . Many content creators, for example, are unlikely to embrace Qualcomm until Adobe (ADBE) - Get Free Report creates ARM versions of its Creative Cloud apps. Notebook gamers are also unlikely buyers for now -- both because ARM versions of popular Windows games haven't arrived, and because Qualcomm's chips don't yet support Nvidia (NVDA) - Get Free Report  and AMD's discrete GPUs.
High-end buyers seeking top-of-the-line performance could also stay loyal to Intel, since Qualcomm is only promising performance on par with Intel's Core i5 CPUs, rather than its more powerful Core i7 CPUs. And corporate PC buyers in general could be nervous about supporting a new CPU platform, after many years of being loyal to Intel.
With all that said, though, software support is gradually improving. 64-bit app support was added in May. And on Thursday, Qualcomm announced that Mozilla Firefox will soon run natively on ARM-based Windows systems. In addition, from the looks of things, it won't be long before a Windows ARM version of Google Chrome arrives as well.
Meanwhile, battery life certainly matters a lot to the average notebook users, and Qualcomm does have an edge here. Battery lives for popular thin-and-light notebooks featuring high-end Intel CPUs -- for example, HP's Spectre line or Microsoft's Surface Laptop -- are generally in the 10-to-15 hour range. That's well below the 20-plus hours of battery life Qualcomm suggests the 8cx can deliver.
The Big Picture
Qualcomm's latest Windows processor isn't for everyone. However, for certain consumers -- ones who care a lot about battery life, only need good performance rather than bleeding-edge performance and who spend much of their time in front of a Windows notebook using a web browser and/or Office apps -- the company's value proposition is starting to get interesting.
Moreover, the 8cx provides another example of how the evaporation of Intel's traditional manufacturing process lead is leading to heightened competition in major CPU markets. AMD, it should be noted, is expected to launch x86 desktop, notebook and server CPUs next year that rely on TSMC's 7nm process.
Apple, meanwhile, was reported in April to be working on ARM-based processors that could be used inside of Macs as soon as 2020. The fact that the iPhone XS/XR's A12 Bionic SoC, which also relies on TSMC's 7nm process, held its own against high-end Intel CPUs in some benchmarks definitely did nothing to dampen speculation that Apple will eventually stop relying on Intel for its Mac CPU needs, in spite of the considerable software work that a switch would require.
Given the claims that it's making about the 8cx's performance and power consumption, Qualcomm's latest attempt to go after the PC market isn't going to do anything to cool such speculation either.