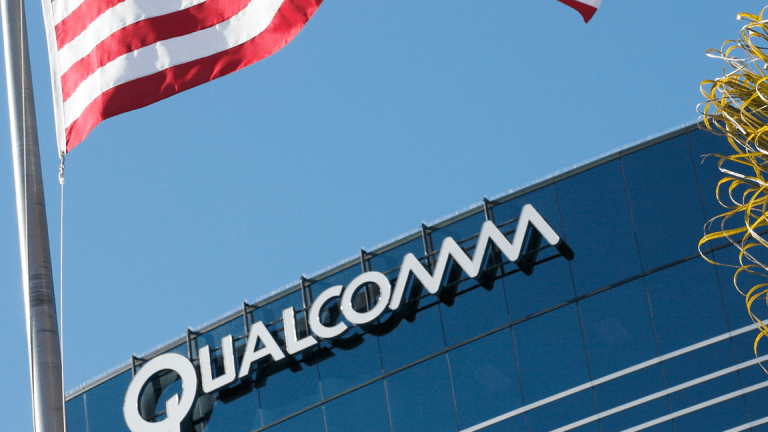 Qualcomm's New 5G Modem and Radio Chips Should Help Fend Off Hungry Rivals
Qualcomm's second 5G modem packs higher download speeds and a slew of other new features.
Since it was announced in late 2016, Qualcomm's (QCOM) - Get Free Report first 5G modem has landed dozens of design wins with major smartphone makers. The company's second 5G chip leaves it well-positioned to maintain its lead as competition intensifies.
On Tuesday morning, Qualcomm unveiled the Snapdragon X55, a 5G modem that supports a 7Gbps peak download speed and 3Gbps peak upload speed, and is made using an advanced 7-nanometer (7nm) manufacturing process.. The company also took the wraps off several new 5G RF products, including amplifier modules that support both 5G and 4G connectivity via traditional, lower-frequency, spectrum bands.
The products are being announced ahead of the Mobile World Congress (MWC), which takes place in Barcelona from Feb. 25 to Feb. 28. The MWC is expected to see many Android OEMs unveil 5G phones featuring the X55's predecessor, the Snapdragon X50, as well as Qualcomm's Snapdragon 855 system-on-chip (SoC), which pairs a high-end app processor with a 2G/3G/4G modem.
The products are also being announced ahead of a Feb. 20 Samsung event in which the Galaxy S10 is expected to be revealed. Samsung, which has historically used both Qualcomm's processors and modems and its own in its high-end phones, is expected to include a 5G model in its Galaxy S10 lineup, with Qualcomm's silicon likely powering the version of the 5G S10 that sells in the U.S..
What Qualcomm's Snapdragon X55 Modem Delivers
The Snapdragon X55's 7Gbps peak download speed is 2Gbps higher than that of the X50, and (unlike the X50) it also supports 4G and older air interfaces. That brings Qualcomm one step closer to its goal of baking a 5G modem into an SoC featuring an app processor, the way it currently does so with 4G modems.
In addition, the X55 adds support for frequency-division duplex (FDD) communications, in which uploads and downloads are handled via different slices of spectrum. And whereas the X50 only supports non-standalone (NSA) 5G networks that need to lean on 4G networks for certain radio and core network functions, the X55 also supports standalone (SA) 5G networks.

Qualcomm has already seen strong design win activity for its Snapdragon X50 5G modem. Source: Qualcomm.
The X55 also gives carriers the ability to support 5G and 4G on the same spectrum. A Qualcomm representative admitted there's "a little bit of overhead" related to doing this, but argued it still allows spectrum to be used more efficiently than it would be if spectrum was dedicated to 5G at a time when 5G services are just becoming available.
Qualcomm expects the X55 to find its way into "commercial devices" in late 2019. At the same time, Qualcomm, which has previously said over 30 devices (predominantly smartphones) featuring the Snapdragon X50 and 855 will launch this year, declined to say whether smartphones featuring the X55 will arrive in 2019.
The New RF Chips
Last July, Qualcomm unveiled the QTM052, a 5G antenna module that supports high-frequency, millimeter-wave (mmWave), spectrum bands that can deliver huge amounts of capacity over short distances, and which until now weren't capable of being used by mobile networks. It also launched four 5G RF amplifier modules for traditional, sub-6GHz, spectrum bands.
Qualcomm is now launching a new mmWave antenna module known as the QTM525; it adds support for an additional mmWave band and is said to be thin enough to enable 5G phones that are less than 8mm thick (for comparison, the iPhone XS and Galaxy S9 are respectively 7.7mm and 8.5mm thick). It's also launching several RF amplifier modules for sub-6GHz bands that (unlike the products launched in July) support both 5G and 4G networks.
A pair of other RF products were also launched: An antenna tuning chip said to offer better performance and a slimmer form factor than its predecessor, and a product that Qualcomm declares to be the first 5G envelope tracking solution (it adjusts a power amplifier's voltage to make sure it's running at peak efficiency). The company claims the envelope tracker delivers up to a 100% improvement in power efficiency relative to alternative 5G power-tracking approaches.
Like the Snapdragon X55, the new RF chips are expected to be "featured in commercial devices" in late 2019.
Qualcomm vs. The Competition
Though Qualcomm historically hasn't been a top player in the market for RF front-end solutions such as amplifier and antenna modules -- Skyworks (SWKS) - Get Free Report , Qorvo (QRVO) - Get Free Report and Broadcom (AVGO) - Get Free Report are among the leaders here -- the company has seen some traction in this space lately, landing design wins with the likes of Samsung, Google and Sony. Just as importantly, Qualcomm has argued that 5G gives it an opportunity to take RF share. Its reasoning: Unlike 4G front ends, 5G front ends will rely on a phone's modem to be dynamically tuned, and Qualcomm (unlike its main RF rivals) can deliver a solution that covers everything from a phone's modem to its antenna.
Though it's still early days for 5G, Qualcomm has been backing up its talk so far -- particularly in the mmWave RF space, where competition is more limited for now. Nearly all of the 30-plus 5G devices due to launch this year with the Snapdragon 855 and X50 inside of them are also expected to feature Qualcomm RF front-end chips.

Qualcomm is trying to sell smartphone makers a soup-to-nuts 5G modem and radio platform. Source: Qualcomm.
The Snapdragon X55, meanwhile, should help Qualcomm fend off Intel (INTC) - Get Free Report in the 5G modem market. Intel has forecast that phones and commercial hardware featuring its XMM 8160 5G modem, which supports a 6Gbps peak download speed, will arrive in the first half of 2020.
Like the X55, the XMM 8160 supports 4G and older radio interfaces, as well as FDD communications and standalone 5G networks. Apple (AAPL) - Get Free Report , which remains in a bitter licensing dispute with Qualcomm, will reportedly be using the XMM 8160 within its 2020 iPhones. However, no other major engagements with phone OEMs have been reported or disclosed to date.
Samsung and Taiwan's MediaTek have also unveiled 5G modems that support 4G and older radio interfaces. But historically, Samsung's modems have only been used in the company's own phones, and (whereas the vast majority of the 5G phones launching in the near-term will be high-end devices), MediaTek's mobile chip sales have skewed strongly towards low-end and mid-range phones.
Throw in Qualcomm's currently-unique ability to sell end-to-end 5G solutions that cover both the modem and the RF front-end, and the company's 5G chip business is shaping up to be a bright spot as its legal and regulatory battles continue featuring a high degree of uncertainty.
Apple is a holding in Jim Cramer's Action Alerts PLUS member club. Want to be alerted before Jim Cramer buys or sells AAPL? Learn more now.