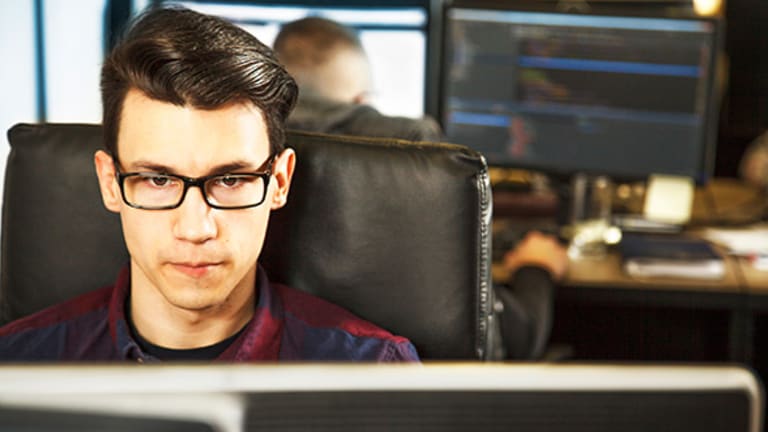 Qlik Shares Attractive After Pulling Back
The company hit a rough patch recently, but demand for its products is on the rise.
Shares of Qlik Technologies (QLIK) dropped 11% in one session last week after this provider of visual analytics software fell short of the consensus estimate for third-quarter revenue. The stock is down more than 28% from its all-time high of $42.18 in August.
While the company has hit a bit of a rough patch, overall demand for analytics software, which helps users gain insights into data, is on the rise. Qlik's growth is expected to re-accelerate next year with new products. So, don't pass up this stock, which now trades at a compelling valuation.
In the third quarter, Qlik's revenue of $141.2 million rose 7.5% year-over-year, but that missed the consensus estimate of $143.3 million, landing in the lower end of the guidance range of $140 million to $144 million. The culprit: fewer large-deal closures in the Asia-Pacific region (mainly in Australia and Southeast Asia). On the third-quarter earnings call, management said the pipeline of deals in the region remains strong and that it's just a matter of getting the transactions closed.
On the positive front, the company closed 130 large deals during the quarter, up 20% from last year. Of those deals, 34 were worth more than $250,000 (up 47% year-over-year) and eight were above $1 million. For the first three quarters of 2015, the number of deals over $1 million jumped 63% to 18.
Driven by strong renewals, deferred revenue in the third quarter of $134.2 million rose 39% year-over-year (up 51% in constant currency). Gross margin of 85% rose 20 basis points sequentially.
QLIK
data by
Qlik's Sense self-guided analytics software, launched in September 2014, is attracting new customers as well as existing accounts. Easier to use, Sense is a complementary product to the more advanced QlikView guided analytics software. Qlik is seeing more and more combination deals of QlikView and Sense, which increases the deal's size. With more than 37,000 customers, Qlik has ample opportunities to cross-sell its newer product.
The company continues to see a solid performance from its partner network of systems integrators (SIs), many of which are rapidly expanding their Qlik-based analytics practices. SIs are a key way for Qlik to work itself into replacement cycles for older business intelligence products from legacy vendors such as IBM and SAP.
For the fourth quarter, Qlik expects revenue of $206 million to $211 million (growth of 13% to 15% year-over-year), in line with the consensus estimate of $208.5 million.
With Sense still in the early stages of demand, the company's long-term outlook remains bright. Qlik has a solid roadmap of new offerings and product updates on the horizon-including QlikView 12, the next version of the core product. QlikView 12, set for release next month, will offer a tighter integration with Sense, creating more of a platform-based analytics package. Qlik Cloud Plus (a paid version of Qlik Cloud, which offers basic Sense) is due out in the next few months, while Sense 3.0 is scheduled to debut in the second quarter of 2016.
Qlik's 2015 revenue guidance range of $613 million to $618 million represents growth of 10.5% at the midpoint. The 2016 consensus revenue estimate of $722.2 million indicates accelerated growth of 17.2%. The Street's high revenue estimate for next year of $764 million represents growth of 24%. It all adds up to make Qlik a great buy now.
Looking for other tech sector buys? Read this free report that pinpoints opportunities the investment herd is missing.
This article is commentary by an independent contributor. At the time of publication, the author held no positions in the stocks mentioned.