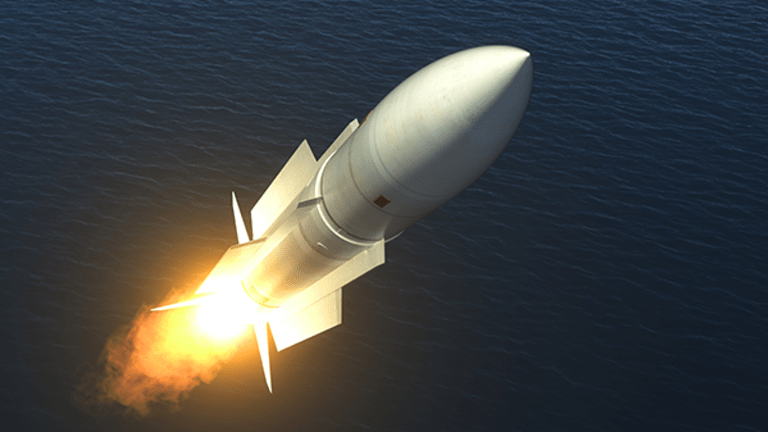 Danger Is Coming: Market Recon
North Korean Foreign Minister Ri Yong Ho referred to a missile strike against the U.S. mainland as 'inevitable.' Here's what it means for defense stocks.
"Real firmness is good for anything; strut is good for nothing."
--Alexander Hamilton
To Arms
While the nation's mainstream media focuses on what sells, let us go in an entirely different direction. I have repeatedly suggested getting and staying long defense stocks. Have those stocks already run this year? Of course they have, and for some good reasons. The planet is full of bad actors. While scores of professional athletes decide whether or not they want to stand for a national anthem that I, personally have never made it through without practically weeping, there was plenty going on that warrants far greater attention. I'm not talking about the German election results, either.
On Saturday, North Korean Foreign Minister Ri Yong Ho referred to a missile strike against the U.S. mainland as inevitable. "Inevitable." Let that sink in, gang. "Inevitable."
There are people out there that want you dead. President Trump continues to refer to Kim Jong Un as "Little Rocket Man." Funny? For a second. Then you realize that the leaders of nuclear powers are taunting each other. Is that all? Not even close. As one bad actor plays the spoiled child, another tries to sneak in the back door while nobody is looking. Iran reports testing a new medium range ballistic missile. Oh, joy. Iran's President insists that his nation will continue to develop their ballistic missile program. The U.S. president blames both of these worsening situations on past administrations having either turned a blind eye, or on weak deals that allowed for little supervision.
On Sunday, two U.S. B-1 bombers and six F-15 fighters took off from both Guam and Japan to fly along the North Korean coastline. Pentagon spokesperson Dana White said, "We are prepared to use the full range of military capabilities to defend the U.S. homeland and our allies." Hmm.
Did I mention that scientists detected seismic activity near the Punggye-ri nuclear test site in North Korea. Natural or man-made earthquake? Truly anybody's guess at this point.
Still want to worry about who took a knee, or wouldn't even take the sidelines during the anthem at a meaningless sporting event? Didn't think so. There's danger afoot. Where goes danger, will follow money. Where goes money, will follow performance.
You all know that Boeing (BA) has roared upward to the tune of 65% this year, trouncing the S&P 500 (+12%), and the Dow Jones Industrial Average (+13%), in both of which Boeing is a component. Did you know that Boeing has been outperformed year to date by smallish drone-maker Kratos Defense (KTOS) (+75%)? Bet you didn't.
In fact, Defense and Aerospace as a group has easily outshone the broader marketplace. Spirit Aerospace (SPR) , Raytheon (RTN) , Lockheed Martin (LMT) , Northrop Grumman (NOC) , and General Dynamics (GD) have all seen their stock prices grow in 2017 by between 19% and 35%. The SPDR S&P Aerospace & Defense ETF (XAR)  smoothes things out for you a bit, just in case these names are not your cup of tea. That exchange traded fund has seen an increase in share price of 25% this year.
Past Performance Guarantees Nothing 
What you have to ask yourself before committing capital across the space, or increasing your commitment across the space, is if you think the run is for the most part over. The market obviously expects increased defense spending, and has already placed a premium on share prices across the industry. It appears, at least to me, that there will be no drop off in demand here anytime soon. There will come a day when congress actually adopts a budget. There will be, at least for a short time, a finite number placed on defense spending -- at that time. That may be when you see a dip in prices across this industry.
The truth is that whenever you do finally see a selloff across this space, a prudent investor would be wise (in my opinion) to expand his or her involvement. In the 1990s, President Bill Clinton inherited a world coming out of the Cold War. That allowed for a significant reduction in defense spending that both dressed up the budget and boosted the economy. That was an artificially easy time for the nation that will not be repeated. I find it hard to believe that this President, or any president in the near future, will be allowed the chance to reap such benefits. As I have said in the past, just follow the money.
Unleashed
Today, my friends, you will hear from three Fed speakers as they come flying out of their respective cages. Before the week is out, there will at least 10 more public appearances made by Fed officials. Cement the case for that December rate hike? Gather support for the launch of their shiny new quantitative tightening program in October? Maybe just start floating some trial balloons to see how markets interpret different ideas? Uhm... Yes. All three.
Twelve of 16 folks at the central bank who get to place a dot, placed their December dot on "Go." What this has done is put downward pressure on Treasuries (inverse of yields), downward pressure on gold, and upward pressure on U.S. dollar valuations. We covered gold pretty thoroughly in Friday's edition of Market Recon. You already know if you read me that I think a 7.5% portfolio allocation toward the yellow metal is appropriate. You also know that I don't see a warning sign until market prices for the physical drop to the neighborhood of $1260 an ounce. What about the dollar though? Where is that cute little guy headed?
Dear Liza
In theory, it makes sense that yields would go higher from here. In theory. The Fed has shown their hand. The European Central Bank and the Bank of Japan are both trying to push each other to the front of the line. Which one, if either, of these two will be the next to tighten policy? Will they even dare? Both nations are showing improved signs of economic expansion.
My thought? Japan, as far as sentiment is concerned, seems so far over the line of reason, that to them saving or adding a few drops in a bucket already full may not matter. The ECB, on the other hand, may still feel the need to draw back further on accommodation, to leave a hole in its bucket.
That said, even if the ECB finally does get around to tapering its monthly asset purchases, there will still be money added to the system for likely all of 2018. That money needs to find a home. That money will seek yield. The U.S. is the safest home of higher-yield returns as far as much of the world is concerned. The President of the United States is all about the trade balance. He's all about manufacturing. That means, by definition, he is all about a weaker dollar.
The coming tax plan? A military build-up as part of a fiscal spend? Newly created foreign money seeking yield? Are you starting to see some reasons why yields cannot run wild? Me too. That goes just as much for dollar valuations. There may be some volatility surrounding a divergence in central bank policies, but I do not see a dramatic change in trend. By the way, the ECB does not meet on policy again until October 26.
On a lighter note, check out these new motorcycles from Polaris (PII) owned Indian. 
Macro
08:30 - Fed Speaker: New York Fed Pres. William Dudley will speak this morning from Syracuse, New York. His expected topic is labor force development. Dudley, who holds a permanent voting slot at the FOMC, has sounded more unsure on policy direction this month. He will take questions from today's audience.
10:30 - Dallas Fed Manufacturing Survey (Sept): Expecting 13.1, August 17.0. Dallas is expected to print in headline expansion for an eleventh consecutive month. For those of you that can think back that far, Dallas entered this streak following a 22 consecutive month streak of headline contraction. Both New York and Philadelphia have gone to the tape with strong surveys this month. We'll hear from Richmond tomorrow.
12:40 - Fed Speaker: Chicago Fed Pres. Charles Evans is set to speak from Grand Rapids, Michigan. Evans, who votes on policy until December, has been leaning dovish of late, which is not unusual for him. He will speak to the state of the economy and on monetary policy at this event. Both the audience and the media will be invited to ask questions.
18:30 - Fed Speaker: Minneapolis Fed Pres. Neel Kashkari, who also vote on policy until December, will be in Grand Forks, North Dakota this evening. Kashkari has been an unwavering dove as this year has progressed. He will open up to questions at the conclusion of this event.
Sarge's Trading Levels
These are my levels to watch today for where I think that the S&P 500, and the Russell 2000 might either pause or turn.
SPX: 2524, 2513, 2504, 2497, 2491, 2482
RUT: 1465, 1459, 1452, 1447, 1440, 1429
Today's Earnings Highlights (Consensus EPS Expectations)
After the Close: RHT (0.67), SNX (1.97)
Get Morning Recon delivered directly to your inbox each market day. Click here to sign up for e-mail delivery of Stephen "Sarge" Guilfoyle's Morning Recon, Jim Cramer's Daily Booyah! or other great free newsletters from TheStreet.
More of What's Trending on TheStreet:
At the time of publication, Guilfoyle was long KTOS, LMT and RTN, although positions may change at any time.