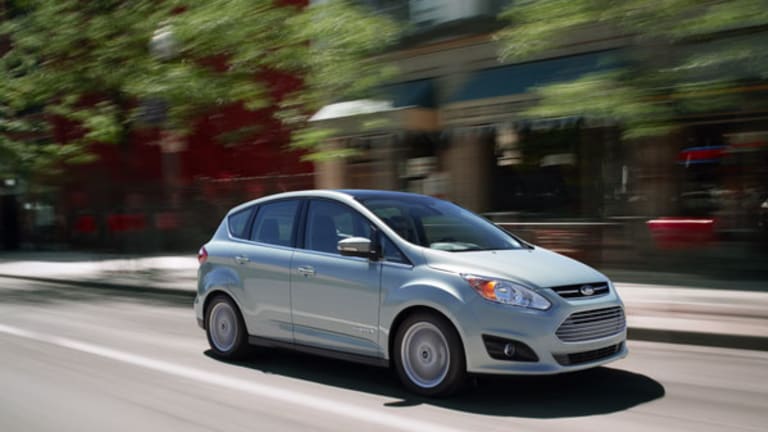 Puzzled by Ford's Debt? Don't Be
At first glance, it looks like you shouldn't touch Ford with a ten-foot pole. But upon deeper inspection, the automaker is better off than you may think.
NEW YORK (TheStreet) -- Many investors simply do not understand Ford's (F) - Get Ford Motor Company Report debt. 
Unlike most businesses, Ford's balance sheet may not be simple to dissect if you are not familiar with the business. For example, most companies do not finance customer sales of their own products. 
Customers buying groceries from Wal-Mart (WMT) - Get Walmart Inc. Report or gas for their car, but they do not lease the groceries or take out a loan to pay for the gas. Most consumer purchases do not require any sort of financing. But a car is a major purchase that often requires a payment plan.
As a result of these consumer loans, it would appear as though Ford is carrying a very, very large load of debt. In its most recent quarter, Ford reported $110.6 billion in debt. To the naked eye that looks like a company leveraged to the hilt, especially since Fort only has a market cap of roughly $61 billion. 
But there is one very important fact that many investors fail to comprehend. That isn't really Ford's debt.
Wait -- what? But the debt is on the balance sheet. The report clearly states it. $110 billion.
It's not that simple. As is not uncommon in investing, prospective shareholders need to dig a little deeper. 
So what is the magnitude and source of the debt?
Let's start with the basics. For all intents and purposes, Ford operates in two different segments: Ford Automotive and Ford Credit. 
Ford Automotive is rather self-explanatory. It makes and sells cars. Ford Credit on the other hand finances the selling of vehicles to consumers via money obtained through other financial institutions.

If the vehicle owner defaults on his payment, then Ford repossesses the car, which is resold and the difference owed is paid back. Voila!
In its latest third quarter earnings report, on page three you will find that Ford has $110.6 billion in debt. On page four, under "Automotive," you can see that Ford has roughly $14.5 billion in long-term debt related to its automotive business operations, and $5.7 billion in cash and $20.5 billion in marketable securities. This leaves the Automotive segment with a net cash position. 
Then, under "Financial Services," on page four, you'll notice there's $94.8 billion in long-term debt. This means Ford Credit makes up roughly $95 billion or over 85% of the company's $110.6 billion debt. 
The "customer" is not always an individual or family either. Many dealerships actually go through Ford Credit for their wholesale purchases of vehicles that will soon be for sale on their lot. 
Despite this seemingly ugly balance sheet, Ford actually does pretty well with its Credit operation.
In its most recent quarter, the automaker turned $427 million in pre-tax profit. Although slightly lower than last year's figures, it's still a nice chunk of change.
For the first nine months of 2013, Ford Credit has brought in over $1.39 billion in profit. That's not too shabby.
Qualms about the surface appearance of the balance sheet likely deter some investors from putting their money to work in the stock. So as you analyze fourth quarter results on Tuesday morning, keep this in mind. 
At the time of publication, the author was long shares of F.
This article represents the opinion of a contributor and not necessarily that of TheStreet or its editorial staff.
Bret Kenwell currently writes, blogs and also contributes to Robert Weinstein's Weekly Options Newsletter. Focuses on short-to-intermediate-term trading opportunities that can be exposed via options. He prefers to use debit trades on momentum setups and credit trades on support/resistance setups. He also focuses on building long-term wealth by searching for consistent, quality dividend paying companies and long-term growth companies. He considers himself the surfer, not the wave, in relation to the market and himself. He has no allegiance to either the bull side or the bear side.