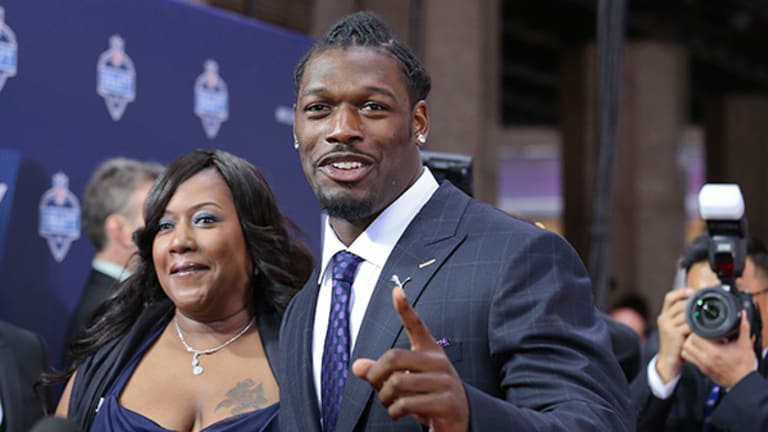 Puma Wins Big at NFL Draft With Jadeveon Clowney
The first pick overall should boost Puma's profile in the U.S.
The first pick overall should boost Puma's profile in the U.S.
NEW YORK (TheStreet) -- Puma, a European company that is majority owned by France's Kering SA (PPRUF) , won at the NFL Draft last night.
It scored when Jadeveon Clowney -- a defensive lineman from the University of South Carolina who recently signed an endorsement deal with Puma -- was selected first overall by the Houston Texans. Clowney should boost Puma's profile in the U.S.
Clowney joins current NFL players Julian Edelman (New England Patriots), Jamaal Charles (Kansas City Chiefs), and Cordarrelle Patterson (Minnesota Vikings) who have endorsement deals with Puma. The company famously dropped Aaron Hernandez, after he was arrested on murder charges.
Clowney told Disney's (DIS) - Get ReportESPN, "I just want to be a part of something different. Why not change it up?" Clowney was also sought by Nike (NKE) - Get Report and others. The player also has deals with Procter & Gamble's (PG) - Get Report Gillette unit, New Era and Wilson.
Nike got its share of draft prospects. The company has deals with Johnny Manziel, Blake Bortles, and Teddy Bridgewater, three quarterbacks drafted in the first round.
The company is the official sponsor of the NFL and sees its logo on every jersey sold. Clowney will have to wear a Nike jersey during his games this season.
Adidas( ADDRY) has a deal with Sammy Watkins, the Clemson wide receiver who was taken fourth overall by the Buffalo Bills after the night's biggest trade.
Under Armour (UA) - Get Report has several draft prospects, but comes in as the loser with no big name players.
Puma is one several companies owned by Kering, formerly known as PPR. The French luxury-good and sports-brand company has been trying to rebuild Puma, the second biggest sporting-goods company in Europe. Kering owns 84% of Puma; the rest is traded as a public company.
Revenue for Kering rose 4% in the first quarter, led by its luxury-goods segment that includes brands such as Gucci, Saint Laurent and Alexander McQueen.
Puma is a big part of Kering, despite declining sales. In 2013, Puma posted revenue of $3 billion, the second largest revenue driver for Kering, behind Gucci ($3.6 billion).
While Puma made up 31% of Kering's total revenue last year, it contributed only 11% of the company's operating income. Puma is known for its position in soccer, golf, track and field, Formula One racing and Nascar. The company is the official sponsor of Olympic star sprinter Usain Bolt.
At the time of publication, the author held no positions in any of the stocks mentioned.
Follow Chris on Twitter @chriskatje
This article represents the opinion of a contributor and not necessarily that of TheStreet or its editorial staff.