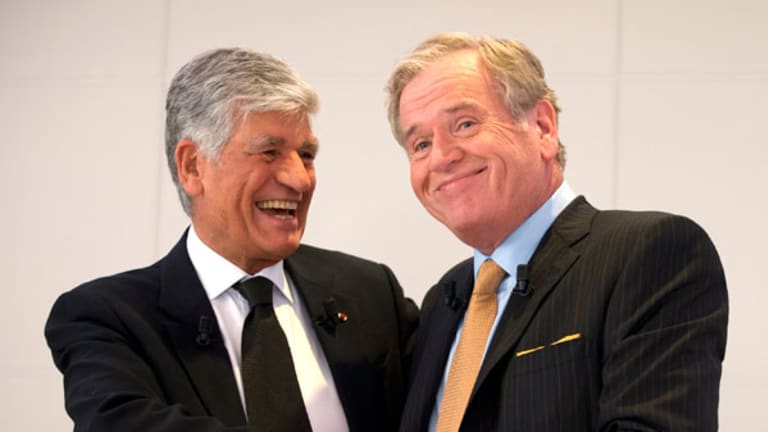 Publish date:
Publicis/Omnicom Merger Collapses Due to Emotion, Says WPP
Thanks to ego-driven insecurities the much-awaited Publicis/Omnicom mega-merger collapsed, according to rival ad giant, WPP and other sources.
Thanks to ego-driven insecurities the much-awaited Publicis/Omnicom mega-merger collapsed, according to rival ad giant, WPP and other sources.
NEW YORK (TheStreet) -- It's never good to let emotions take over in business. Especially when those emotions grow larger than the issues at hand.
Ego-driven insecurities sabotaged rational decision-making and led to the collapse of the much-awaited Publicis (PUBGY) - Omnicom (OMC) - Get Report mega-merger, according to rival ad giant WPP (WPPGY) and other internal sources familiar with the situation.
The $35 billion deal, first announced last July with much gusto as a union of equals that would offer a 50-50 ownership split in equity in the new company, was called off on Friday morning due to cultural differences and a lack of consensus on various factors including the appointment of a Chief Financial Officer to push the deal through.
"The challenges that still remained to be overcome in addition to the slow pace of progress created a level of uncertainty detrimental to the interests of both groups and their employees, clients and shareholders. We have thus jointly decided to proceed along our independent paths. We, of course, remain competitors, but maintain a great respect for one another," Maurice Levy, CEO and Chairman of Publicis, and John Wren, CEO and President of Omnicom, said in a joint statement on Friday.
Martin Sorrell, CEO of multinational behemoth WPP, said In an interview with Ad Age, Martin Sorrell, CEO of WPP, said that he saw the proposed merger -- and its collapse -- as "an emotional decision." He added, "Any deal was doomed to fail."
Sorrell sounded pleased that the world's second- and third-biggest advertising companies would not displace WPP from its No. 1 position any time soon.
Tensions between Publicis and Omnicom had been brewing over the past month, owing to concerns over leadership and strategy. But the first red flag was Omnicom CEO John Wren's misgivings about the deal in late April, when he began citing tax and antitrust complications involved in securing approvals from regulators in Europe.
The Publicis-Omnicom merger would have heralded the largest global and multi-channel media and communications empire. It would have brought some of Madison Avenue's grooviest ad agencies -- including BBDO, TWBA Worldwide and Publicis's Leo Burnett, Saatchi & Saatchi, MSL, and Starcom Mediavest -- under one roof, with a sophisticated client mix involving crown jewels like L'Oreal (LRLCY) , and Procter & Gamble (PG) - Get Report.
Elizabeth Badinter, the daughter of Publicis founder Marcel Bleustein-Blanchet and a big shareholder, and Omnicom chairman Bruce Crawford were expected to be co-chairs of the combined company, which would have emerged under the banner Publicis Omnicom.
The vice president of a Publicis entity in India -- the region is a key focus area for the groups' business in Asia, which is a target market for both Publicis and Omnicom -- touted the merger as a lifetime opportunity for employees, clients, and stakeholders of both companies. But now, both companies are floundering to reengage with their clients after business losses.
After Vodafone and Marks & Spencer, Korean electronics bellwether Samsung, is the latest brand to join the volley of big-whale clients that have been left high and dry by the dissolution of the once promising Trans-Atlantic courtship. WPP's Sorrell disclosed that the multinational British conglomerate is now eyeing Samsung's multibillion-pound mandate that has been sitting with Publicis.
The fallout of the deal occurs in the wake of a spate of M&A activities this year, including a whopping $50 billion alliance between Lafarge (LFRGY) and Holcim (HCMLY) , which aims to create the world's largest cement maker. According to Sorrell, the LeFarge-Holcim tie-up, unlike Publicis Groupe-Omnicom, was a methodically planned deal, where the CEOs of both companies sorted out all their positions without letting emotions take a swing at either of them.
Publicis shares dipped 0.81% at the Friday close on the Euro Next Paris, while Omnicom shares on the NYSE rose 2% Friday afternoon as of 3 p.m. WPP shares were down by 0.9%.
>>Read More: Twitter Insiders Are Selling Shares
>>Read More: Walgreen's U.S. Fate Could Be Sealed by Labor Day
>>Read More: Small-Cap ETFs Signal Big Warning Signs Now
At the time of publication, the author held no positions in any of the stocks mentioned.
This article represents the opinion of a contributor and not necessarily that of TheStreet or its editorial staff.