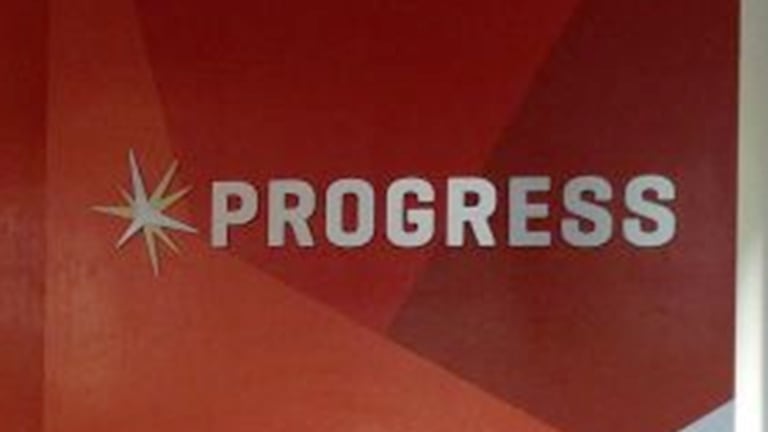 Progress Software Stock Might Make Investors Happy After All
Progress is on track for 6% EPS growth in 2016, based on average estimates of $1.58 a share.
NEW YORK (TheStreet) -- Progress Software (PRGS) - Get Progress Software Corporation Report shares have dropped 16% of their value since reaching their 52-week high of $30.57 on July 6. The stock -- at over $25 -- is down nearly 6% on the year and still down some 17% since July. It trails the 1% year-to-date gains in the iShares North American Tech-Software ETF (IGV) - Get iShares Expanded Tech-Software Sector ETF Report.
Why would you buy it ahead of its third-quarter fiscal 2015 earnings Thursday after the close?
Besides being richly valued at 45 times earnings (against a price to earnings of 21 for the S&P 500 (SPX) index), there's also less risk in owning the shares now than three months ago. Why? Because of the progress the company is making with earnings.
In the second quarter Progress recorded its fifth consecutive earnings beat and the third straight quarter where it topped revenue estimates. The company raised its estimates for the just-ended quarter, expecting earnings per share of 35 cents a share to 38 cents. At the time, Progress' EPS range compared favorably to the consensus estimate of 35 cents.
At the time Progress raised fiscal 2016 EPS to $1.45 to $1.52, also above a $1.42 consensus. Fast-forward three months later and the average analyst EPS estimates for both the just-ended quarter and the fiscal year have climbed 6% and 5%, respectively, to 37 cents a share and $1.49 a share.
While both quarterly and full-year projections would still mark year-over-year declines against respective 2014 actual results of 39 cents and $1.51, it puts Progress on track for 6% EPS growth in 2016, based on average estimates of $1.58 a share.
What does any of this mean? Profitability has returned and will soon trend with revenue growth in the quarters ahead. This makes Progress even more capable of market-beating numbers. It has had no problems with revenue, growing revenue year over year by a 20% average rate in three straight quarters.
There's an implied 12% gain on the table, based on its average analyst 12-month price target of $30. Factoring fiscal 2016 EPS estimates of $1.58, this drops Progress' forward P/E to 16, one point less than the forward P/E of the S&P 500 index, implying less risk in PRGS stock and solid potential reward.
This article is commentary by an independent contributor. At the time of publication, the author held no positions in the stocks mentioned.