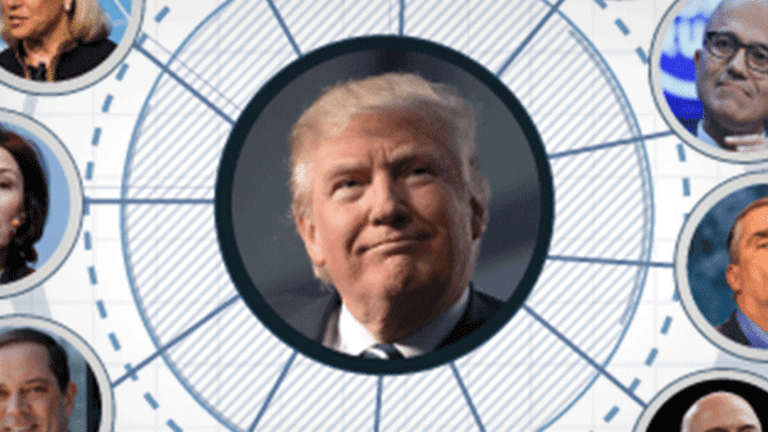 Profits Related to Trump's Business Advisory Board May be 'Yuge'
The president-elect has announced the members of this elite club, and if President Barack Obama's lineup was any indication, investors should take note.
President-elect Donald Trump is creating a business advisory council to advise him on matters such as job creation, one of his chief campaign promises.
It will be an elite club made up of the head honchos of some of the country's biggest businesses. And investors should take note.
Trump isn't the first president to assemble a circle of corporate czars. In 2009, President Barack Obama formed the President's Economic Recovery Advisory Board, later known as the President's Council on Jobs and Competitiveness, to strengthen synergies with corporate executives and bolster employment opportunities in a post-recession U.S.
From its inception to when the council's charter was allowed to lapse in 2011, Obama's board met just four times. But companies whose executives served on the council had significant stock gains.
General Electric Chairman and Chief Executive Jeffrey Immelt headed up the President's Council on Jobs and Competitiveness. And from 2009 to 2012, GE's stock nearly doubled to $21 a share from $11.10 a share.
Shares of Caterpillar, whose chief executive at the time, James Owens, also served on the council, nearly tripled during that time to $89.61 a share from $33.28 a share. Its rivals in the industrial equipment industry, including ABB, up 46%, and Illinois Tool Works, up 75%, also did well but lagged behind Caterpillar. 
Likewise, American Express Chairman and Chief Executive Kenneth Chenault served on the council, and that company's shares increased by 3.2 times. And Monica Lozano, a Bank of Americaboard member, was also part of the panel, and the bank's shares nearly doubled.
Other members of Obama's council included Boeing's then-Chairman Jim McNerney. The defense and aerospace stock shot up by more than 75%, versus about 16% for rival Lockheed Martin, which didn't have a member on the council.
Comcast's Chief Executive Brian Roberts was also on the panel. The media giant's stock rose 2.6 times during the time period.
Clearly, the market views stocks related to the council favorably, so investors would be well-advised to take note of stocks related to the members of Trump's group. Great gains and stellar long-term growth could be in the offing.
So who is on Trump's business advisory council?
Bigwigs from billion-dollar companies including Boeing, GE, General Motors,IBM,PepsiCo, Tesla Motors and Walt Disney are part of the club. Blackstone Chief Executive Stephen Schwarzman will head this powerful council.
General Electric, Comcast and PepsiCo are holdings in Jim Cramer's Action Alerts PLUS Charitable Trust Portfolio. See how Cramer rates the stocks here. Want to be alerted before Cramer buys or sells GE, CMCSA or PEP? Learn more now.
But for the most part, Trump's group appears to be a case of "keeping your enemies closer."
For instance, PepsiCo's Indra Nooyi was a staunch Hillary Clinton supporter. And Trump's outburst on Twitter about the Air Force One Boeing aircraft contract made headlines.
Meanwhile, Elon Musk, chief executive and co-founder of Tesla Motors, is all about clean solar power, and he was critical of Trump's stances during the campaign. Given the president-elect's predisposition toward less environmentally friendly energy sources such as coal, Musk has his work cut out in terms of convincing Trump of the virtues of clean energy.
For GM, Mexico is an important country with significant capital hinged on its labor and operational capacities. Given Trump's tariff talk, GM could receive a body blow unless it discovers a middle path, and a seat on Trump's council could help make that happen.
Having their executives on Trump's advisory board gives these companies a leg-up during the next four years, and, if history is any guide, their stocks stand to rise. Investors who get in now could reap "yuge" profits.
---
85% Accurate Trader gives his Personal Guarantee: "Give Me 9 Minutes a Week and I Guarantee You $67,548 a Year."
What if I told you I know a way you can see a $67,548 per year - or more - in profitable trades just by following this simple step-by-step process? The trader who is sharing this secret has been right more than 8 out of 10 times, turning $5,000 into more than $5 million for himself. Click here to see how easy it is to follow his lead and collect thousands of dollars in "Free Money" every month.
The author is an independent contributor who at the time of publication owned none of the stocks mentioned.