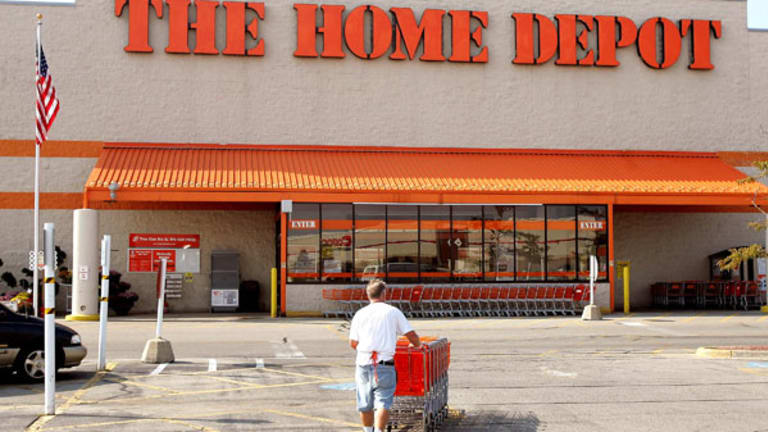 Profit on Home Retailers
Home sales are expected to cool, favoring home improvement stocks.
NEW YORK (TheStreet) -- For investors looking to profit from the rebounding U.S. housing market, stocks in the repair and rebuilding sector such as Home Depot (HD) - Get Home Depot, Inc. Report and Lowe's (LOW) - Get Lowe's Companies, Inc. Report should do better than DR Horton (DHI) - Get D.R. Horton, Inc. Report, Beazer Homes (BZH) - Get Beazer Homes USA, Inc. Report, and other home builders.
At present, home sales are starting to cool down, according to the National Association of Realtors. But the Remodeling Futures Program at the Joint Center for Housing Studies at Harvard University predicts that remodeling work will increase at a double digit rate for early 2014.
December home sales were the second weakest month for 2013.
Last year, real estate buying was at its highest level since 2006. But investors should not expect that to continue. Joel Narooff, Chief Economist for National Economic Advisors, warned that the pace was simply "not sustainable" due to "mortgage rates likely to move up this year, sales and price gains will likely be half of what we saw last year." Moreover, November's rate was adjusted, so the December sales report was not that bullish.
Even if mortgage rates go up, that will not curtail remodeling work.
It should increase it, actually. Due to higher mortgage rates, fewer people will be able to afford to move or buy more expensive homes. The higher the interest rate on the loan, the higher the payment for the home buyer. That will reduce the ability of many to purchase another house.  
As a result, more potential buyers will direct their efforts to remodeling work on their existing home.

For that, Home Depot and Lowe's will benefit. At $79.36 billion in sales, Home Depot is the largest home improvement retailer in the United States. Lowe's has $50.80 billion in sales.
The comeback in the American housing market has resulted in very bullish trends for both Home Depot and Lowe's.
Over the past five years, sales growth was off by 0.70% for Home Depot. On a quarterly basis, it is now up by 7.40%. Sales growth for Lowe's is now rising at a 7.30% quarterly basis. For the past half decade, there was just a 0.90% increase.
That has resulted in the analyst community being bullish about the future for Home Depot and Lowe's, but not so much for DR Horton and Beazer Homes.
Earnings-per-share growth over the next five years is expected to increase by 17.27% for Home Depot. For Lowe's, it is projected to rise 17.88% for that same period.
For DR Horton, Wall Street is looking for a decline of 0.39% in earnings-per-share growth during that time segment. Only a 4% jump in earnings-per-share growth is estimated in the half decade ahead for Beazer Homes.
Even if the experts are wrong and real estate sales remain strong, Home Depot and Lowe's will still do well.
All homes require maintenance and upkeep. Remodeling will continue. A healthy real estate market will result in a robust Lowe's and Home Depot, as it has in the recovery from the Great Recession. For investors, Home Depot and Lowe's should allow for gains no matter if the increase in real estate activities is in more remodeling work or in greater residential sales.
At the time of publication, the author held no positions in any of the stocks mentioned.
This article represents the opinion of a contributor and not necessarily that of TheStreet or its editorial staff.
Jonathan Yates has written for numerous publications including Newsweek and The Washington Post. He is a former general counsel for a publicly traded corporation. Much of his career was spent working on Capitol Hill for Members of Congress in both the House and Senate. He has degrees from Harvard University, Georgetown University Law Center and The Johns Hopkins University.