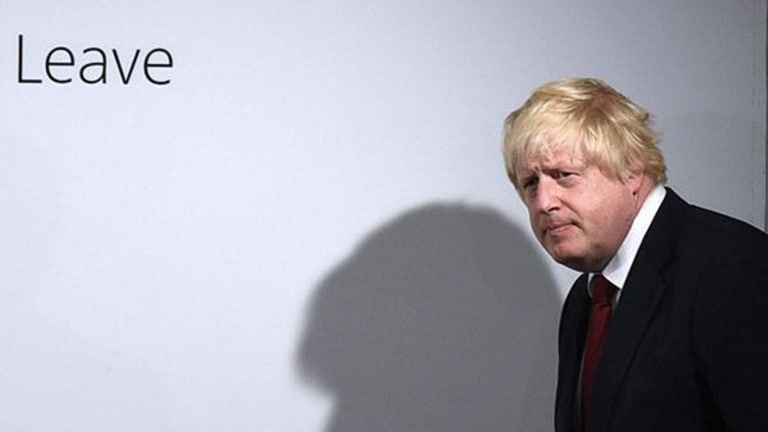 Profit From 'Regrexit' With These 3 Beaten-Down Industry Leaders
Some Brits are expressing regret that they voted to leave the EU, causing a U.K. leadership vacuum that is pummeling markets. Here is how to make money amid the turmoil.
Some Brits are expressing regret that they voted to leave the EU, causing a U.K. leadership vacuum that is pummeling markets. Here is how to make money amid the turmoil.
A record $3 trillion was wiped out of global markets on Friday and Monday as a result of the Brexit-related crash, the highest two-day loss in history.
No wonder Brexit leader Boris Johnson, the voluble ex-mayor of London, seems uncharacteristically subdued these days.
One of the few economic winners of the U.K.'s decision to leave the European Union is Donald Trump's new golf course in Scotland. As the presumptive GOP nominee indelicately made clear after the vote, his course will benefit from a plunging British pound.
It is the sort of astute economic analysis we have come to expect from the former reality television star.
But for the growing ranks of ordinary British citizens who regret voting to leave the EU, there is even a trending hashtag: #Regrexit. A petition calling for the U.K. to hold a second referendum on EU membership has already amassed more than 3.5 million signatures.
Keep in mind, though, that Brexit, and its handmaiden Regrexit, are political problems that probably won't metastasize into financial ones, which means a slew of stocks beaten down by the madness overseas will inevitably bounce back.
Below are three undervalued stocks caught up in the wave of selling that are nonetheless solid investments.
The last thing investors should do is bail out of a falling market, thereby locking in losses. It is usually better to wait out a downturn, instead of panicking like everyone else.
In the wake of Britain's referendum vote on Thursday, the country is roiling with questions about how and when the nation will leave the trading bloc or whether it will even happen.
The leave camp is expressing buyer's remorse, as it learns more about the actual ramifications of Brexit, such as its likely devastating effects on the U.K.'s economy and the fact that it won't really stem the tide of immigration. But returning to the subject of golf, a mulligan (i.e., a do-over) isn't a viable option.
In this sour climate of Regrexit, London's political elite is dithering and pointing fingers.
In the meantime, investors can pick up these superb growth propositions at deep discounts. Each is a leader in its respective sector.
1. Cisco Systems (CSCO) - Get Report
This technology stalwart has gotten pummeled this year as investors fret about management changes at the top.
The stock has fallen more than 2% over the past three months, dropping more than 5% during the two-day Brexit-related swoon.
The fear is that Cisco Systems is in the midst of a "brain drain," but these executive challenges will prove temporary, and the company's strengths should come to the fore.
Cisco Systems possesses a line of ultra-sophisticated and widely prevalent cybersecurity products, a dominant presence in commercial information technology and close partnerships with the global military establishment. The company also enjoys a rock-solid balance sheet, di­versified revenue mix and healthy earnings prospects.
As cybercrime worsens around the world, the biggest beneficiary will be Cisco Systems, the pioneer and clear leader in protecting both civilian and defense organiza­tions from hackers. The company's routers and switches are pervasive in corporations, government agencies and schools worldwide, giving it a globally entrenched customer base that will regularly return for new products and upgrades.
Cisco Systems is a holding in Jim Cramer's Action Alerts PLUS Charitable Trust Portfolio. See how Cramer rates the stock here. Want to be alerted before Cramer buys or sells CSCO? Learn more now.
2. J.C. Penney (JCP) - Get Report
The entire retail industry is struggling because of competition from e-commerce giant Amazon and a shift in consumer preferences away from brick-and-mortar stores to online shopping. That has put considerable pressure on conventional retailers such as J.C. Penney that have only belatedly begun to revitalize their businesses.
J.C. Penney's stock has fallen about 25% over the past three months. During the two-day Brexit carnage, the stock plummeted nearly 2%.
However, J.C. Penney seems to be getting its act together. The storied retailer is honing its strategies to effectively enhance gross margins, including a new emphasis on appliance sales as a way to go head-to-head against vulnerable Sears Holdings.
J.C. Penney also seeks to boost sales and margins from its home sections, initiating e-commerce offerings and revamping the appearance of such important store sections as accessories, beauty products and jewelry. As consumer spending shows every sign of resilience in the U.S., this stock should bounce back.
3. Walt Disney  (DIS) - Get Report
The company's shares were getting crushed this year even before Brexit and for no rational reason.
The stock has fallen nearly 4% over the past three months. During the two-day Brexit carnage, the stock plummeted more than 4%.
Much of the hand-wringing over Disney derives from the company's most recent earnings scorecard.
For the fiscal second quarter, Disney reported earnings of $1.36 a share on revenue of $12.97 billion. That performance was actually quite respectable, representing year-over-year growth of about 4%.
However, the consensus analyst expectation was for earnings of $1.40 a share on revenue of $13.19 billion.
The supposedly disappointing quarterly performance mostly resulted from a flat year-over-year revenue gain of $5.8 billion at Disney's largest segment, its media networks. The blame lies, once again, with ESPN, the company's flagship sports network, which continues to suffer growing cancellations.
The phenomenon, which afflicts all media companies, is called cord cutting, but these concerns are exaggerated. This media giant boasts plenty of strengths that offset its woes at ESPN.
Disney's studio entertainment segment racked up revenue of $2.1 billion in the quarter, for a year-over-year increase of 22%. In an earnings season that was dismal for the S&P 500 as a whole, that is an impressive performance.
This double-digit growth at Disney should continue this year and beyond, especially with new blockbuster films in the works and the opening of a massive new theme park this month in Shanghai, China. What's more, a fresh entry in the beloved and lucrative Star Wars franchise is due to hit the multiplexes this fiscal year.
Only a short-sighted investor would shun the durable Empire that Walt Built. 
---
Post-Brexit anxiety and recriminations are punishing global markets. For those who would rather avoid stocks, bonds and funds altogether during this period of extraordinary volatility, here is a way to make a guaranteed $67,548 over the next 12 months. In fact, this moneymaking technique is so successful and simple, investors who try it might want to give up conventional investing. Click here to learn more.
See full Brexit coverage here.
John Persinos is an editorial manager and investment analyst at Investing Daily. At the time of publication, he held stock in Walt Disney.